This is just a small teaser of everything you can experience in a spa session at ARTIEM Audax.
Relax. That wonderful feeling that invades you when you forget all the tensions and stress as your body is submerged in the water. This is exactly what it feels like when you experience the benefits of hydrotherapy at Audax Spa and Wellness Menorca.
At ARTIEM Audax Spa and Wellness Centre we have designed a refuge for calm and relaxation called ARTIEM Blue Spa. This is the largest and most complete thermal circuit in Menorca, so it has everything you need in order to discover the benefits of water and come back renewed after your stay on the island.
Have you ever tried the benefits of water on your body? Hydrotherapy uses fresh water for therapeutic purposes since it has been shown to have positive effects on our health. Some of them are: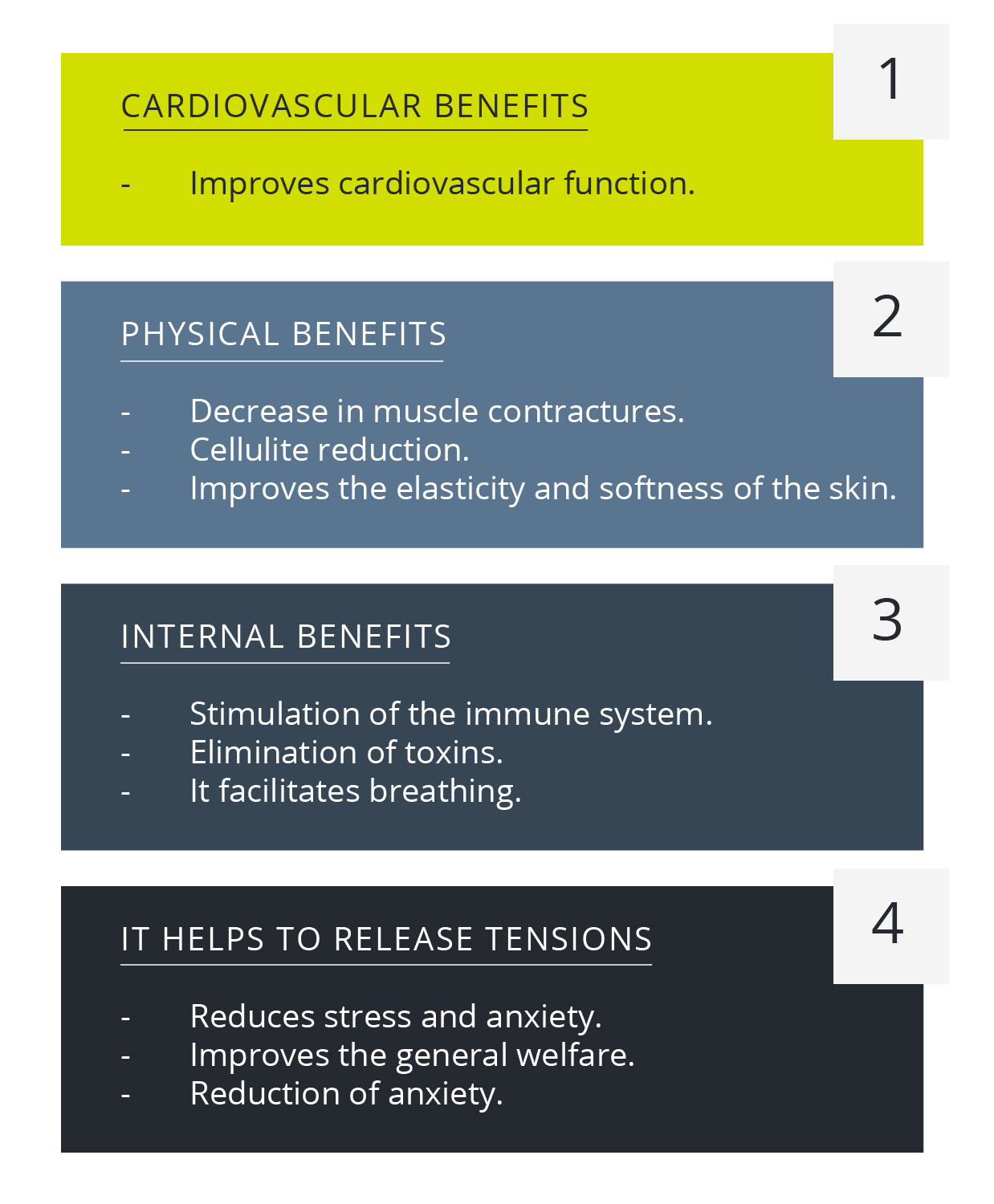 Egyptian doctors, as has been found in some papyrus of the time, recommended using in water for a good health. Another example is that, in Ancient Greece, the women of the Macedonians were submerged in cold water after giving birth.
It´s important, also, not to confuse hydrotherapy with thalassotherapy because, although both use water as a treatment, they are not the same. The main difference is that hydrotherapy, as we have said, uses fresh water and thalassotherapy uses salt water from the sea.
What benefits will you find in the Blue Spa at the ARTIEM Audax Hotel?
The ARTIEM Blue Spa is, as we mentioned before, the largest and most complete in all Menorca. It´s a space of 700 square meters dedicated to wellness and equipped with:
34º and 38º hydromassage pools with jacuzzi
When using them you will not only live a pleasant experience, but also your muscles will relax little by little and the blood circulation will be activated.
Bubble beds
Laying here you will receive a soft bubble massage that will help you relieve tension and feel more relaxed.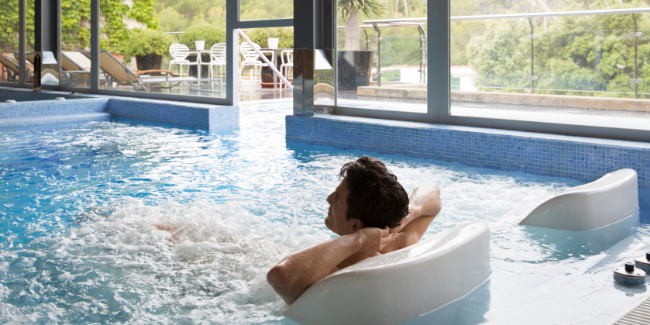 Cervical cannons
These help relaxing the neck and shoulders muscles that are usually the areas that we usually have more tension on.
12º grade toning pool
Going from 38 degrees to 12 degrees Celsius is a drastic change in temperature which actually helps to activate blood circulation, tone muscles, relieve leg pains and is even useful to combat cellulite and sagging. Even though it won´t be easy at the beginning, be brave and don´t miss the spa's cold pool.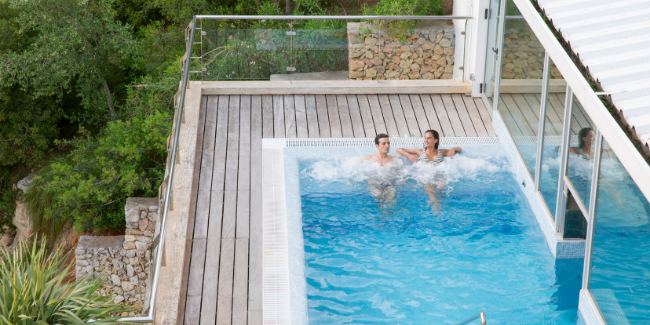 Four types of special showers
Special showers serve as a transition between pool and pool or before entering saunas.
Compostela Pediluvio
Walking on boulders while receiving jets of water at different temperatures will activate the circulation of your legs and your feet will receive a reflexology treatment.
Roman thermae
In the therma you will receive a steam bath that invites to relaxation and helps opening the airways and keeping the skin hydrated and smooth.
Swedish sauna
The Swedish sauna is a wooden cabin with high temperatures, between 75 and 95 degrees Celsius, and with a humidity of 15%. Sweating helps eliminate toxins and purify the body. It´s also good for the skin, activating the immune system and relaxing the muscles.
Turkish bath
In this case, the temperature stays between 25 and 50 degrees Celsius but with humidity levels at 99%. The steam opens the pores and helps eliminate toxins, stimulates the nervous system, opens the airways ...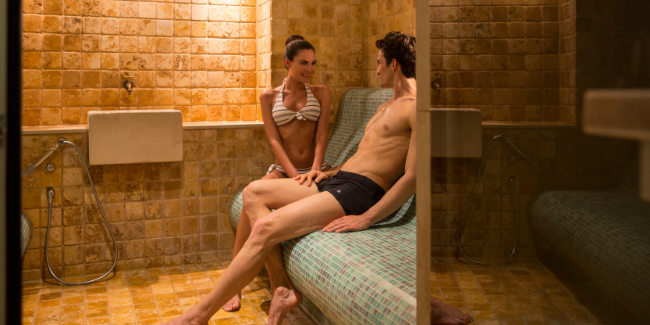 Thermal beds
The thermal loungers are built to maintain a constant temperature between 38 and 39 degrees Celsius, which produces a feeling of well-being due to the effects it has on the nervous, muscular and cardiovascular systems.
Relaxation area
Blue Spa also has a relaxation area for you to enjoy, out of the water, the sensations that the thermal circuit has left in your body.
Outdoor terrace with hammocks
If at the end of the circuit you feel like lying down and feel the rays of the sun, you also have a direct access to an outdoor terrace with hammocks.
Don´t hesitate to choose a spa hotel in Menorca to relax during your holidays and find the well-being you need. In addition, if you stay at Audax Spa and Wellness Menorca, you can also enjoy the ARTIEM Audax pools with beautiful views of the sea and the free Wellness program for clients with daily activities such as yoga, pilates, hiking, kayaking ... In Cala Galdana, where ARTIEM Audax is located, you will find your perfect hideaway.