Discover 5 Spanish women who have managed to gain a foothold in the world of haute cuisine and have also received recognition from the prestigious Michelin Guide.
Behind the stoves of some of the best restaurants in the world are many female chefs with Michelin stars. With the same expertise as their colleagues, some have managed to gain a foothold in haute cuisine and wear the head chef's coats.
In the latest editions of the famous Michelin Guide, there are many Spanish restaurants that have received this recognition. In 2018 there were a total of 195. However, when reviewing the names of their managers we find that, in general, women with Michelin stars are scarce. Specifically, they represent 9,2% of the total.
This is why we want to bring up the names of female Spanish chefs with a Michelin star. All of them are enterprising women, fighters and full of talent and passion for cooking, leading the rise of the Michelin star chefs.
María Marte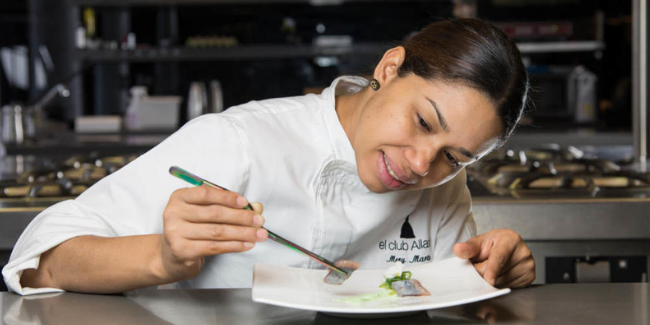 Image: Club Allard.
From washing dishes in the restaurant "El Club Allard" back in 2003, to receive two Michelin stars just eight years later. María Marte is an example of effort and improvement. She managed to combine her studies with her work in the restaurant until, finally, one day, chef Diego Guerrero gave her the opportunity to demonstrate her worth in the kitchen. In 2006 she became his right hand and in 2007, the restaurant obtained its first Michelin star. Later, when Guerrero opened his own restaurant, María took the plunge and won her second star in 2011.
Macarena de Castro

Image: www.inpalma.com
This chef had her first work experience in the kitchens at age 15 serving hamburgers, but she decided to quit and help out at her family's restaurant. There she began her career in the world of gastronomy and trained with great chefs such as Hilario Arbelaitz or Andoni Luis Aduriz. She finally decided to open her own restaurant which, at first, she called "The Garden", although later it has become "Maca de Castro". It's located in the port of Mallorca and mixes Mediterranean cuisine with local products.
Carme Ruscalleda

Image: www.semana.es
Of all the female chefs with Michelin stars in Spain, Carme is the only one who has achieved three stars and can boast of having received seven awards overall from the prestigious guide. Her restaurant, "Sant Pau", located in Sant Pol de Mar (province of Barcelona), is the one that has received the most awards. Nevertheless, she recently decided to close it so she could focus on other projects such as "Cocina Estudio". However, she also has others, such as "Moments" in Barcelona or "Sant Pau" in Japan, which have two stars. Her cuisine is characterized by the mixture of traditional Catalan recipes with others of Japanese origin, which give rise to dishes that surprise all palates.
Fina Puigdevall

Image: Les Cols.
Fina is another of the women with a star who has triumphed in haute cuisine. She, however, learned little by little, on her own and taking note of her mother. Her passion got her to open the restaurant "Les Cols" in 1990, in a beautiful farmhouse of the fifteenth century. In 2010 she received two Michelin stars. Fina focuses her dishes on the Catalan tradition and uses ingredients that she collects in her own garden.
Susi Díaz

Image: La Finca.
Susi also practiced and learnt alongside her two grandmothers and never went to a cooking school. With desire, enthusiasm and a lot of effort, she opened her restaurant La Finca, which has won a star from the famous guide. But that's not enough for her: she continues to learn in a self-taught way, trying new techniques and investigating. Thus, in her kitchen, she mixes tradition and modernity in a totally virtuous way.
All these female chefs with Michelin stars have proved a great ability to excel and an amazing talent to overcome the gap in such a competitive world. Their cuisine stands out for its flavor and them, for their effort behind the stoves.