In 2020 we launched in ARTIEM our Solidarity Room with the intention of helping families in need in such difficult times. Today, all Spanish hotels can join the project. Discover the room with a view to a better world.
During the pandemic, at ARTIEM we launched the "Solidarity Room" initiative to help the people who needed it most and to offer them our support in such difficult times. Today, we are very happy that this project is being extended to all hotels in Spain.
Thanks to Cáritas, our Solidarity Rooms have been transformed into Rooms with views to a better world, extending the range of hotels that would like to multiply their positive impact and ensure that help reaches more and more persons who need it day by day.
Recently, a partnership agreement was signed between the President of Cáritas Española and the President of the Madrid Hotel Business Association to boost this extraordinary movement that we set up at ARTIEM during the pandemic. All the hotels from Madrid that offer this new type of room and provide access for clients in booking channels, will contribute to increasing their commitment and improving the quality of life of many people facing poverty and social exclusion who receive aid from Cáritas. In addition, Cáritas has set up a website for Solidarity Room with information about this initiative.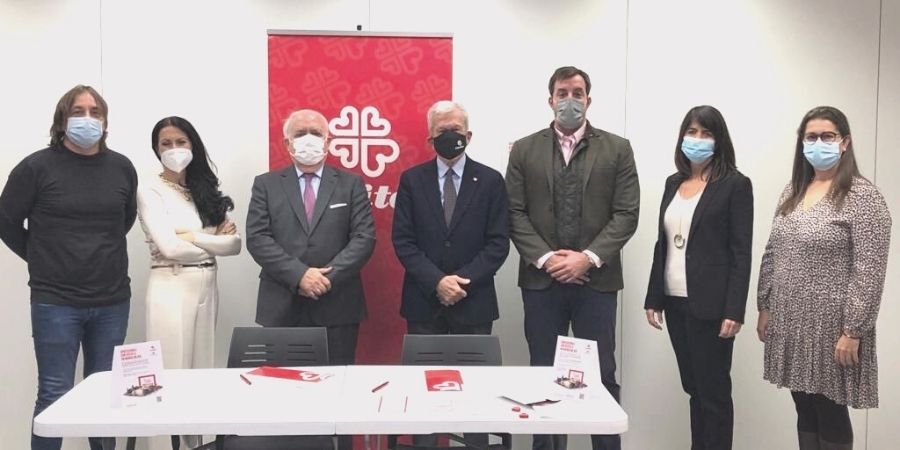 THE ORIGIN OF THE SOLIDARITY ROOM
Remaining true to our belief in sustainable prosperity and our wish to work towards making a positive impact on society and on the environment, it was when we reopened our hotels during the pandemic that we felt the need to set up this gesture of solidarity and provide assistance to families.
So, in June 2020 when we opened our hotels after a difficult lockdown period, we decided to allocate to Cáritas 100% of the booking price during our first weekend.
However, we didn't want to limit this to just one single action, and we decided to create a Solidarity Room in each of our 5 hotels to maintain this aid during the entire year. This way, our guests could continue to help more families through Cáritas while they enjoyed the ARTIEM experience.
Today, thanks to our partnership with Cáritas, we are very grateful for having succeeded in developing and expanding the project that was promoted with such loving care by ARTIEM.
Since 2020, ARTIEM has raised more than €140,000 and helped more than 14,000 vulnerable families. Just imagine how much we could do if more Spanish hotels joined us!
What is the Solidarity Room?
It's very simple. We at ARTIEM, and now also other hotels in Spain, offer our guests a Solidarity Room in each of the 5 hotels and 100% of the booking price is allocated to Cáritas. "If you want to take part in the ARTIEM experience while you change the lives of others, book your Solidarity Room through our website.
At ARTIEM we are very enthusiastic about this new beginning, and the fact that our solidary initiative has served to inspire and motivate others. Together, we can go further than we ever imagined and multiply the scope of this movement. We know there are millions of generous hearts and so, together with Cáritas, we will keep on searching for those persons and businesses with a common goal: social well-being.
The Solidarity Room beyond Cáritas
Aside from cooperating with Cáritas, the Solidarity Room goes much further. ARTIEM cooperates with Triodos Bank, another B Corp company that facilitates a Matchfunding platform through its Foundation - a project financing formula that combines citizen support through collective financing (crowdfunding) with institutional or business support. The raised funds are used to finance local projects with a high diversity impact: agriculture, social, environmental, etc.
During the 6 months of collaboration, Triodos Bank has made our Solidarity Room available to its clients. Anyone who wishes to do so can book the room through its platform and choose the Foundation project to which they want to allocate the price of their booking.
Since the partnership was first set up, we have raised more than €15,000 for different projects. When 2 B Corps join forces to change the world, extraordinary things happen.