For the eighth consecutive year the ARTIEM team participates in the ARTIEM Half Menorca. Do you want to know how it was? We tell you!
One more year (and it´s already eight in a row) we crossed the finish line of the ARTIEM Half Menorca Triathlon together as the ARTIEM team. On September 23rd we returned to enjoy sports in Menorca once again, the best possible environment thanks to all the people who decided to share this day with us.
ARTIEM Half Menorca has become a tradition within the Freshpeople team. Each edition, we come together to share this passion for sports and cross the finish line together. Amateurs, semi professionals ... we all live this day with the same emotion. And since we like to inspire happiness, and we believe that sport is a great source of that, for the last few years everyone has been invited to join the ARTIEM team. There are many who decide to live this experience by our side and share with us every stride, every pedal stroke and every sigh until we all reach the end of Half Menorca.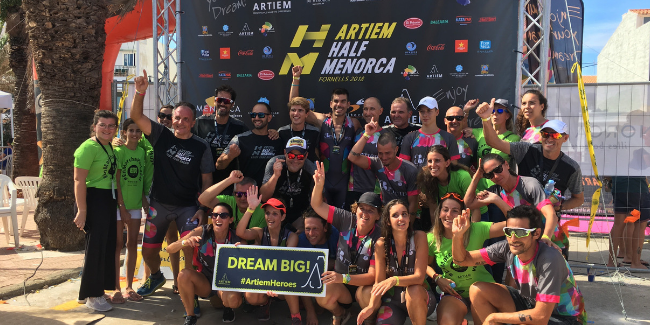 This 2018 we had the luck to form a great team and live two days of maximum concentration, effort and improvement. At our ARTIEM Audax hotel we welcome all the participants and dedicate the previous day to the preparation of the race: technical talk, soft training, food, hydration and good rest. And, the next day, we move all together to the starting line. You can feel how everyone gets invaded by nerves, excitement and above all the desire to overcome a new challenge. "A triathlon gives you a feeling of emotion, like vibrating ...", says one of the participants.
In the Triathlon Half Menorca there are different modalities and distances so each participant feels comfortable depending on their level. In all of them it is necessary to complete a distance of running, swimming and cycling through a designated circuit. The best part is that, as it´s celebrate in Menorca, the views are spectacular at all times, encouraging the participants to move forward.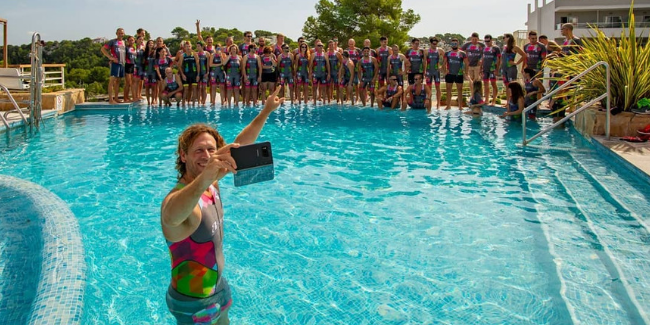 This year, in addition, we had the luck of reaching the podium with one of the participants of the ARTIEM team. In the longest format, Daniel Rodríguez managed to take second place in four hours and twenty minutes. When crossing the finish line, these were his first words: "A few years ago I tried the short distance and it one encouraged me to go with the Half, so I am very happy with this result. I am also very happy to be part of the ARTIEM team because they are an extraordinary family and they bet a lot on sports and health. I dedicate this podium to them. "
But ARTIEM´s team success didn't end there. In relays, Iker Teruel, Toni Gomila and Damián Portella managed to get the gold medal and generate joy to all. They proved to really be an example of teamwork and union.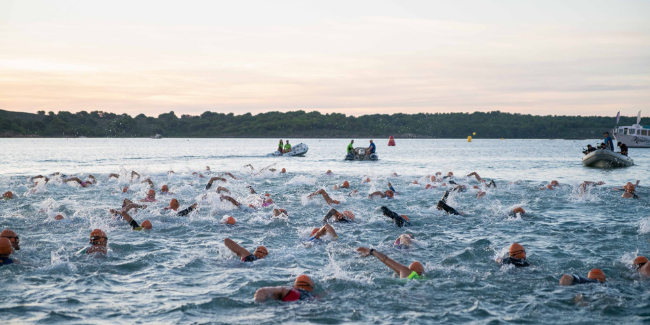 But regardless of the medals achieved, the most important thing is the feeling of overcoming and pride that invades everyone when crossing the finish line. All the fatigue disappears and leaves room for a deep feeling of happiness. That is the main mission of ARTIEM and the reason why here we believe so much in sports. As our CEO, José Guillermo Díaz Montañés, points out, "to exercise or participate in a triathlon is to overcome yourself and get a little closer to being happy".
It´s now turn to say goodbye to the ARTIEM Half Menorca 2018 enjoying the memories that this edition left us. We have compiled some of these special moments in this video:
You can also take a look at the social media pages of the competition (Facebook and Instagram) to see photos and videos of that day.
And meanwhile we continue training with enthusiasm and looking forward for the ARTIEM Half Menorca 2019. Let´s go, team!