The capital is one of the most sought-after cities by lovers of fashion and new trends. If you're one of them, here are some of the best areas to go shopping with ARTIEM.
Do you prefer a classic style? Perfect. Or perhaps you prefer something trendier? Perfect.
The truth is, Madrid is one of those cities that is famous for its wide variety of styles, which you can find in any part of the city. Madrid is not called the "city of fashion" for nothing.
If you're in the city or want to plan a trip laden with fashion and style, Madrid has a lot to offer. Its streets are filled with countless shopping areas where you can find shops of all kinds. Make the most of your stay at ARTIEM Madrid and discover places or brands that can't be found anywhere else in the peninsula.
Not sure where to start? Don't worry, carry on reading this article and find out the best places in which to shop in the capital.

1- Salamanca District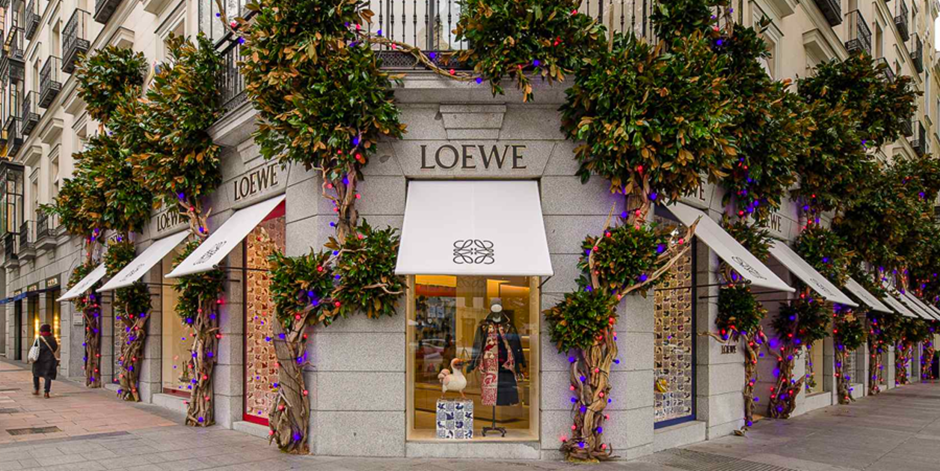 Source: https://www.elespanol.com/corazon/estilo/20191207/gesto-exclusivo-escaparate-encantado-loewe-serrano/448205479_0.html
Let's start at the top. The Salamanca district is undoubtedly one of the most distinguished districts of the capital. Between Ortega y Gasset, Serrano and Jorge Juan streets you will come across people with styles straight out of a magazine, as well as the most luxurious international brands.
If you want a complete shopping experience in this luxurious district, get off at the Colón metro stop and start walking from Serrano to Velázquez, one of the city's most emblematic streets.
Get off at Colón, stroll along the most emblematic streets in the district, from Serrano to Velázquez, and take a look at the most complete (and marvellous) leisure, shopping and cultural offer of the city.
If you're someone who prefers unique styles, you're also in the right neighbourhood. Here you'll find the studios of well-known Spanish fashion designers such as Felipe Varela or Roberto Verino. Having a preference for national products is always a good plan.
2- Malasaña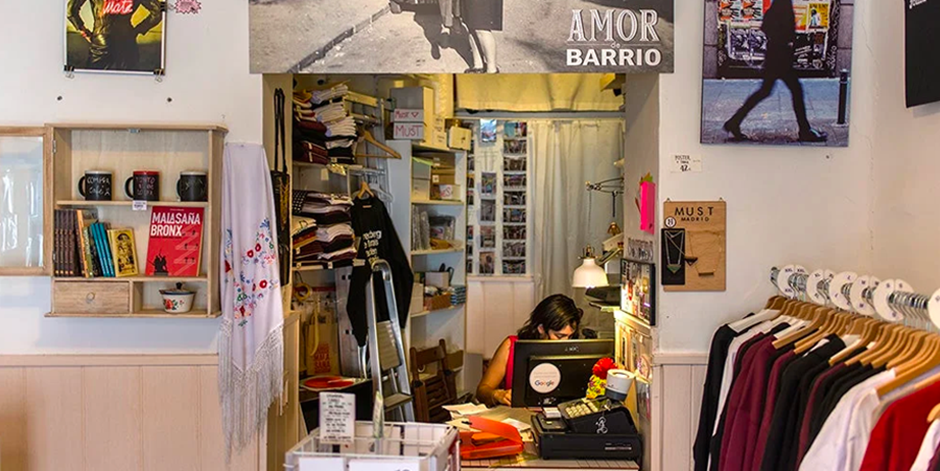 Source: https://www.guiarepsol.com/es/viajar/nos-gusta/tiendas-de-malasana-madrid/
From the most luxurious high-street fashion district to the most alternative one; Malasaña. That's just how the capital is: diverse and full of surprises.
Malasaña is not only buzzing with activity at any time, but it also has lots of interesting shops. This neighbourhood is considered a shopping area that promotes vintage and alternative culture.
Why is it so attractive? It's a neighbourhood that promotes sustainable fashion and local trade. Its streets are filled with countless local stores and independent fashion designer boutiques.
Malasaña, which was the epicentre of the Movida Madrileña in the 1980s, is between Gran Vía, Fuencarral, Carranza and San Bernardo streets.
Be sure to go to Corredera de San Pablo, a hotbed of fashion, design and accessories. Here you will find both Spanish design stores and concept stores.
If your plan is to shop for exclusive clothes and enjoy some incredible tapas, visit Malasaña and discover the most modern side of the city.
3- Fuencarral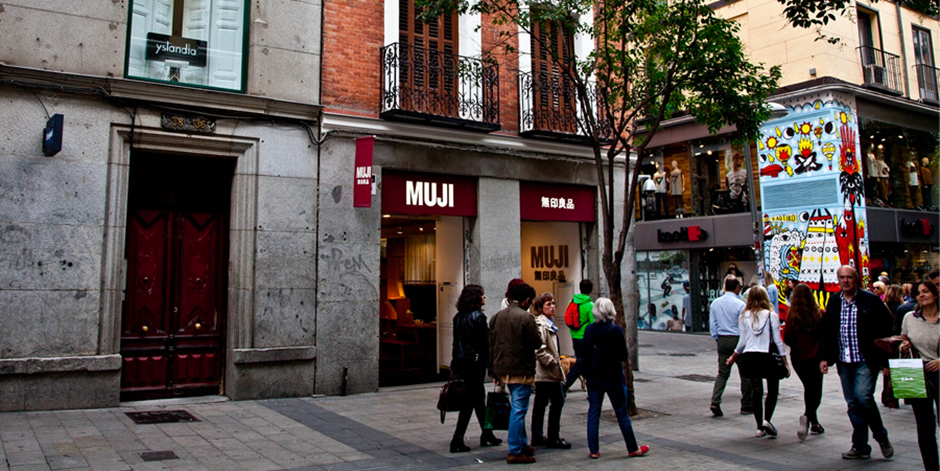 Source: https://www.puedoviajar.es/poi/calle-fuencarral-madrid.aspx
We're still in Malasaña but are now headed for Fuencarral, the perfect street for people who aren't looking for anything in particular.
Located in the centre of the city, it is considered one of the most important shopping streets in Madrid.
This pedestrian area is known as the Soho of Madrid due to its wide range of shops that include luxury, sports and urban fashion brands. One thing that makes it stand out from others is the "rivalry" between the shop windows on Fuencarral street, which all compete with each other to catch the eye of passers-by.
It is without doubt a street where everyone, regardless of their preferences or tastes, can find something to buy while they enjoy a pleasant stroll along it. It's well worth visiting!
4- Las Rozas Village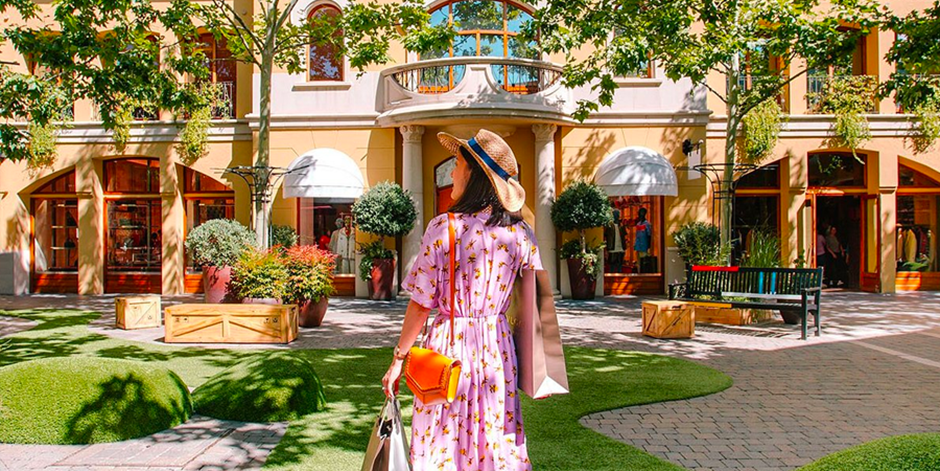 Art, cult
Source: https://www.tripadvisor.co.uk/Attraction_Review-g644339-d1596710-Reviews-Las_Rozas_Village-Las_Rozas.html
ure, gastronomy and above all, sheer fashion. Just 25 minutes from the city centre is Las Rozas Village, the ideal place for those who are looking to buy premium brands at a reasonable price. It has one of the most luxurious open-air outlets in Europe. Here you will find the most exclusive brands while you admire the incredible surroundings. A truly cosmopolitan lifestyle!
What's more, it's not only perfect for fashion lovers, but also a place not to be missed by those who like art and culture. Its picturesque terracotta façades and green trees make it an authentic open-air art gallery.
5- El Rastro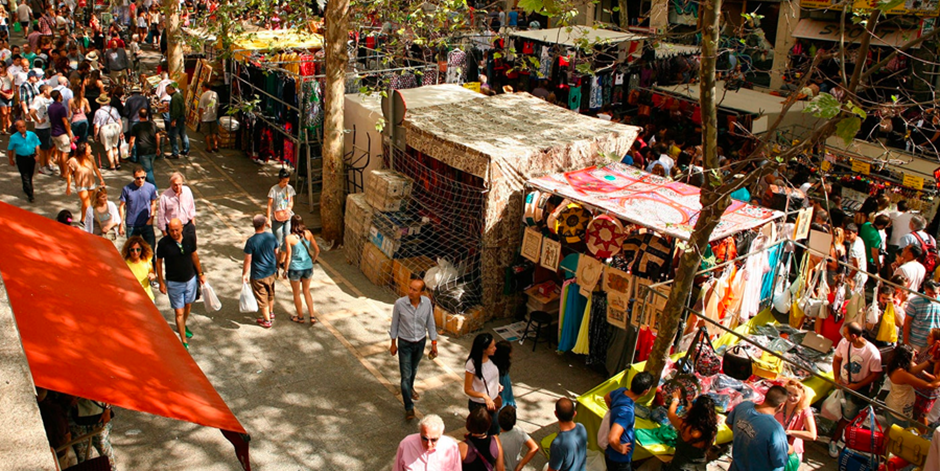 Source: https://abrasador.com/el-rastro-de-madrid-una-tradicion-de-mercadillo/
El Rastro (the Flea Market) is one of those markets that leave an impression on all those who visit it. If you are lucky enough to be in Madrid at the weekend, then you have a date on Sunday between 9 a.m. and 3 p.m.
Located in the district of Embajadores, Ribera de Curtidores, El Rastro is one of the main traditions of Madrid. It was first established in 1740 when it became an area for selling and trading second-hand articles. Its essence has survived up until now.
Every Sunday, it is visited by hundreds of people looking for all types of articles: vintage, curiosities, collector's items and even household appliances. If you prefer to visit it when there are fewer people, the best times are between 9 a.m. and 11 a.m.
Feel the atmosphere of El Rastro! Get ready to walk and enjoy yourself in a more sustainable manner with the many second-hand articles this market has to offer.
6- Gran Vía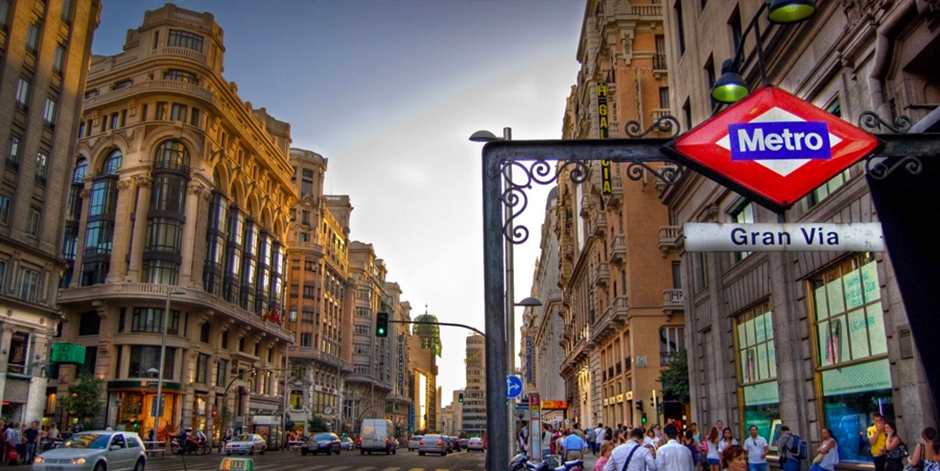 Source: https://madridpourvous.com/en/where-to-go-shopping-in-madrid/

And, of course, our shopping route in Madrid ends at Gran Vía, the city's high street.
You can't say you've been to Madrid without setting foot on Gran Vía and its nearby streets and districts, especially if you like fashion and enjoy spending the afternoon going from one shop to another.
There are many shops along its length of almost 2 kilometres, but the most important among them is the largest Primark store in Europe (the shop interior is really impressive).
One of the many benefits of being in this area is that most of the best plans in Madrid are close by. Another one is that only a few streets away is the Chueca district, or the famous Preciados street which leads you directly to Puerta del Sol, two must-see places for those who want to discover what the city has to offer in fashion.
Oh! And don't forget to touch the bear of Madrid, in Puerta del Sol; we hope you'll visit us again.
As you know, everyone is welcome in Madrid. Follows these shopping tips recommended by ARTIEM and make the most of your trip to the city to discover new brands, feel inspired and if you have the chance, buy something unique and special.