Fill up with energy and wonderful sensations at your ideal refuge on Menorca: ARTIEM Audax. Our team knows how to help you feel fabulous through exercise and nature.
Your path towards personal wellness includes a mandatory stop at ARTIEM Audax Spa & Wellness Centre, a refuge where you can reconnect with yourself and nature in Cala Galdana's marvellous environs.
A sea breeze, the whisper of waves, walks on the beach, sunrises, spa sessions, sunsets up the coast by kayak … Can you imagine the peacefulness and positive energy that this corner of Menorca exudes? At ARTIEM Audax you will find the rest and release from stress you need.
Its gentle pace, the smiles of its people and relaxed atmosphere will all become part of you.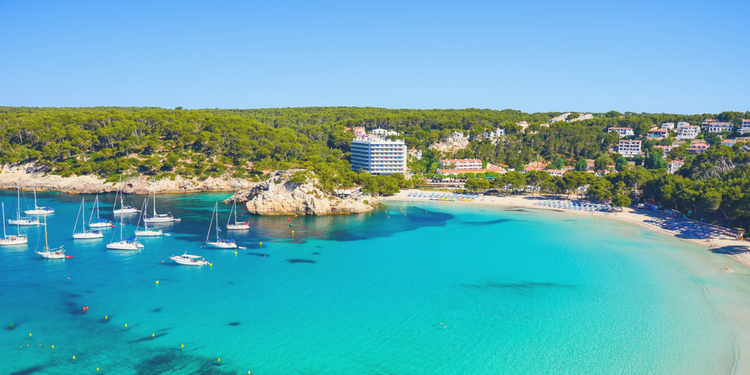 ARTIEM's vocation is to inspire you to attain happiness and well-being. So at our hotel in Cala Galdana we created a special wellness programme for our guests. Consult all our activities and prices here.
1. So what does the ARTIEM Audax Spa & Wellness Centre programme contain?
This activity programme was created by our Sports & Nature team to attain that wellness through nature and sports. Furthermore, Cala Galdana is an ideal spot to achieve such a goal: we are right on the sea shore and can offer various aquatic activities, while nearby are ideal tracks for hiking, mountain-biking and much more.
Through the ARTIEM Audax wellness programme, free for guests, you can sign up for the diverse activities we organise every day. The most popular ones are:
Yoga and pilates
Every morning at sunrise, in the hotel's solarium, Gustavo, our yoga instructor, leads a guided session. The morning calm, a sea breeze and the asanas will help awaken your body so as to start your day blissfully. Next, to keep working your musculature, take a pilates class inside the hotel. These activities run from Tuesdays to Fridays during opening months.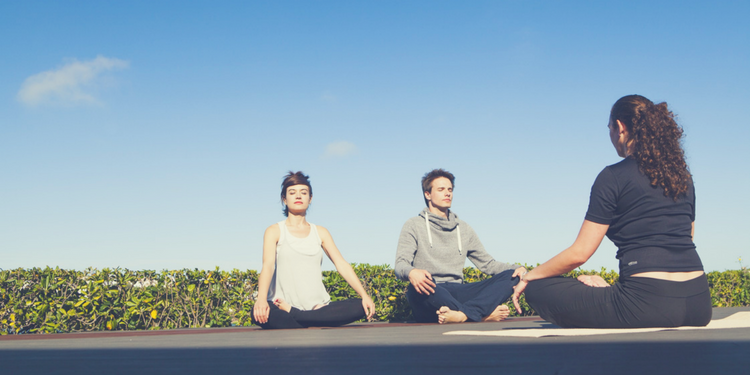 Hiking
From Cala Galdana, hiking trails lead to certain sections of the famous Camí de Cavalls (Bridle Path), nearby coves and other places. We continually organise hiking trips around the island, relishing its contrasting landscapes, discovering its fauna and flora while getting to know Menorca a little better.
Mountain biking
Menorca is ideal for exploring on two wheels, reconnoitring the maze of trails that criss-cross the island's interior. Our Sports & Nature team organises trips so that MTB enthusiasts can enjoy Menorca using their preferred mode of getting about, offering routes such as the Camí Reial (Royal Path) or Camí de Cavalls (Bridle Path), amongst others.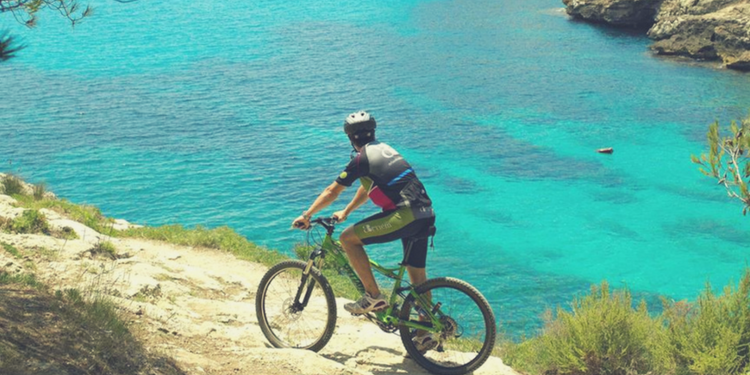 Kayaking
All year round, weather and sea permitting, we organise daily trips up and down the coast around Cala Galdana by kayak. Sometimes, the excursion sets out in late afternoon so you can contemplate the sun going down as you float on the waves. You can also explore the island's most hidden-away caves, or take a 90-minute, one-on-one class.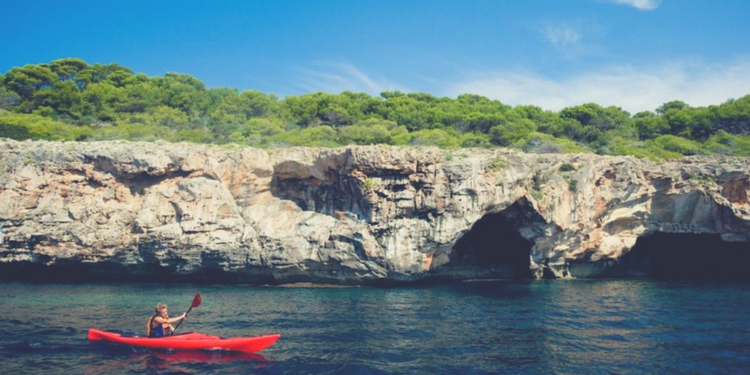 Running
Saturdays and Sundays we go running on Menorca. Yet we also make stops to clean up the rubbish that is dirtying our island. We take a bag and collect everything we find in order to recycle it properly. We practise awareness in running!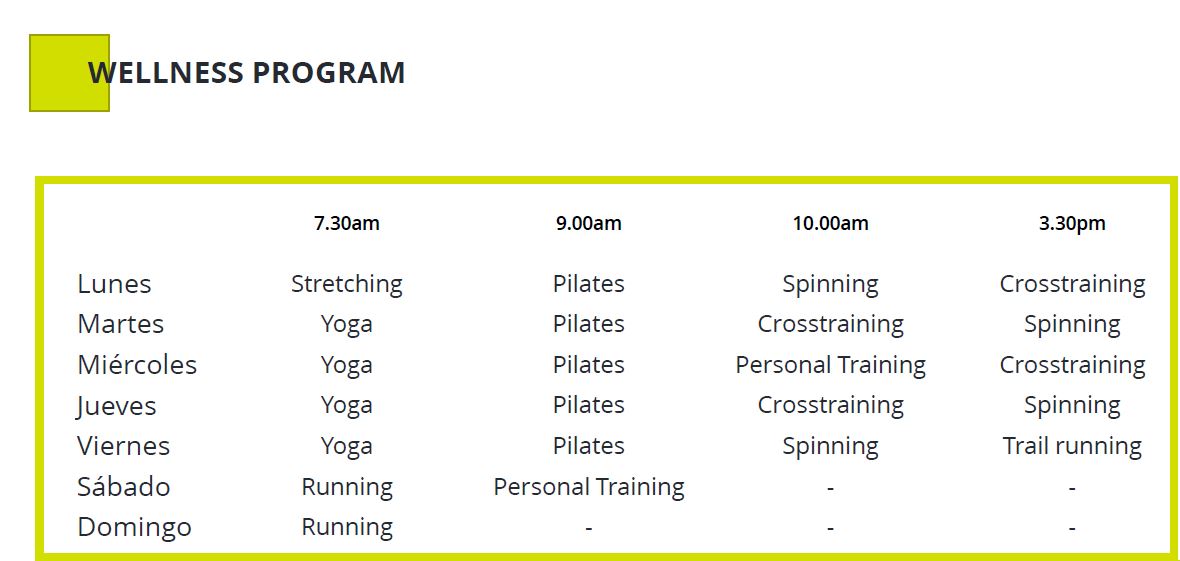 2. Additional activities in the Wellness Programme
Yet this is not all. We occasionally organise special activities outside of this programme so those who are keen can keep on discovering Menorca.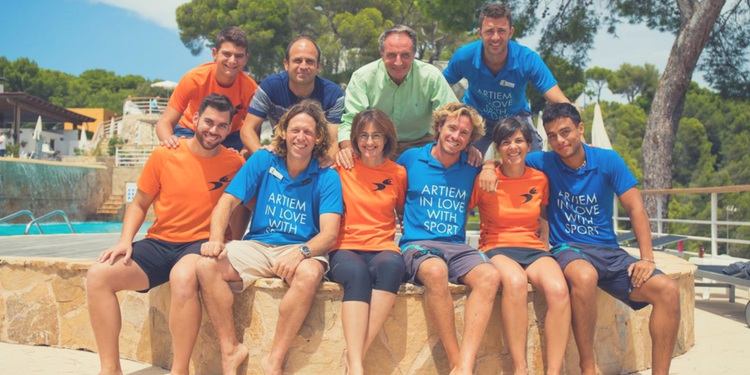 Trips to see the sunrise
We all know how beautiful a sunset is – its vivid colours – but how often have you contemplated the sunrise? The spectacle is completely different. So at ARTIEM Audax we are not fussed about getting up early to experience the sunrise on one of the beaches near Cala Galdana. We have front-row seats to appreciate it in solitude and silence.
Hiking over the north of the island
When the weather does not allow us to hold any activity around Cala Galdana, we seek out alternatives. One option is organising hiking trips over the northern part of the island.
We recently organised an excursion with a group of around twelve people along the Camí del Cavalls (Bridle Path), from Cala Pilar to Ses Fontanelles. We set out by bus to reach the start of the route and enjoy a nice long walk as we discover Menorca. We stop to observe surrounding fauna and flora, analyse geology, recount the area's legends, history and much more. Our guides do not just know the route but can complement your trip with information of interest so you get to know Menorca that much better.
ARTIEM Audax's activities are led by specialised guides and monitors, sports and nature enthusiasts. Yet more than anything, they know Menorca well. Having these experiences with them will let you discover the island from a unique viewpoint while enjoying it immensely.
3. Wellness at ARTIEM Audax Blue Spa
As well as the activity programme, the hotel itself is conceived as a space for wellness. Its star feature is, without a doubt, the Audax Blue Spa, considered the largest and most complete spa circuit on all Menorca. Here you will find 700 m2 of wellness, including: three pools at different temperatures, three types of shower, bubble beds, a steam sauna and a relaxation zone.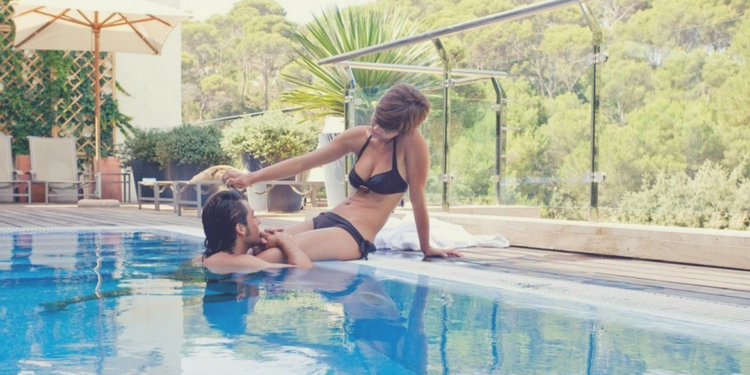 The benefits of hydrotherapy are more than proven and you will feel them the very moment you slip into the jacuzzi. Moreover, if you like, you can complement it with massages and personalised private treatments applied by experts. Consult all of our treatments here.
Follow the Wellness Route and come to ARTIEM Audax Spa & Wellness Centre on Menorca. You will find everything you need to feel fabulous and enjoy a memorable experience. Sports, nature and Cala Galdana's surroundings will help you attain it.