We collaborated with the association to carry out a cooking course for a group of seven children that ended with an exciting dinner. Do you want to know how it went?
At ARTIEM, our main mission is to inspire people to be happy; therefore, we carry out actions with different associations that allow us to generate a positive impact on society. However, sometimes, life surprises us and we are the ones who, without realizing it, end up receiving much more than what we have given. In recent months we have laughed, enjoyed and, above all, learned a lot from seven boys and girls. We taught them how to cook and they showed us the true meaning of the word overcoming.
An important part of the ARTIEM World is based on inclusion and solidarity, trying to generate prosperity in our environment. Thus, in each of our hotels we have work teams (28 people in total) that seek opportunities to create social value in the area and carry them out. In the case of ARTIEM Madrid, we have been collaborating with the Down Madrid association for years and, thinking of new ways of collaborating, we decided to organize a cooking and service course. Thus, children could acquire basic cooking skills for their day-to-day work and, also, gain experience and knowledge before their entry in the labor market.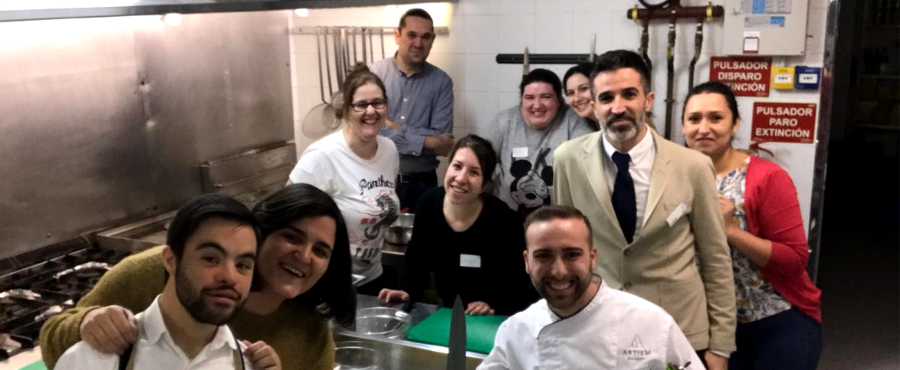 Joaquín, the manager of the restaurant, and Alex, the chef, immediately offered to dedicate part of their free time to train the children of Down Madrid during two evenings a month, from January to June. They also counted on the support of the ARTIEM hotel team that would help them carry out the course and make it a success.
An excellent atmosphere was quickly created. In the kitchen and the ARTIEM Madrid room, they learned how to set a table, how to serve a client, how to cook different dishes, how to manipulate food, how to combine different ingredients ... The children couldn´t have showed more interest, enthusiasm and desire to learn. And although the group evolved properly we wanted to test their progress in a big final test: preparing a dinner, on June 26th, to raise funds for the association.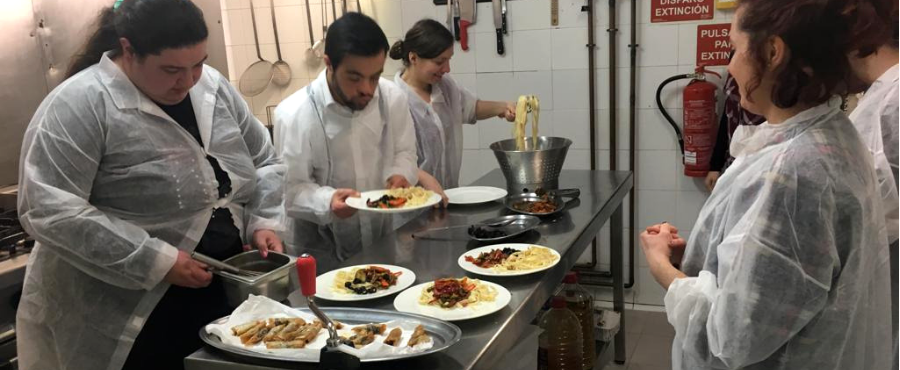 We knew it would be a very special day for them, so we wanted to add a little more emotion by inviting their parents without them knowing. So, before starting the service, they went to the room to say hello and ... surprise! Their families occupied some of the tables that, in a few minutes, they would serve. Their faces will undoubtedly become part of the stories of the Freshpeople.
They started a bit nervous but little by little, and as everything went smoothly, they were gaining confidence and enjoying an unforgettable night. Both them, and the ARTIEM volunteer team that was accompanying them, managed to offer an excellent service. The dishes came out with rhythm, the coordination was perfect and the attention impeccable. And all that despite a not-so-simple menu:
Black pudding and chocolate stick with orange and ginger marmalade.
Mango salad and nuts with sesame and soy vinaigrette.
Pork tenderloin with red fruit sauce and panadera fries.
Cheesecake with Nutella cream and lyophilized strawberry.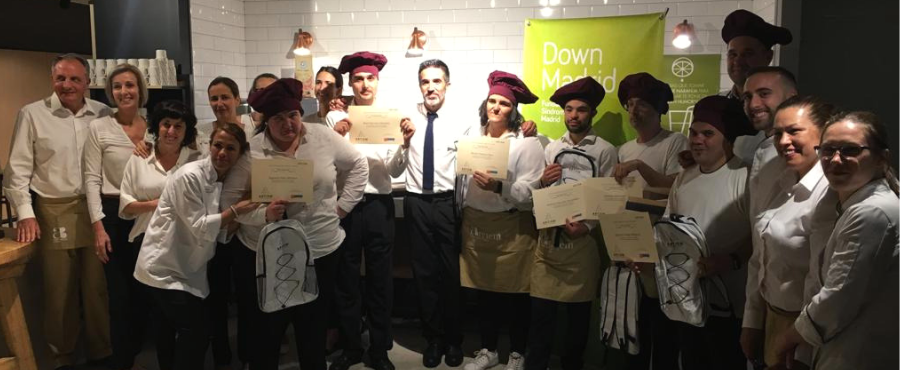 At the end of the dinner, some of the most beautiful moments were also experienced. The boys received their diplomas, a hat with their name and had the opportunity to say a few words. The two people responsible for the course, Joaquín and Álex from ARTIEM, also intervenedvand we had nothing but words of gratitude and admiration for the boys and girls. "They have taught us so much," admitted both. And Joaquín added: "they have a tremendous desire to improve, to join the labor market, to be independent ... and with this kind of actions we are achieving it".
With the nice feeling and the awareness that the event has had (all diners were sold out in one hour and we opened a row zero so that all the people who could not attend had the opportunity to contribute their bit), we couldn't be happier nor more proud. The experience, in the words of Álex himself, "has been astonishing" and from ARTIEM we will continue working so that this activity is annual and we can carry out more actions like this one.