Ready to discover the best afterwork bars in Madrid? It is the best way to end a long day of work and enjoy the atmosphere of the city.
Leaving work to go to bars in Madrid is (almost) a tradition. A nicely served beer, good company and the unmatched feeling of sitting in a terrace is the perfect plan to end a long day. But ... did you even know that Madrid is the fourth city in the world with most bars?
Walking through the streets of the capital we can find a different bar in each corner: the trendy one, the one for the first round, the happy hour one, the Irish pub, the classic neighborhood joint... With so much variety and with so many options, you will definitely find this list with the best bars in Madrid to have a beer pretty useful.
The best bars for cañas and tapas in Madrid
1. Bodega de la Ardosa
If the plan is to make a tapas route through Madrid and enjoy some cañas (the local name for small beers), you need to visit Bodega de la Ardosa. It is a local institution, as it was founded in 1892 and is still fully operational. They offer import beer, perfectly served, and some of the city´s best tortilla. It is located on Calle Colón 13, in the Malasaña neighborhood.
2. Fábrica Maravillas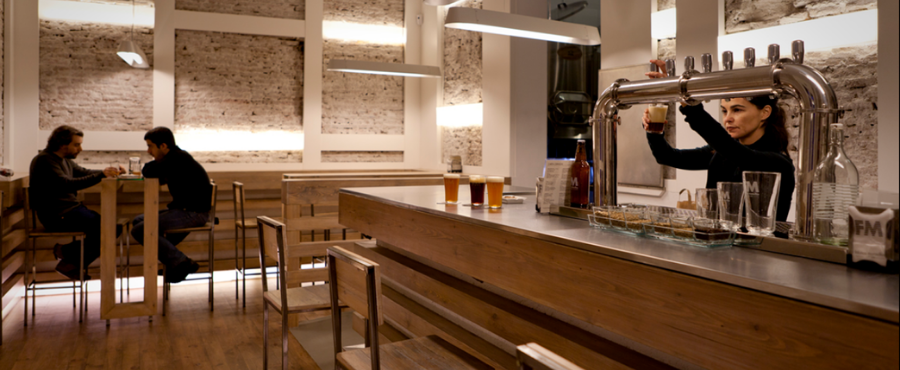 Fábrica Maravillas is one of the most popular bars in Madrid and, as a special feature, they brew their own beer in the bar, just a few meters away from Gran Vía. You can taste all their brews, very different from each other: IPA, Stout, American Pale Ale ... Nine taps to taste, taste and taste. Where? In Valverde, 29.
3. Oldenburg Brewery
Oldenburg is yet another great beer institution placed in Hartzenbusch 12, in an area where you can find a large number of breweries. This one, however, was one of the first on the street (first in a different number on the same street) and they are also pioneers in beer import, especially Belgian due to the relation of their owner with Belgian abbeys. Enjoy one of the best bars in Madrid letting the staff guide you through all their offer.
4. The Green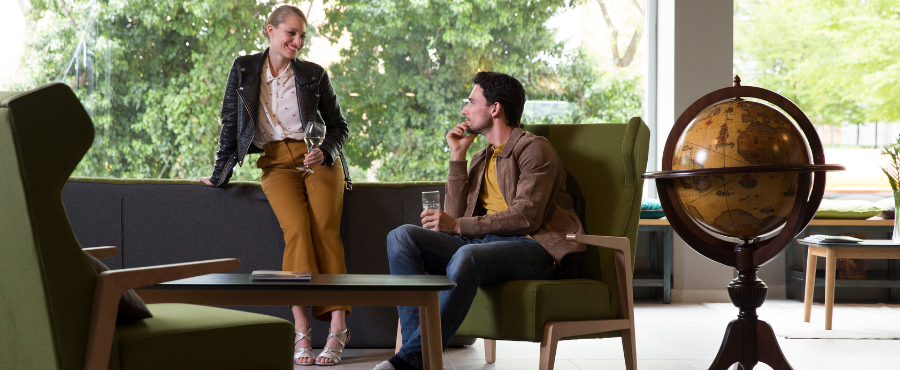 If you stay at ARTIEM Madrid you can also enjoy your afterwork in our space The Green. There you´ll find a beer tap from La Virgen, a delicious craft brew made in Madrid and that is absolutely a hit among all those who try it. You can accompany the beer by chopping something in our Snack Bar and enjoy the music, sofas and relaxed atmosphere of the first floor of our hotel in Madrid.
5. L'Europe
L'Europe is inspired on German brauereis with long and wooden tables. You will forget that you are in Madrid! You can find up to 14 tap references that are updated weekly and a wider bottle selection in refrigerators. The menu is a tribute to Bavarian cuisine in which sausages and knuckle standing out. You´ll find it really close to the previously mentioned Oldenburg, in Cardinal Cisneros 19.
6. La Tita Rivera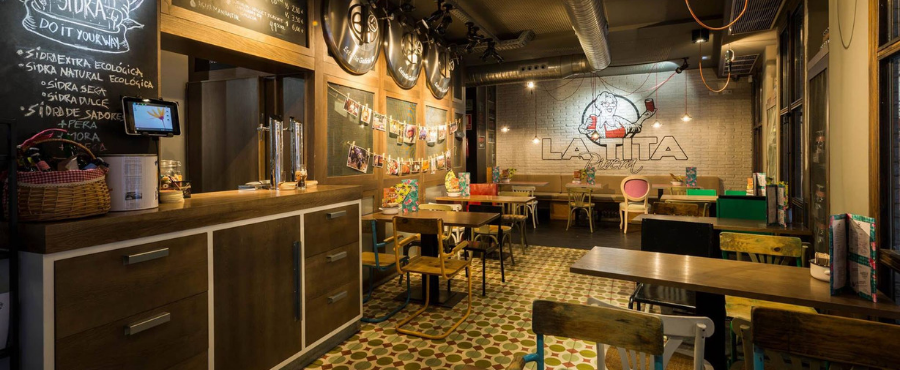 One of the best plans in Madrid is to arrive early and get a table in the backyard of La Tita Rivera and spend the afternoon enjoying a good Estrella Galicia beer and eating chips (warning: they are addictive). The place is charming and the beer is very well served. It is also worth trying their kitchen as its tapas are, at the very least, surprising. The location of the Tita Rivera is perfect as it is located on Pérez Galdós 4 street, between the trendy neighborhoods of Malasaña and Chueca.
7. Mad Brewing
A bit off the city centre´s noise and very close to ARTIEM Madrid you can find Mad Brewing, a local brewery with a brewpub from where you will perfectly see what a factory looks like on the inside. Next to the barrels and machines, separated by a large window, they have created a New York-style bar in which to test all delicious their varieties.
Ready to check out the best bars in Madrid? This list is a small sample of all that the capital has to offer but a good representation of the best options. Salud!