The way we work today is not the same as we did a few years ago. Whether or not Covid is to blame, this sociocultural change is here to stay. Just look at the huge coworking opportunities in Madrid, which will not only help you reconcile your personal life and work, but also care for the planet.
Many offices and professionals decided to change their work routines and embrace becoming digital nomads, and this is how the not so new 'coworking' spaces became the favourite places for this new work trend.
From ARTIEM, what we like about this change is not the freedom of being able to work from any location, but the opportunity to create and transform spaces, to not only cover the new needs of the sector, but also of the planet.
If you are like us and prefer to be inspired while you reduce your carbon footprint at collaborative, sustainable and environmentally respectful work spaces, grab your planner, write down these 5 best sustainable coworking spaces in Madrid and begin to change things. Well done!

1. Impact Hub Coworking Madrid

Photo: www.proworkspaces.net
Four coworking plants, 100% sustainable, located in the heart of Madrid, innovative, creative and with a highly versatile design. This is Impact Hub, the first Spanish coworking BCorp with zero CO2 emissions certification.
There are many things that make this coworking space one of the favourites for people looking to network with a community that shares their values.
Among its main features, it is worth noting that the electrical power is supplied entirely by renewable sources and the tiles that cover the floor are made of recycled glass from an industry in Cantabria. Isn't this brilliant?
Address: Piamonte, 23 (Chueca)
Distance from ARTIEM: 40 minutes using public transportation.
2. Triple
Photo: www.satt.es
When you are absolutely sure about something, new spaces are born like Triple, a coworking space with healthy and eco-efficient event rooms, that defines itself as 'a sustainable oasis' coexisting with the fast-paced routines of Madrid.
Included in their DNA we find the 3 'Ps' of Triple Balance: profit, planet and people. Are these Ps in your DNA? If so, this is the ideal space to help you increase the positive impact created by your work, both socially as well as environmentally. Simply open the door of this coworking space to begin achieving this goal.
Something that sets them apart is their commitment with people's health. Eco-friendly and antibacterial materials, 100% filtered air and an environment surrounded by nature is waiting for you at this coworking space.
Address: Ferraz, 56 (Argüelles)
Distance from ARTIEM: 50 minutes using public transportation.
3. AREA

Photo: www.coworkingspain.es
Experience is a good friend that helps make your dreams come true. This has been demonstrated by Hugo and Jack, who came to Spain a few years ago from the United Kingdom to carry out one of their most ambitious projects: redefine the coworking space.
Did they achieve their goal? Of course they did, and AREA is the result. This coworking space invested in circular economy with support from local entrepreneurs in its construction. For example, all the furniture was made by Mesarte Artesanos, a local furniture manufacturer.
As you can see, this space is perfect to find inspiration and promote creativity. Not only will you have a work space, but you can also surround yourself with design, culture, and even take yoga classes in the mornings. Do you need anything else to enjoy your work?
Address: Tomás Bretón, 50-52 (Delicias)
Distance from ARTIEM: 42 minutes using public transportation.
4. DCOLLAB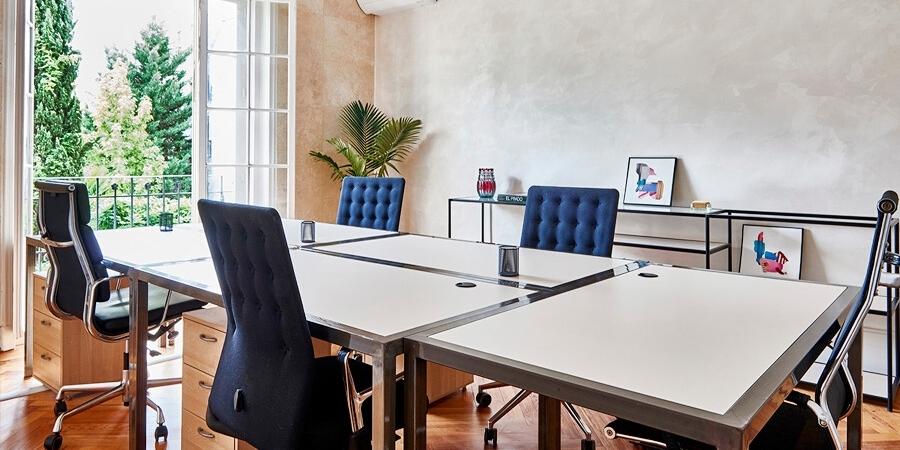 Photo: www.dcollab.com
A coworking that is flexible, easy and environmentally friendly; in few words, a coworking space that makes things easy so all you need to worry about is your work.
What makes this space different from the rest? Its exclusive benefits for users from the community: events, networking, health guides and much more. You also have the option of getting a group or individual rate.
We know all too well that to find inspiration and achieve good productivity, you need to also do other things besides work. And this space knows this very well, because not only do they provide a space with all the comforts, but also the best views of the Longoria Palace gardens as well as yoga classes with an expert instructor. In fact, it has everything you need to make it your favourite work place.

Address: Hortaleza, 108 (Delicias)
Distance from ARTIEM: 30 minutes using public transportation.

5. The Green ARTIEM

'The Green' is our space at ARTIEM Madrid that you didn't know you needed. Here you can find different 'working areas' that are fully designed to vary your routine and begin to enjoy your work.
We know, a magic formula has not yet been discovered for finding happiness in life as well as work, but from ARTIEM we are coming close: WORK + WELLBEING = HAPPYNESS
Your needs have inspired us to create enjoyable, comfortable and inspiring environments. Spaces that bring together everything you need to work and network in a productive way, but without abandoning your healthy lifestyle. At ARTIEM we call them Growth and Development Spaces (ECD).
Since working is also a pleasure at ARTIEM, we have created areas to release stress, mindfulness techniques, healthy food 24h a day, fully equipped gym, which are just some of the many services you can use to improve your teleworking experience. Aren't you excited?
Address: ARTIEM Madrid/ Juan Pérez Zúñiga, 20 (Arturo Soria)

The current coworking spaces in Madrid offer is infinite, with hundreds of spaces that are housing a new generation of workers every day, seeking to live and enjoy their work with a little more freedom. However, very few spaces offer a conscious proposal based on sustainability and caring for the planet.
If you can choose where to work, why not choose a place that is inspiring, creative, modern and above all, sustainable? Make a difference!