Oviedo is a beautiful city full of retreats where you can get lost and where you can enjoy life. We are aware that travelling is not really appropriate these days. However, when the right time comes, definitely Oviedo is one of your musts in your city break wish-list.
Who's longing for travelling? There is no doubt that we are right now going through a complicated situation and that due to the pandemic restrictions the most responsible position is to stay safe at home and minimise our movements. However, nothing can prevent us from dreaming of those places we want to visit once travelling is back to normal. No one can take that eagerness away from us! We hope that you will be able to fulfil your travelling dreams very soon.
One of the destinations not to be missed is Asturias. A principality is full of both history and nature with beaches of crystal blue sea and mountain of intense greens. There are many different spots to be visited in Asturias being Oviedo, it's the capital city, a remarkable one. For which reason? Keep on reading and you will get to know the reason why.
Are you wondering what to see in Oviedo in one day? We recommend the following 10 sightseeing spots which should not be missed.
What to see in Oviedo in one day:
Oviedo Cathedral
Visiting Oviedo magnificent cathedral is a must. Built between the XIII and the XV centuries, this magnificent gothic building hides structures from previous styles, such as the pre-romanesque style. Its main highlight is its Saint Chamber, declared a World Heritage Site. It is a building that became famous for housing two relics: the Cross of Victoria, a symbol of Asturias, and the Cross of the Angels, a symbol of Oviedo. It is open to the main public and you can choose from two options to visit it.
El Fontán Market
Oviedo has several squares worth a visit. Being Plaza del Fontán, located in the old quarter of the city and square-shaped, a really worth-visiting one. Especially due to the nice atmosphere that can always be enjoyed in its sheltered market. Actually, the market of El Fontán, more than a hundred years old, is an inherited asset which has been named in such an important novel in the European Literature as La Regenta, by Leopoldo Alas Clarín. In El Fontán Market artisan products of all kinds are to be found so you can take a nice souvenir from Oviedo home.
Fine Arts Museum of Asturias
Should you have to choose one amongst all museums in Oviedo, you are recommended to see the Fine Arts Museum of Asturias. It comprises one of the best public collections of art in Spain, with more than 15000 pieces ranging from the XIV to the XXI centuries. El Greco, Goya, Ribera, Murillo, Picasso, Dalí, Miró, Tàpies, Sorolla are some of the distinguished painters whose paintings are to be found here.
Plaza Trascorrales
Another emblematic square in Oviedo is Plaza Trascorrales, somehow hidden amongst a maze of narrow streets in the old town. It is a small and cosy square surrounded by colourful façades with a statue right in the middle of it. The statue is called La Lechera -the Milkwoman- and it is a tribute to all women who, at the beginning of the XXth century, worked as milkwomen distributing milk in the city with the help of their donkeys. A nice touch that makes this square still more pretty.
Santa María del Naranco Church
The pre-romanesque art in Oviedo and in Asturias was very important, and Santa María del Naranco Church is one of its best exponents. In fact, it is said to be the most relevant building of pre-romanesque art in Europe, It is a two-storey palace located in the mountainside of Monte Naranco, in the outskirts of the city. It is worth a visit even if you need a car to get there. Other monuments that can be visited next to Santa María del Naranco Church are Santa Cristina de Lena or the old church San Tirso El Real.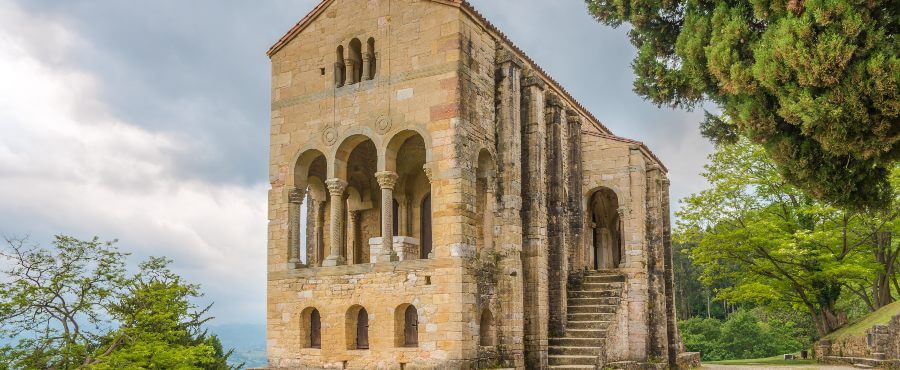 Campo de San Francisco
Breathing pure fresh air and being surrounded by green is something that we always long for, especially when living in a metropolis. Campo de San Francisco is a park in the middle of Oviedo, one of the biggest in Asturias, that has become a real symbol of the city. It is the perfect site to walk, become enchanted with its nature, its pond or a funny sculpture of Mafalda –the comic character by Maitena- and simply let the time go by.
Shopping along Uría Street
We always look for the perfect souvenir and you will in Oviedo too. Uria Street is the main shopping area in the city, connecting the old town with the Estación del Norte -North Station. A street where both locals and tourists go looking for styled fashion shops, cosy coffee-shops, tempting patisseries and typical bars and restaurants where to enjoy the best of the delicious local gastronomy of Asturias.
Constitution Square
We cannot forget Constitution Square also known as Oviedo Townhall Square. It has changed its name on several occasions all throughout history: City Square, Square of the Republic, Main Square.. but you just need to know that it is very close to El Fontán Square and that you will find the church of Saint Isidoro del Real and the Townhall in it. It is very centrally located and therefore easily reachable.
Try typical cider and taste local good wines
You should not dare to leave Asturias without tasting its famous cider. In Oviedo, you can find a few streets which are just the perfect place to do so. For local wine tasting, go along Manuel Pedregal Street and pop in all the bars ordering your wine and tapas to go with. It is a well-known route which is usually very busy. Those preferring cider should go to Gascona Street, which is specialised in cider bars. Let the trained waiters stylish pour the cider out for you or try to do it yourself!
Monte Naranco
In the end, we invite you to discover the natural surroundings of Oviedo by visiting Monte Naranco. It is a mountain range and Oviedo sits on its mountainside. The treasure of Monte Naranco is the pre-romanesque buildings that are to be found, amongst which, Santa Maria Chuch, which we recommended to visit already. For locals, it is the place to go for a walk until you reach the summit and from there enjoy outstanding views of Oviedo and further.
Are you convinced about how incredible Oviedo is? If this is the case, go ahead and start planning your visit for the future, as soon as restrictions for travelling are lifted. Take the chance to stay at ARTIEM Asturias, only 30 min away from Oviedo and 10 min away from Gijón. ARTIEM is the perfect base to enjoy a natural paradise like Asturias. ARTIEM Asturias is ARTIEM's first five-star lodging – an exclusive hotel where you will encounter all the comfort and rest that you need. It has a 500m2 Spa and, apart from its exclusive thermal circuit, it offers a relaxation zone with infrared loungers as well as a wide range of treatments and activities available for your 360 well-being. Our goal is that your stay in Asturias becomes a unique experience that you will never forget.