The map of Asturias is peppered with picture-perfect villages that will win your heart. If you enjoy nothing more than exploring the countryside during your holidays, the region is the ideal destination for you. Read on for inspiration that you won't be able to stop thinking about.
Rural tourism is becoming an increasingly popular choice among travellers. And it's no surprise, as it's got a lot to offer. Not only does the countryside envelop you in a world of tranquillity, far from the hustle and bustle of the towns and cities, it also lends itself to all sorts of outdoor activities, such as hiking, water sports and mountain pursuits. And that's not to mention the authentic flavours of the local gastronomy that are served here. Exploring picture-picture villages is a fantastic way to enjoy all this and more.
And nowhere has more beautiful villages than Asturias. Whether on the coast or in the inland, these are places that emanate charm. With centuries of history behind them, the villages are shrouded in myths and legends that are just waiting to be explored. Some places in Asturias are near impossible to describe with words. The best option: to come and explore them for yourself.
We recommend you visit all the villages - rather than just one - planning a route and setting off in search of a new landscape every day. Motorcycling is ideal for touring: it's easy to get around and find parking. And if you're looking for a place for you and your bike to lay your head, look no further than motorbike-friendly hotel ARTIEM Asturias. The hotel is an excellent starting point for your explorations and incredibly comfortable, so you can relax into a world of comfort after long days exploring the local culture and history.
So where should you visit? In this list, we describe the six most beautiful villages in Asturias that you absolutely have to explore during your getaway in the region. Have a scroll.
The prettiest villages in Asturias
Cudillero
Ask anyone to name the most beautiful village in Asturias and they will say Cudillero. Nestled in a natural curve in the coastline, the seaside village is invisible until you are in it. And what a sight it is. Clinging to near-vertical slopes is a tussle of brightly coloured houses and precipitous streets that will draw you closer and closer to the sea.
Just a 40-minute drive from ARTIEM Asturias, Cudillero offers plenty of ways to spend your time. We recommend visiting the amphitheatre, wandering through the historic centre and following the bluefish on the walls all the way up to the highest point of the village with its spectacular views. Cudillero is also enveloped in breathtaking beaches, each with their own character, namely El Silencio, Concha de Artedo, Puerto Chico and Oleiros.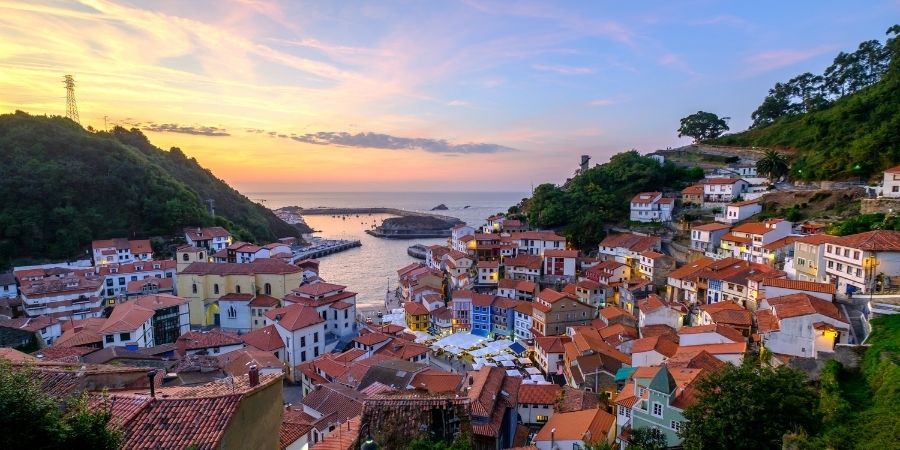 Ribadesella
If anywhere can compete with Cudillero's beauty, it's Ribadesella. Also sitting on the coast, 50km from our hotel, the village is the gateway to the Picos de Europa mountain range. The historic centre has been restored and pedestrianised, making it a lovely place to explore. As you wander around, you will come across architectural jewels such as Casa de los Ardines and a 16th century building which is the present-day council.
Ribadesella's beaches are an absolute joy. La Atalaya beach is tucked away and offers natural pools while Santa Marina beach has a seafront promenade lined with pretty holiday homes. Nearby, there are a number of little hamlets - such as Tereñes, Cueves and Sebreñu, to name but a few - where the lifestyle is authentically Asturian. Don't miss out on everything there is to see and do in Ribadesella.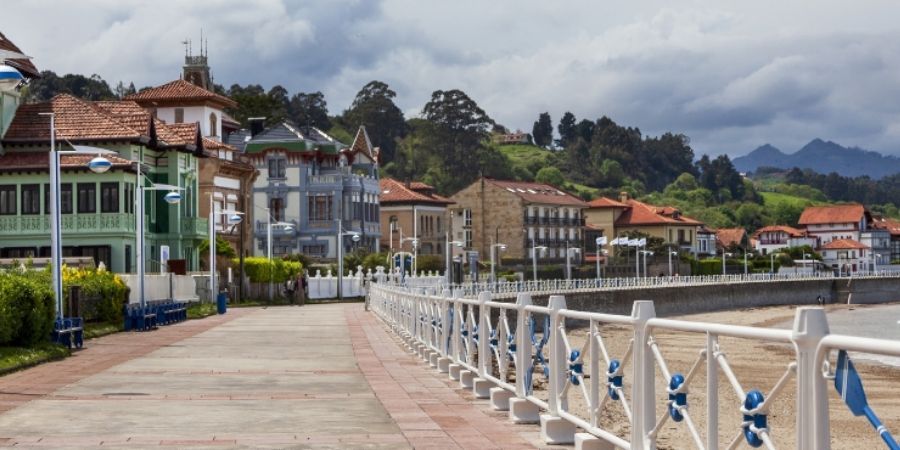 Llanes
It should come as no surprise to learn that Llanes has a long tradition as a holiday destination: it's an absolutely charming seaside village. The historic centre is one of the best-preserved in Asturias and there are plenty of cider bars where you can start to get to know the local culture and its penchant for the alcoholic apple drink.
The historic centre is filled with elegant townhouses, a 15th-century basilica, a Medieval tower and the casino. The best way to explore is, it goes without saying, by taking a stroll around. The Llanes coastline is also well worth visiting as it has no fewer than 30 beaches to its name. From tiny coves to long sandy expanses, this stretch of the coastline will capture your heart. El Sablón is the beach in the village.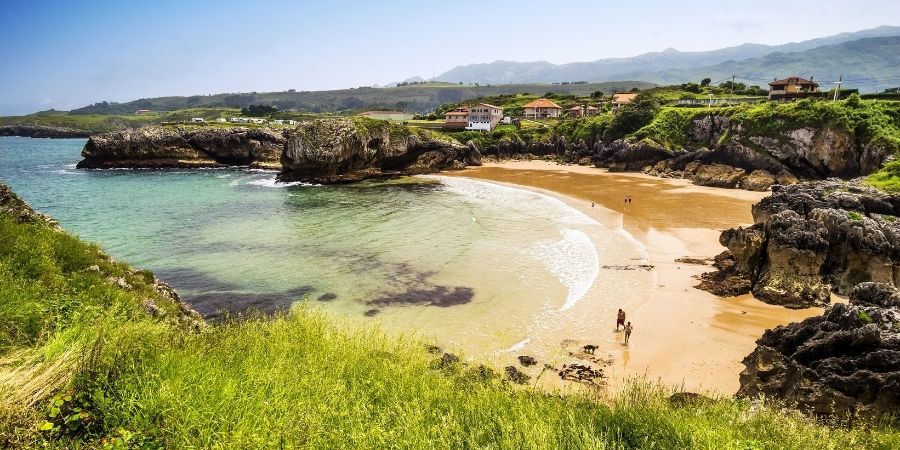 Cangas de Onís
Nestled in the inland, Cangas de Onís is a tiny village with a big history. The battle of Covadonga took place here, which is said to be the start of the Christian's Conquest to take back Al-Ándalus.
The sight that best defines the village is the Roman bridge which is decorated with the Victory Cross, one of the most recognisable symbols in Asturias. The cuisine in Cangas is like nowhere else. The local shops stock the most fantastic traditional products. If you can, make your way to the market to try the cheese produced in Picos de Europa. It's something else. Cangas de Onís is located close to the beautiful mountainscapes of Montaña de Covadonga natural park and Picos de Europa. If you are staying at ARTIEM Asturias, it will take you about an hour to get to Cangas de Onís.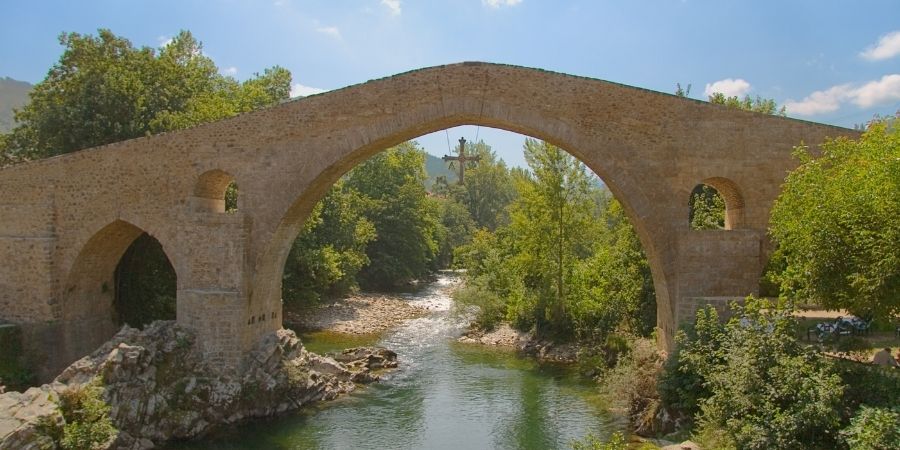 Puerto de Vega
No list of the most beautiful villages in Asturias is complete without Puerto de Vega. Breathing romance, the seaside village has been a source of inspiration for many artists. Traditional fishing houses and grand houses belonging to residents from the West Indies line the port, painting a pretty picture.
This is a village with a long farming and fishing tradition. To find out more about it, visit Museo Etnográfico Juan Pérez Villamil. Or better still, wander from bar to bar, breathe in fresh air of the Cantabrian Sea, sip on a glass of cider and gaze at the waters from a terrace.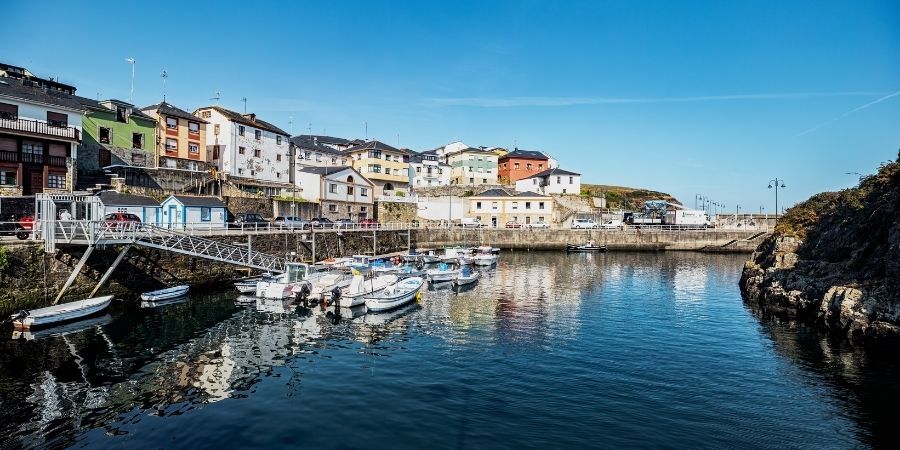 Taramundi
And to conclude our list, we are returning to the inland with one of the most picturesque villages in Asturias. Taramundi perches on a slope, snuggling between the valleys and mountains. The atmosphere here is truly unique, with the verdant mountains creating an extraordinary sense of calm. The bell tower of the parish church will capture your attention, as will the views from the highest point in the village.
Taramundi is home to one of the biggest forts in Asturias. Dating back to the Bronze Age, the fortress was seized by different rulers and was a centre of trade. The village is also known for its knife-making tradition. You can't leave without buying one as a souvenir. Another of the village's attractions is its mill museum, the biggest in Spain with no fewer than 19 mills. As you can see, Taramundi is a destination with a great deal to explore.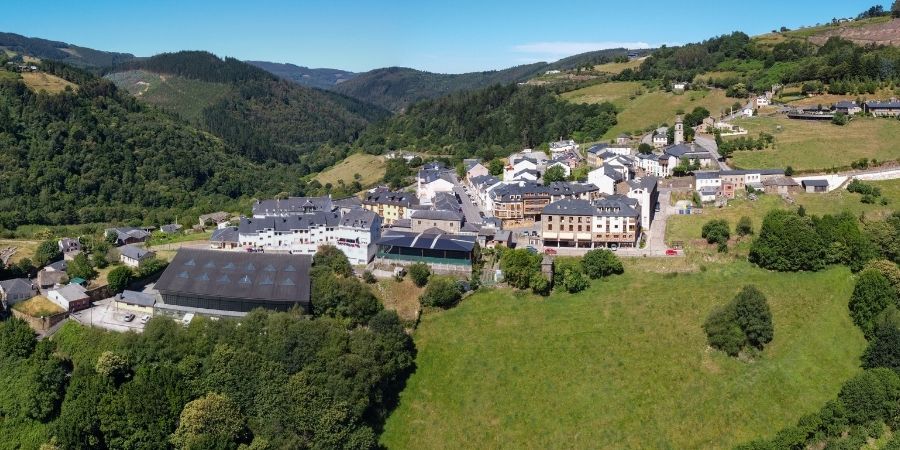 Discover Asturias with ARTIEM
At ARTIEM we want your exploration of Asturias to be unique. Discover Asturias with ARTIEM is an exclusive experience tailored to you. The package includes a two-night stay with a delicious breakfast with garden view, a hydrothermal experience that will restore your inner calm, and a number of activities that you will love. Before you arrive, we will get in touch to find out how you like to spend your time so we can hand-pick experiences for you. If you want to discover the natural paradise on your own, we tell you how to spend a weekend in Asturias.
We invite you to come to our hotel to luxuriate in the 500m2 spa, indulge in treatments and rituals, sleep in comfortable guestrooms and - if you fancy doing some sport - enjoy the gym and outdoor pool. Make the very most of your time in Asturias with ARTIEM.