Beyond the typical, Madrid has unknown places that may surprise you and make you enjoy it to the fullest. Travel to Madrid through different eyes and discover unusual corners that will make you fall in love with the city again.
A getaway from time to time is so essential to break with the routine. Taking the car, train or airplane; with your partner or friend; to the sea or the mountains. The options are endless, but the important thing is to disconnect from everyday life and nourish ourselves with new experiences and landscapes. Even if it is only for a weekend, we make the most of it!
Now it´s recommended to stay at home, but this cannot stop us from dreaming of travelling. For sure many of you are looking forward to visiting new places when it will be safe; now is the time to plan and project trips for the coming months.
Where can we go when that day comes? There is a perfect city for a getaway: Madrid. And it is perfect because Madrid never ends: there are always new restaurants, squares, parks, monuments and streets to discover. If you have already visited the most typical corners of the city and you prefer to dive through the little-known places in Madrid, we recommend you 10 unknown places in Madrid so that you can live a new and different experience at all times.
Discover 10 unknown corners in Madrid
The ghost station of Chamberí
In the Chamberí neighbourhood you will find a disused metro station that, since 2008, houses an interpretation center of the Madrid Metro. The Chamberí station was functional until 1966 and remained abandoned for more than 40 years until it was restored in order to enhance its historic heritage. Now you can make free visits to see what the metro stations were like inside decades ago. It is like a trip back in time!
El Capricho park
There is one common thing that both the locals and tourists like in the city- it is the green areas. Parks and gardens where you can relax, breathe fresh air, stroll quietly and observe the good things nature gives us. Beyond the Retiro park or the Sabatini Gardens, a less popular but very charming park is El Capricho. You will find it in Almenda de Osuna and, with more than two centuries of history, it houses a Civil War bunker that is unique in Europe.
Hermitage of San Antonio de la Florida
Religious buildings are always welcome on a tourist route. They keep the history of other ages and their architecture leaves us with our mouths open. In Madrid there are many examples (cathedrals, churches…) and one lesser-known is the Hermitage of San Antonio de la Florida. Its secret is its walls: they have a pictorial set by the very Francisco de Goya. Moreover, the remains of the painter rest in this place, so the Spanish painting lovers have a good reference to visit in this hermitage.
The Neomudéjar
If we talk about art, another of the emblems of Madrid are its museums. Prado, the Reina Sofia Museum, Thyssen, and many others have turned the city into a world-renowned artistic showcase. But if we scratch around a bit we will find smaller but just as interesting art centers. The Neomudéjar is a good example; an avant-garde center where you can see everything that does not appear in classical museums: video art, street art, parkour, and very original performances.
Cerro del Tío Pío
Madrid is vast and, sometimes, when we go sightseeing, we stay in the centre and do not go into the neighbourhoods on the outskirts, which have a lot to offer. For instance Vallecas: here we have the park of Cerro del Tío Pío, which is famously known as the Park of the 7 Tits. This is because of the shape of the hills that make up this green area. The park of Cerro del Tío Pío offers to enjoy one of the best views from the entire city, so lovers of a good viewpoint should go and see for themselves.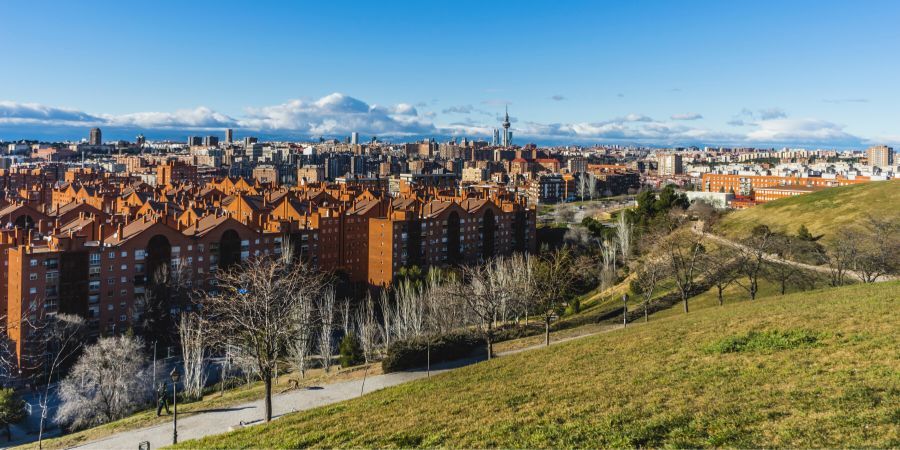 Tapas route through Madrid
Going out for tapas in Madrid is customary for locals, but those who escape to the city for a few days can also join in this healthy tradition. A tapas route should take us to try different places such as the San Miguel Market, the patatas bravas from Docamar, the croquettes from Casa Julio, the huevos estrellados from Casa Lucio and the callos from Casa Alberto. Moreover, going out for tapas with friends is the best way to immerse yourself in the joyful and diverse spirit of Madrid.
Street sculptures
Many streets of Madrid are decorated with sculptures; busts honouring everyday characters who have left their mark on the city. One of the most symbolic sculptures is the "rock grandmother", which you can see on Avenida Peña Gorbea. A tribute to a real woman who lived in the neighbourhood and who was mythical in the 80s, when her grandson discovered heavy metal for her and she became the number 1 Rock fan in Madrid, collaborating on radio programs and magazines.
The oldest restaurant in the world
Did you know that the oldest restaurant in the world according to the Guinness Book of Records is located in Madrid? It is about the Botín Restaurant, founded in 1725. In its almost 300 years of history, this place has appeared in works by Pérez Galdós, Graham Greene, or Ernest Hemingway. In addition, it is said that Francisco de Goya, whom we just named before, worked here as a dishwasher! A place full of history that is still open and serves delicious traditional food.
Motores Market
El Rastro is the flagship of the markets in Madrid, but many more markets are held throughout the weeks in all neighbourhoods. One of the most curious markets is the Mercado de Motores, which is held once a month (the second weekend) in an old train station. It is a very varied market: fashion, decoration, music, gastronomy, children's activities, and even a doggy daycare center so that your dog is in good hands while you visit it.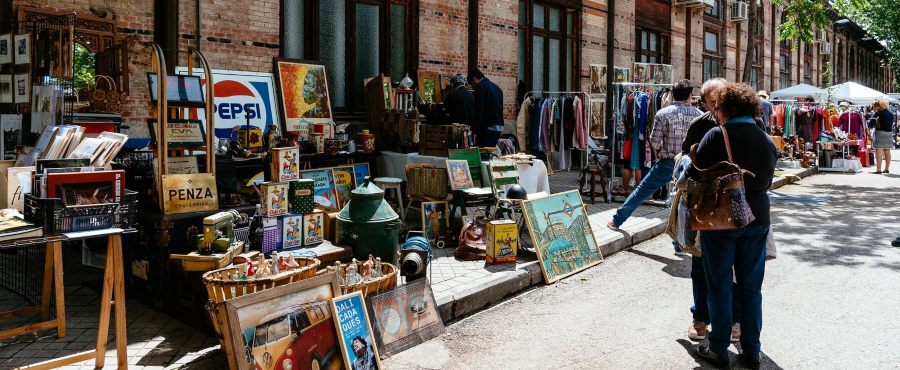 Source: 65yMás
Quinta de los Molinos
Finally, one of the unknown places in Madrid that holds a lot of beauty is La Quinta de los Molinos, a Mediterranean garden with an open space for children and teenagers. One of the secrets of this garden is that it has many trees, especially almond trees, which when blooming they create a real spectacle for the senses. The best time of year to visit La Quinta de los Molinos is undoubtedly in February and March when the almond blossoms are in full bloom.
ARTIEM Madrid: wellness in your getaway
If you need accommodation for your visit to Madrid to be able to enjoy all these amazing places we recommend to you, ARTIEM Madrid is the hotel you can count on. At ARTIEM we work to make your experience unique and unforgettable; we are an urban green hotel with different services such as a wellness gym to find the balance of your body and mind; a chill-out terrace to enjoy the outdoors; the favourite space of our guests The Green to practice the Grab&Go, spacious and bright rooms to wake up like new every morning. The icing on the cake to make your visit to Madrid unforgettable.