This mobility will help Menorca's visitors to move around the island in an easy and sustainable way while they get to know and enjoy it. ARTIEM, together with SEAT MÓ, will contribute to boosting the local economy, creating value for our visitors and helping to give meaning to the philosophy of being a Biosphere Reserve.
The SEAT MÓ sustainable mobility project arrives in Menorca with its complete range of 100% electric scooters, motorbikes, cars and boats. At ARTIEM we have joined this action, offering our hotels as the main base where users can rent vehicles, becoming one of the main partners of the brand on the island. A project that offers us the opportunity to take another step forward on the way to sustainability, allowing us to contribute to making travel cleaner and more sustainable.
Origin of the sustainable mobility project at ARTIEM
The current presence of sustainable mobility in Menorca actually began to see the light on the Greek island of Astipalea, with 1,300 inhabitants. There, SEAT MÓ, a new business unit of the company engaged in providing sustainable solutions for urban mobility, took the first steps toward an agreement signed between the Volkswagen Group and the Greek Government to transform that small territory into a pilot programme for implementing 100% electric mobility.
In Menorca, the driving force of the project is a native of Mallorca with ancestors from Menorca, Lucas Casanovas, General Director of SEAT MÓ, who in 2019 personally called José Guillermo Diaz Montañés, CEO of ARTIEM Hotels.
"In 2019 I received a call from Lucas Casasnovas, who wanted to meet with us. I had not previously met him. We agreed to have a meal together. During that meal, I became captivated by the project and by his excitement and passion when talking about it: turn Menorca into a pilot project of sustainable mobility led by SEAT (Volkswagen Group), while involving the society of Menorca, the public administration and the private sector. An inclusive and transforming project and, in my opinion, a driving force for our economy. Of course, ARTIEM gave its support for the project right then and there." Pepe Diaz Montañés, CEO of ARTIEM Hotels.
As it is said in Menorca: "a poc a poc"

In 2020, the Spanish Government presented the Recovery, Transformation and Resilience Plan, backed by EU Next Generation funds. The purpose of the Plan is to drive the ecological transition, digital transformation, gender equality and social and territorial cohesion.
With the objective of transforming and modernizing the economy of Menorca, local business owners and promoters presented various projects to the Illa del Rei Forum, which publicized 10 initiatives prepared by 16 entrepreneurs, including the project, "Menorca: Smart Green Island", for electric mobility, submitted by Lucas Casanovas, from SEAT, and Martí Ribas, from Endesa.
To ARTIEM's surprise, the project ultimately ceased to be a priority. But SEAT continued to be committed to moving ahead with it, and they asked for ARTIEM's support. From that moment, ARTIEM became the main driving force behind sustainable mobility in Menorca.
"That's how ARTIEM took its first steps on this exciting path towards a new form of more sustainable and less intrusive mobility, rooted in the lifestyle of Menorca, which can be summarized by the phrase 'a poc a poc' (little by little)." Pepe Díaz, CEO of ARTIEM Hotels.
ARTIEM Hotels - the main basis for sustainable mobility
At our hotels in Menorca – ARTIEM Audax, ARTIEM Carlos and ARTIEM Capri – various mobility alternatives of SEAT MÓ are already available: electric cars, electric scooters, electric motorcycles (eScooter) and electric boats, thereby allowing our visitors to more sustainably discovering the island's secrets. You'll also be able to enjoy shared sustainable mobility through the "carsharing" option, which can be requested using SEAT MÓ's APP.
"I think that this project gets visitors involved by offering not only sustainable mobility but also a different and more inclusive experience. Imagine taking an electric scooter for an easy ride to have a drink in the port of Mahón, or even taking out a new electric boat from our ARTIEM Carlos hotel. Easy, sustainable and also fun." Víctor Mayans, Marketing Director at ARTIEM.
How do you reserve an electric vehicle at ARTIEM?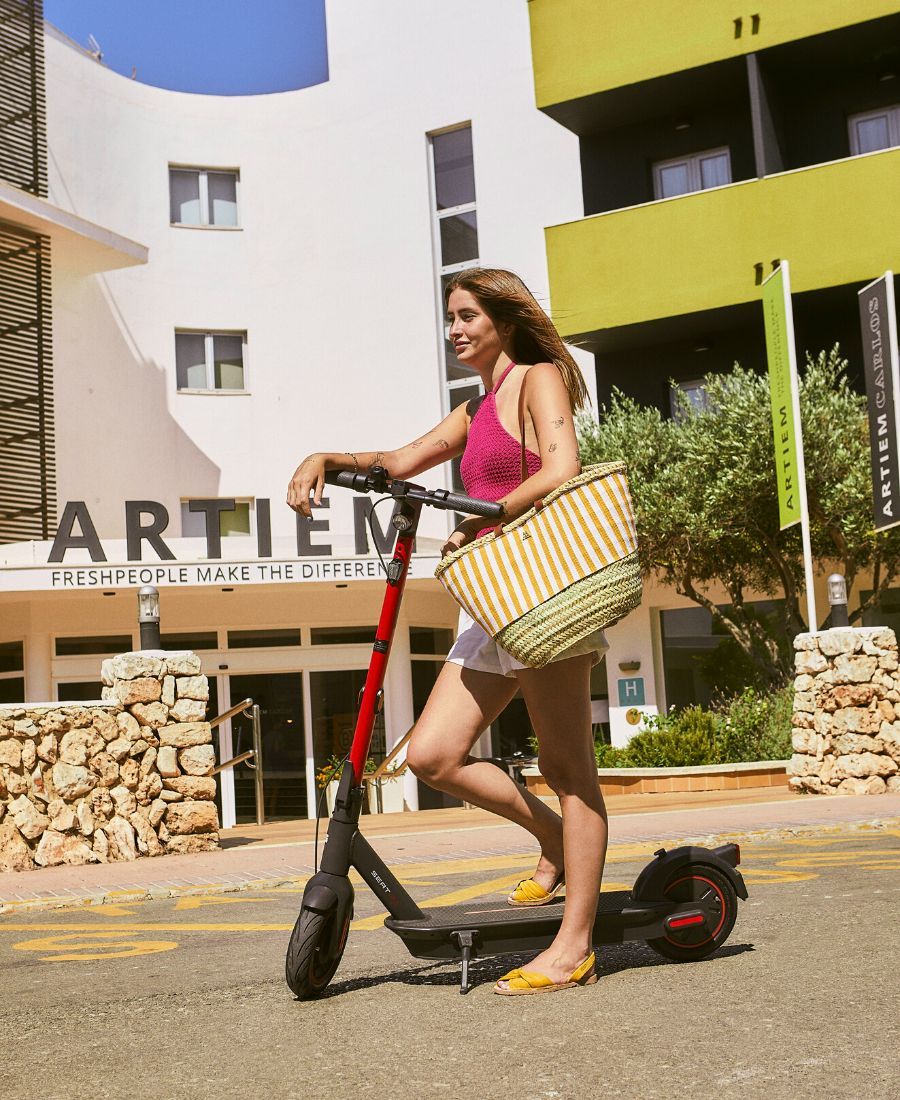 Reserving a vehicle at ARTIEM is very simple:
Download the app from SEAT MÓ.

From the pop-up menu at the top of the map, select MÓ Car Rental / MÓ Moto Rental. If you still don't see the service, send us an email at [email protected]

Access the wallet and purchase your Pass.

Select the motorcycle or car from your closest ARTIEM station, and reserve it. You'll have 15 minutes to begin your trip.

Before taking off, be sure that you select your pass as the payment method.

Remember that the trip can only end at the station where you picked up your motorcycle or car. To make other stops, select the pause mode.
ARTIEM, centre stage of sustainable mobility
This is not the first time that SEAT MÓ has filmed a specific advert for this product line, something it has already done in other locations in Spain. On this occasion, the campaign to launch the project was filmed in Menorca, and it couldn't be otherwise. One of our hotels, ARTIEM Capri, appears in one of the scenes, can you find it?
At ARTIEM, we are very proud to have the opportunity to participate in this project, which adds to our commitment to the people and the planet's wellbeing.