We are strong advocates of nature and the environment; for this reason, in 2018, we set out to reduce CO2 emissions by 80% within 8 years. We will tell you how we are fulfilling Project 8/80 and other transformations that we have been developing for planet conservation.
The care and protection of the environment and its surroundings have become one of the main objectives for ARTIEM as an organization. Our hotels are located in unique enclaves where nature and the landscape are part of their attraction, especially in Menorca and Asturias. Therefore, we feel the responsibility to protect them and, above all, generate a positive impact on the area.
In the late 1990s and early 2000s, this was an issue that began to concern us. As Guiem Sintes, ARTIEM's Director of Environment and Quality recalls, back then, there were already a few sustainability projects underway. However, over the last 20 years, we started to work on reducing the environmental impact in a structured way, "to do our bit and be more sensitive to the impact we have on the environment".
For ARTIEM, the period between 2003 and 2007 was key to starting believing in the sustainability project. We realized that it was possible to take care of the environment by being more efficient; our employees internalized it as a differential value, and guests began to recognize our efforts.
In the subsequent stage, between 2007 and 2018, we decided to adopt this philosophy as part of our values and ARTIEM´s culture. We became advocates of the cause. Therefore, we created the Aportam concept by defining our environmental policy to work together with our stakeholders in favour of sustainability and the environment.
Continuing along this path, in late 2017 and early 2018, we felt that the time had come to take a step further. Thus, Project 8/80 was born, with which we decided to "reduce CO2 emissions from our establishments by 80% in 8 years," explains Guiem. The aim is to achieve zero or "almost zero" emissions at ARTIEM hotels in the future.
And how are we developing the process? After identifying the starting situation and all the equipment and technologies that emit CO2, we began to research and spot clean and sustainable alternatives.
All this information appears in a roadmap, together with the investment and the expected return of each action. The main Opportunity Areas are three:
Zero Emissions: by analyzing the different technologies available for implementation and improving monitoring systems for instantaneous consumption adjustment.
Circular Economy: in operating processes.
Lean Culture: in addition to improving the working conditions of people, the consumption of supplies and materials would be optimized and thus, the CO2 footprint would drop.
"It is a living document that we keep updating, which allows us to decide year by year what action to implement and, in addition, to do a follow-up," says ARTIEM's Director of Environment and Quality.
Since the start of the Project 8/80 project, we have made several changes that are helping us to achieve the goal of zero emissions in eight years.
We have installed photovoltaic panels at ARTIEM Asturias, ARTIEM Audax, ARTIEM Carlos, and ARTIEM Capri, which enable us to obtain clean energy in our hotels. We are willing to install more in the coming months at the ARTIEM Madrid hotel.
In 2021, we managed to generate 105,441 kWh of energy from photovoltaic sources, equivalent to 4.7% of our hotels' total energy. Also, we keep our daily efforts to reduce our supplies to increase this still insufficient toll.
We also implemented other actions, such as improving the monitoring of supplies and control systems and automating readings and decisions with programs for temperature regulation, pump start-ups, and consumption control. We have implemented the management of domestic hot water (DHW) and heating, air conditioning equipment with a heat recovery system generating DHW pre-heating, management of gas consumption in kitchens, and such.
It is also our intention, in the short term, to eliminate the use of diesel to heat sanitary water in ARTIEM Audax and ARTIEM Carlos.
Thus, in our commitment to using renewable energies and eliminating the most polluting fuels like diesel, we reduced our supplies, which helped us raise awareness among our Freshpeople. It means that since 2018 we have managed to reduce our emissions by 26.3%. But what do these percentages mean?
The achievement is that we reduced as many as 493.95 tons of CO2 - the equivalent of what 2880 trees capture over one year!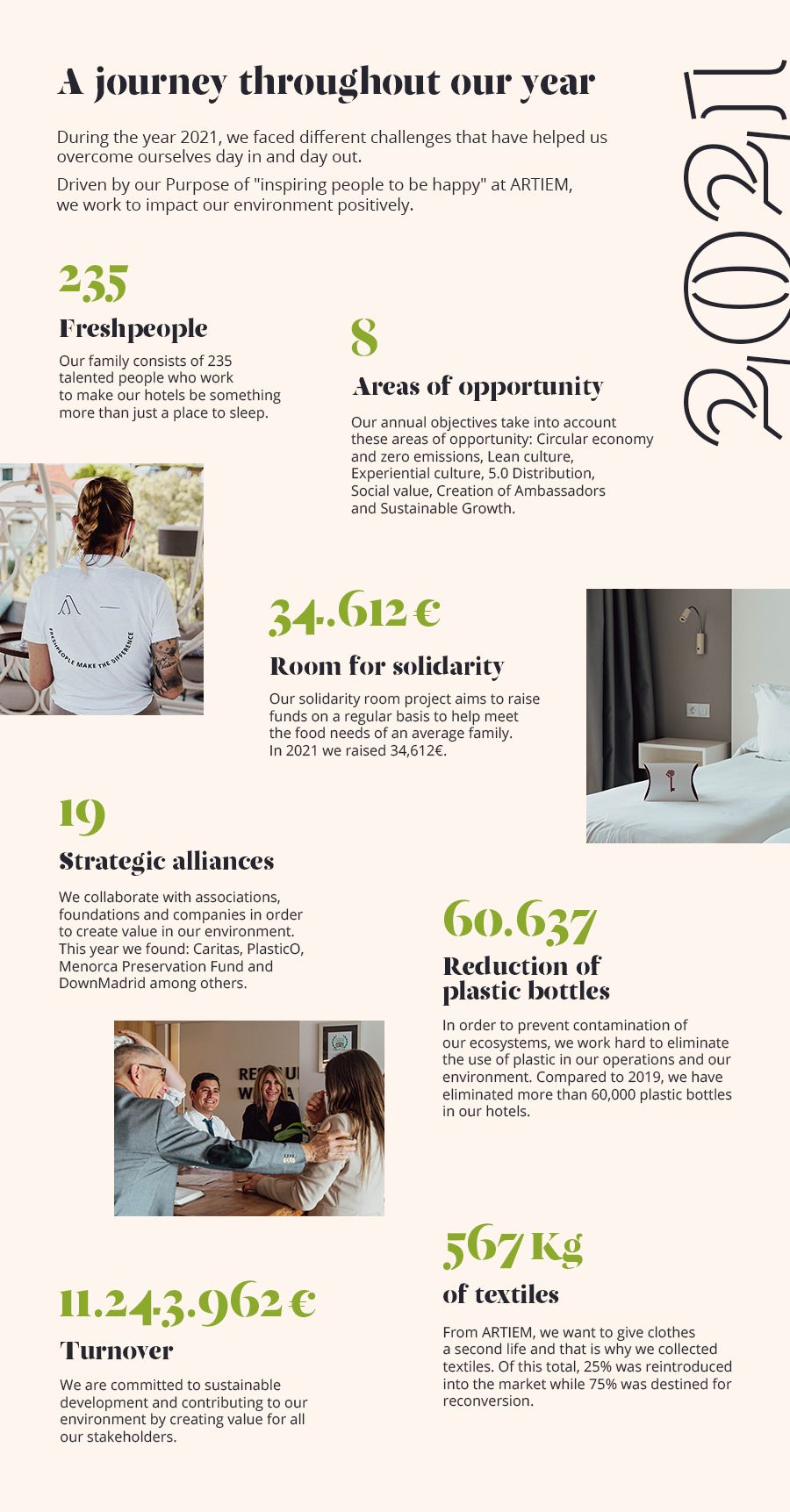 And we are glad to say that now, in the fourth year of the 8/80 project, ARTIEM Hotels has already achieved 30% of the target. And there is more because, in addition to this project, as ambitious as necessary, our commitment to a greener world pushes us to continue seeking opportunities for steady improvement.
Do you want to know what else we do? Here we tell you about some of our actions:
In our aim to reduce emissions and create a smoke-free environment, we want to promote the use of electric cars. Thus, we have installed double chargers for electric vehicles at ARTIEM Asturias, ARTIEM Audax, ARTIEM Carlos and ARTIEM Capri hotels.
We have incorporated circular economy criteria to avoid, as much as possible, food waste and the serious environmental consequences it causes. And of the generated waste we could not avoid, in 2021 we collected 3,453 kg at the ARTIEM Capri Hotel to turn them into compost.
In addition, at the end of each season, we donate non-perishable food from the ARTIEM Audax and ARTIEM Carlos hotels to humanitarian aid organizations like Cáritas Menorca.
Elimination of water bottles: returnable glass and plastic

In 2020, we implemented our plan to reduce water bottles (both glass and plastic) in our hotels to decrease the carbon footprint they cause. In 2021, as many as 55,639 of our water units were replaced with reusable glass bottles in all our hotels. And in 2022, we switched to local suppliers to reduce the carbon footprint of transporting 11,778 bottles.
In addition, we have joined the Plastic-Free Menorca Alliance movement, auditing the use of plastic in our hotels in Menorca to improve our results little by little.
Moreover, in 2021 we managed to eliminate 60,637 plastic bottles from our picnics and our "Grab&Go" compared to 2019, thanks to an alliance with Ocean 52 - a company that distributes infinitely recyclable water tin containers and allocates 52% of its profits to ocean preservation projects.
At ARTIEM, we want to reduce the waste of water and pollution generated in rivers and the atmosphere by giving a second life to our clothes. Thus, we released a campaign to collect garments from our uniforms, classifying them as damaged, with old brand image, in good condition and without references to ARTIEM and different textiles from our hotels.
Thanks to the participation of our Freshpeople, we collected 567 kg. of clothes delivered to Caritas in 2021, with 25% reintroduced into the market and 75% destined for textile reconversion through the Moda-Re Project.

At the ARTIEM Audax hotel, 100% of the water needed for pool maintenance is reused from the reverse osmosis rejection water. Plus, we also collect in accumulator containers the water from cleaning pool filters to give it a triple use: for the cleaning of kitchenware, contributing to pools, and finally for the irrigation of the gardens.
Alliances to accelerate the development of sustainability at ARTIEM
Thanks to our activity, we collaborated with companies and entities with social and environmental impact.
In 2021 there were 19 strategic alliances with organizations such as Caritas, Down Madrid, 0 Plastic, Plastic-free Menorca, or Menorca Preservation, among others.
An example of one of these collaborations is the expedition for gathering plastics on Menorca´s coast. In June 2021, we collaborated again with 0 Plastic, resulting in the removal of roughly 327 kg of plastic and 2,500 micro-plastics from the coast of Menorca.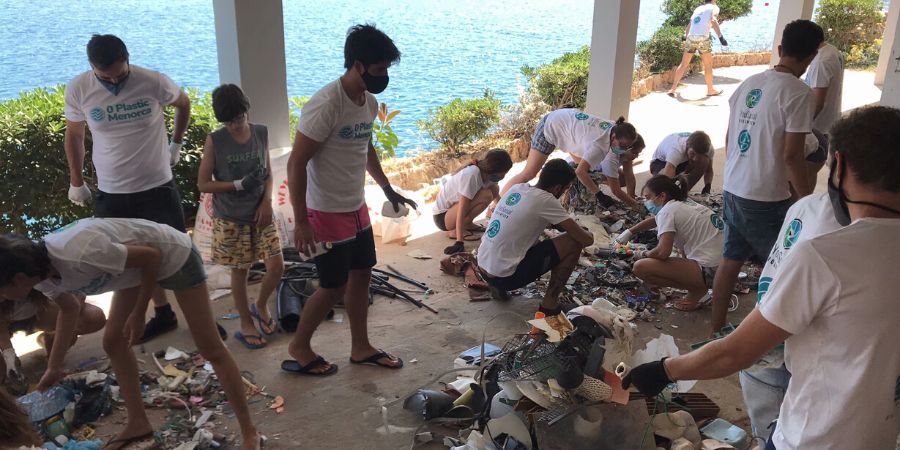 Local and seasonal produce: Aportam Project
Since the beginning of this project, we have been gradually modifying our gastronomic offerings to have at least 50% of the produce in our restaurants meet sustainability criteria.
Before making our purchases, we evaluate the proximity of the product, its seasonality, and how it impacts the environment where our hotels are located. Currently, 18% of our suppliers meet these sustainable criteria.
At ARTIEM Asturias, we have an organic vegetable garden that serves the restaurant, and in 2020, we will also start to use the aromatic herbs we plant to make our own bath salts and gifts for our clients.
ARTIEM Hotels, Frehspeople and Artiemlovers: united for the planet
As inspiring and raising awareness among our customers and Freshpeople to reduce the negative impact is part of our philosophy and the ARTIEM´s world, we promote different measures and tips in our hotels and rooms to achieve a more sustainable planet.
We are talking about actions such as spacing the change and washing of sheets and towels, the ease to split waste and its subsequent recycling, and water flow limiters in showers and dual flush toilets, among others.
In 2021 we set out to raise our ARTIEM Carlos´ guests´ awareness to change the pool towels less frequently and thus minimize the impact of water and energy consumption. This is why we charge a symbolic €1 for each towel to later donate all the proceeds to Menorca Preservation. By doing this, we help this foundation protect Menorca´s environment.
At ARTIEM, we promote conscious tourism and sustainable vacations. Teaming up to achieve a better and more caring world is our desire and responsibility.
Not in vain, we were the first hotel chain in Europe and the third in the world to obtain the official document that certifies that we generate a positive impact with our business: the B Corp Certificate.
We want our contribution to become something bigger and bigger and be an example of a sustainable hotel management model.
We believe that this trend is unstoppable and should be regarded as an opportunity to innovate, differentiate and be more competitive.
At ARTIEM we claim that this is our path to follow in order to become better hotels for the world.