Paradisiacal oases on the shore of the Mediterranean. Pure, serene and beautiful slices of heaven. Veritable treasures of nature. We could rave about the coves in Menorca for hours on end. If you want to explore the very best during your getaway, this is the list for you. We asked our FreshPeople to recommend their favourite spots on the island so you can benefit from this priceless local knowledge and enjoy the very best of the sun, sea and sand.
Menorca will soon have you falling in love with its landscapes, wild coves, the hues of the Mediterranean. And that's just the start. This is a destination that will seduce you. An island whose charms will have you coming back time and time again.
We decided to ask our staff, who we call Freshpeople, about the wild coves that they love the most. Insider knowledge that we at ARTIEM wanted to share so absolutely everyone can enjoy the very best spots around the island. Read on to discover paradisiacal beaches.
The best coves: recommended by our Freshpeople
Cala Macarelleta (recommended by Tere Orasio, ARTIEM Carlos)
One of my favourite wild coves in Menorca is Cala Macarelleta, the little sister of Cala Macarella. I love sitting on the shore and feeling the soft white sand under my feet. Gazing at the blue sky fusing with the blue sea, as if it were a painting. Being aware of the smells, the colours… It's a whole world of sensations.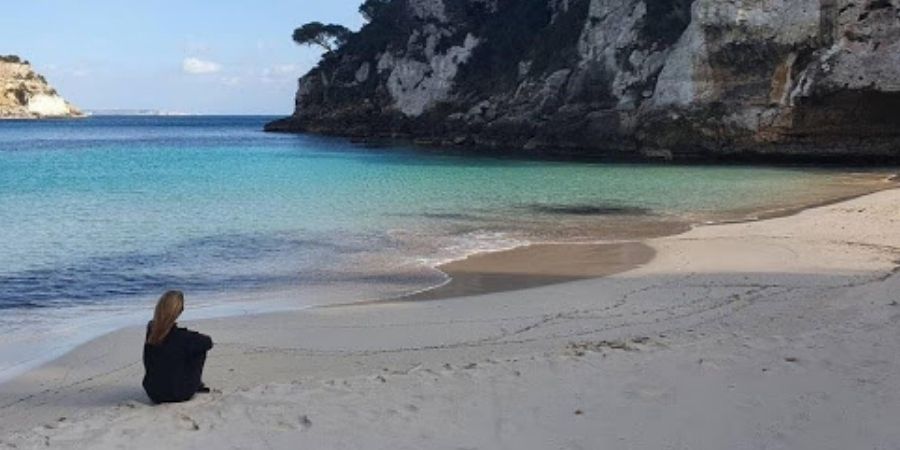 Tere at Cala Macarelleta
Cala Sa Mesquida (recommended by Sergio Álvarez Ramos, ARTIEM Carlos)
Not far from Maó, Sa Mesquida is a spectacular beach on the northern coast of Menorca. The beach sits next to a beautiful little fishing village, which makes it an even more special place.
Its serene atmosphere and stunning vistas make it one of my favourite coves on the island. I'm proud to be from Menorca. There's so much to explore here. Don't miss this unique spot and enjoy an incredible day out at the beach.
Now it's over to you. It's time to unwind.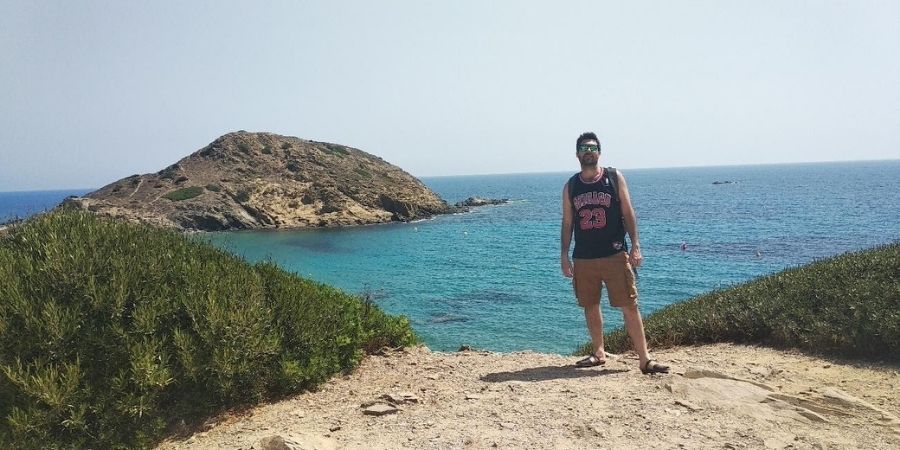 Sergio at Cala Sa Mesquida
Caló Roig (recommended by Gabriela Aliaga, ARTIEM Office)
Located close to Alcaufar is the smallest beach in Menorca: Caló Roig.
There are different ways to get to the cove and the most wonderful is by water, either bobbing about in a small boat or paddling in a kayak. But you can, of course, also get to the cove by land from the village of Alcaufar. As soon as you get here you will be enthralled: it's a tiny little beach nestled between two cliffs whose white sands glisten in the sunshine. Simply stunning.
Torre Alcaufar, a guard tower dating back to the 18th century, is not far away. You can go and visit if you fancy. I don't have anything more to say other than to encourage you to spend some time in the cove and enjoy the feeling of jumping into the crystalline waters.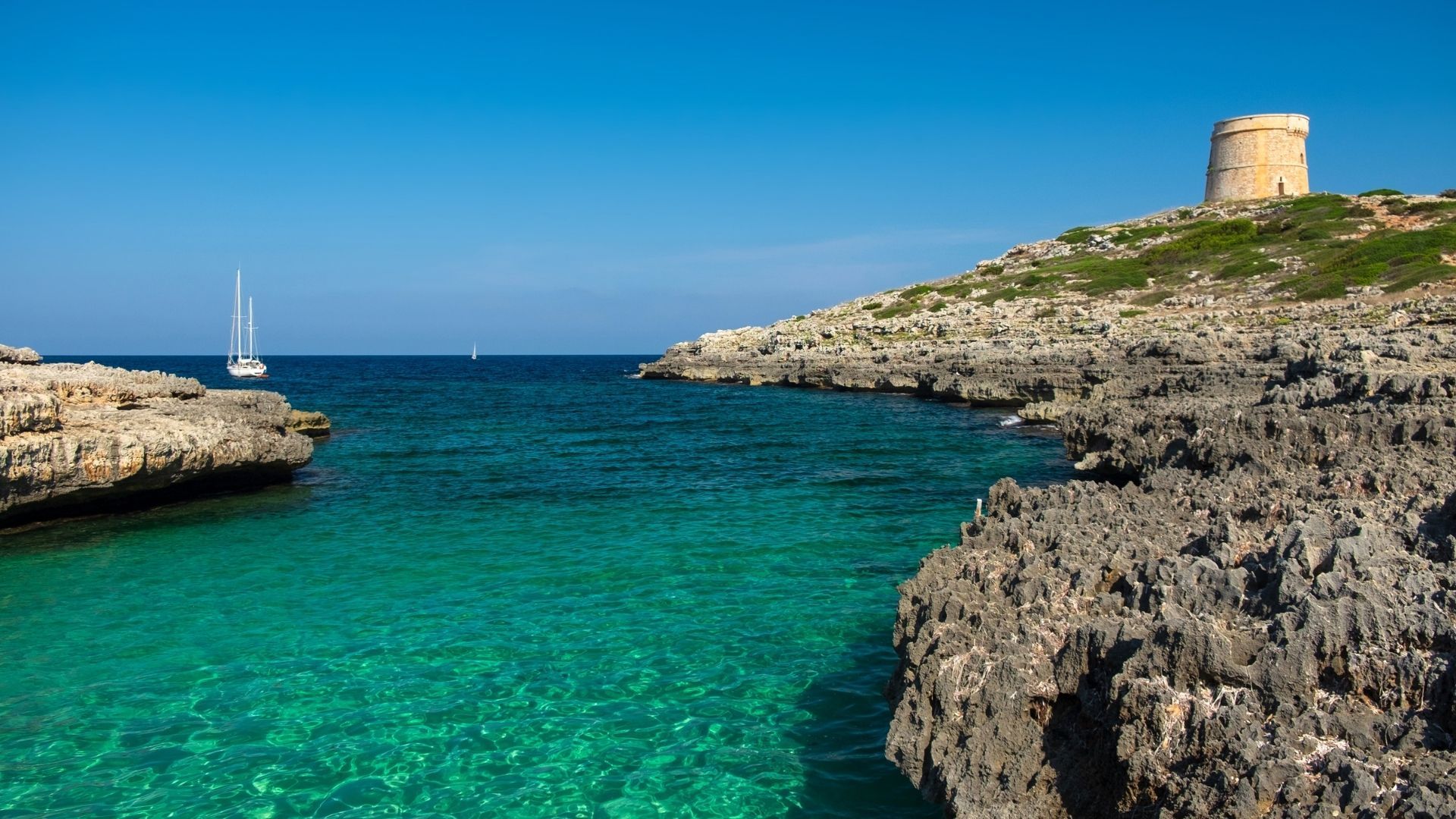 Caló Roig en Menorca
Cala Pilar (recommended by Gustavo Coll, ARTIEM Audax)
One of my favourite places on the island is Cala Pilar, a beautiful spot located on the northern coast of Menorca. It is a great example of the contrasting landscapes you can find here, as there is nothing quite like it on all the Menorcan coastline.
You might have noticed that I said one of my favourite places. That's because I'm from Menorca, I love this island and it's hard to choose just one. But this cove is certainly very special.
When I was little I used to spend time with my family at our house at Cala Ets Alocs, which is a macar, a beach of macs, which are round pebbles with a reddish hue. It sits just to the east of Cala Pilar.
The trail from this macar to Casa Pilar follows a section of Camí de Cavalls. It's a tricky walk for children, but we would beg our parents to take us there. It was like walking through the Grand Canyon! The only way to get to the cove is on foot or by sea.
Finally the big day came. Accompanied by our parents and plenty of cries to "be careful of the cliff!", we set our eyes on this most wonderful corner of the Menorca coastline. Our Mecca.
I'm not sure whether it was the excitement of seeing what lay behind the cliff or whether this really is an earthly idyll, but nothing can erase the image and emotions from my memory. Crystal clear water embraced by orange-toned clay cliffs. The only thought on your mind is that you never - ever - want to leave.
I always say that the beaches are more beautiful from the sea than from the land, but this isn't true when it comes to Cala Pilar. I recommend it to anything who wants to spend time in a little slice of heaven that you can walk to.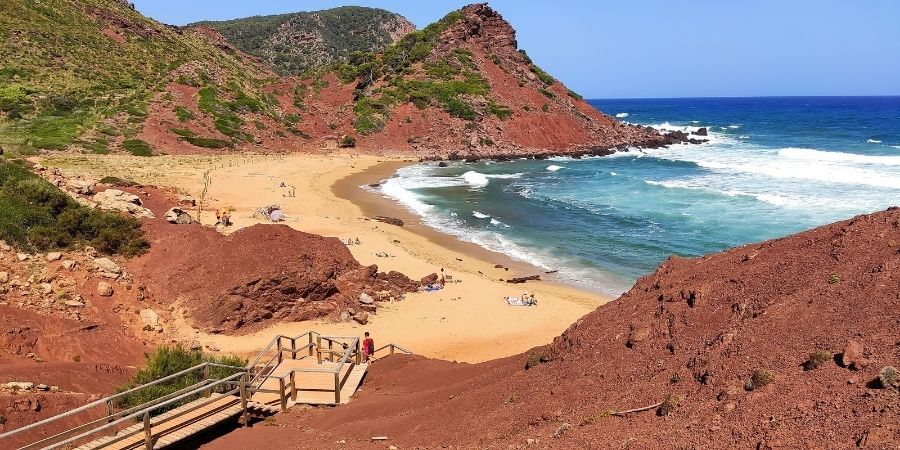 Cala Pilar in Menorca
Playa Atalis (recommended by Nuria Martínez, ARTIEM Audax)
Playa Atalis lies on the southern coast of the island between Santo Tomás and Son Bou beaches. It's a wild beach defined by white sand and turquoise waters. A tranquil part of the coastline that is never too busy, not even in high season. To get here, it's a 20 minute walk from Santo Tomás.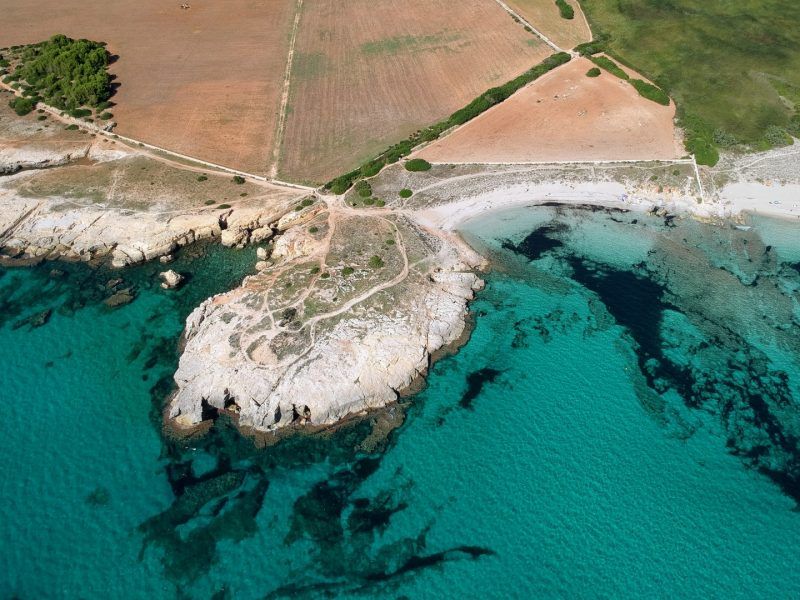 Playa Atalis in Menorca. Source: menorcadiferente.com
Cala'n Carbó (recommended by Paco Pons, ARTIEM Office)
Cala'n Carbó is located in the Vall district of Ciutadella. To get to the cove you can paddle your way over the waters by kayak, from Cala Morell, for instance, which will take you through an area of exceptional natural beauty.
The cove is what is known in Menorca as a macar, a pebble beach. But these are no ordinary pebbles. The stones are large and an unusual reddish colour.
The adventure starts even before you reach the cove, because there's no trail: you have to walk through the bed of a stream. Justifying its reputation for being the most off-the-beaten-track cove in the whole of Menorca.
A real jewel and one of Menorca's best kept secrets. (Don't tell too many people though, we don't want everyone to find out!)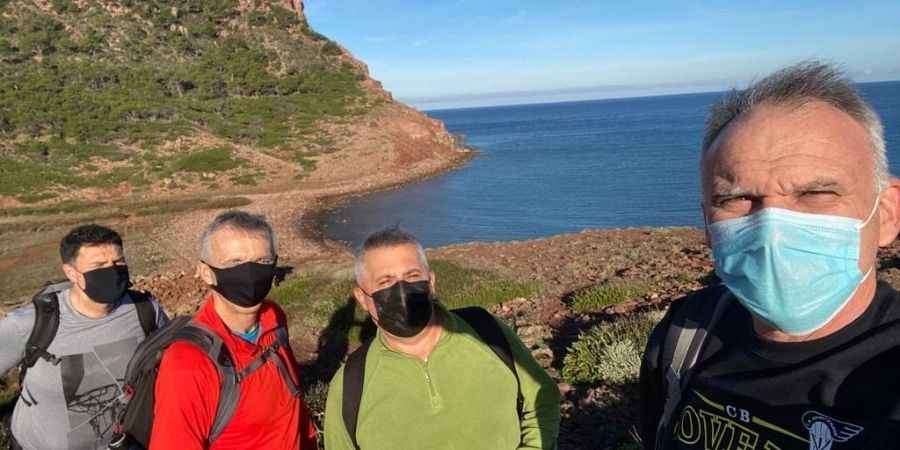 Paco Pons with his friends at Cala'n Carbó
S'Olla de Binisafua (recommended by Silvia Gonzales Clemente, ARTIEM Carlos)
I absolutely love the beach. Just after getting married, we came to Menorca for our honeymoon. My cousin lives on the island, and as he is one of the most important people in my life, he knows me, and my tastes, really well.
The first place he took me to was to Cala Sa s'ollas in Binisafuller. I will never forget how I felt when I got there. It was the 2 May and 9.30 in the morning. The sea was calm, the sun reflecting on the waters, the Mediterranean so clear that you could see the fish, you could smell salt and feel a sense of tranquillity. I fell in love with the cove then and there. I still go whenever I have free time in the quieter months. It leaves me feeling relaxed and re-energised.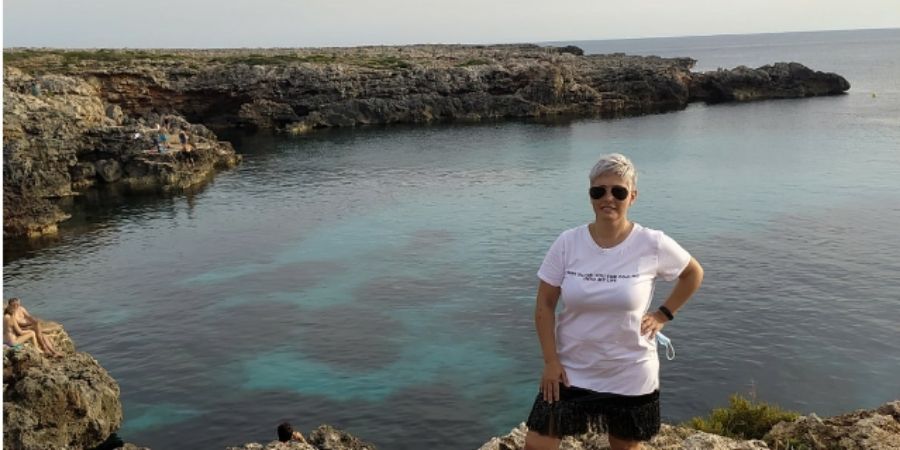 Silvia at S'Olla in Binisafua
Wild coves in Menorca
And that completes the list of the coves our Freshpeople recommend you visit during your time on the island. But here at ARTIEM, we want to share a few more secrets with you. Are you ready to explore even more paradisiacal coves in Menorca?
Cala Mitjana
Cala Mitjana has got a little sister too: Cala Mitjaneta. This slice of Mediterranean paradise simply has to be on your to-visit list. It is one of the treasures of the Menorcan coastline. Defined by clear waters and soft sand, it is an oasis of peace and tranquillity. Don't forget to bring your snorkel: you won't want to get out of the water.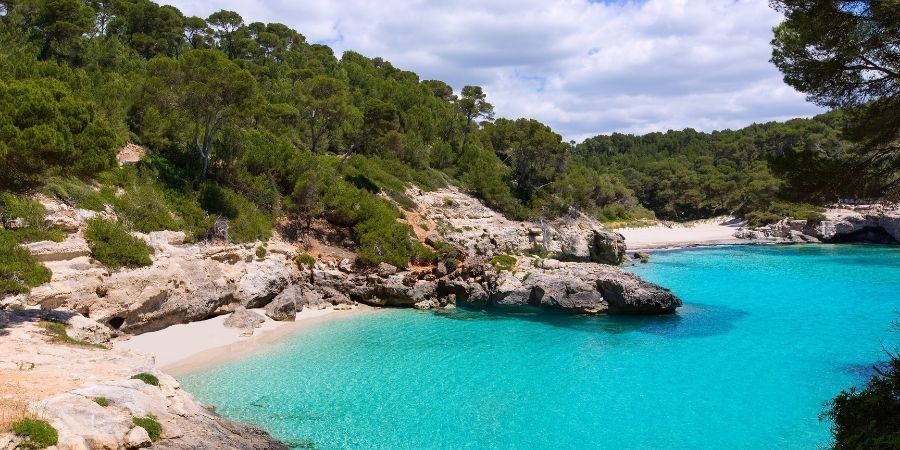 The turquoise waters of Cala Mitjana
Cala Pregonda
Sitting on the northern coast of the island, Cala Pregonda is defined by a truly unique characteristic: its red sand. You may just find yourself wondering if you have somehow been transported to Mars. With its crystalline waters and enveloping landscape, this is a truly spectacular stretch of the Menorcan coastline. The perfect place to spend hours and hours in the sea.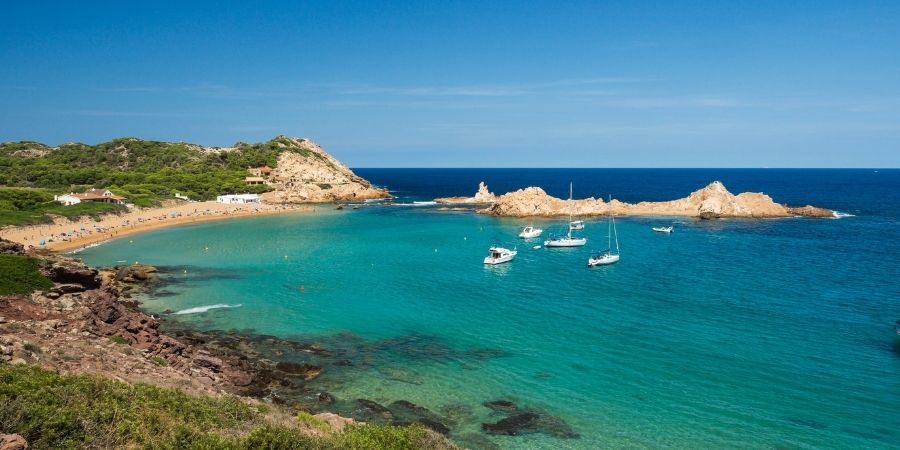 Boats at Cala Pregonda
Cala en Turqueta
No list of the best coves in Menorca is complete without Cala en Turqueta. The cove is one of the best known in the island, meaning you'll have to get up early if you want to find a spot. The effort, however, will most certainly be worth it. You will be rewarded with intense turquoise seas that contrast with dreamy white sand. A place that will make you fall even more in love with the island.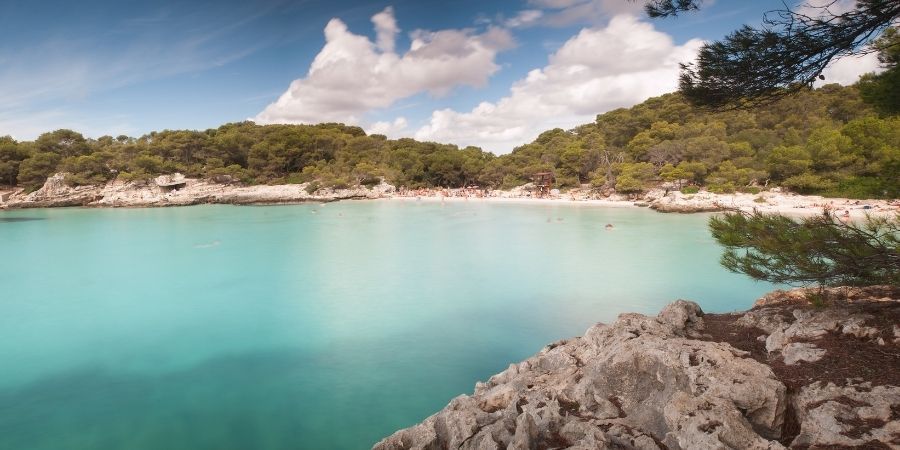 Dreamy landscapes at Cala en Turqueta
The best way to find out about the most stunning spots on the island is by asking the locals and our Freshpeople. They will give you insider insights so you can see the island from a whole new perspective. Get ready to live some fantastic experiences. And what better way to do so than at our hotels ARTIEM Audax and ARTIEM Carlos?
A world of comfort and dreamy views await. Let us tell you: this is an island that will win your heart. Come along to experience it for yourself.