It doesn't matter how many times you've visited, Madrid always has something new to offer. Take advantage of the upcoming long weekend to escape to Madrid and enjoy its atmosphere, shows and landscapes.
Before Christmas arrives with its parties, dinners and many events, plan a getaway to Madrid over December's long weekend. In the last month of the year, the capital shines: lights illuminate the streets, the smell of peanuts fill the city, the theatres are full of shows and coffee shops welcome you with chocolate churros to warm you up.
There are activities in Madrid over December's long weekend for all tastes. If you can take a holiday and enjoy the entire long weekend from beginning to end, it's the perfect excuse to visit Madrid. And not just the capital: the region is filled with charming rural towns full of nature that will capture your attention.
We've prepared a list of the best things to do in Madrid over the long weekend so you can organise your trip. Take notes and don't think twice; you're going to love it.
Things to Do in Madrid over December's Long Weekend
A Wide Range of Art and Culture
If there's one thing to do in Madrid over December's long weekend that truly represents the city, it's seeing a musical. The best shows are in Madrid and the wide variety is shocking. Ghost, for example, is one you can't miss. It's a musical adaptation of the famous 1990 film that tells the story of love beyond life, mixing drama, comedy, songs and more. It is playing through the entire weekend, so choose your preferred day and buy your ticket now.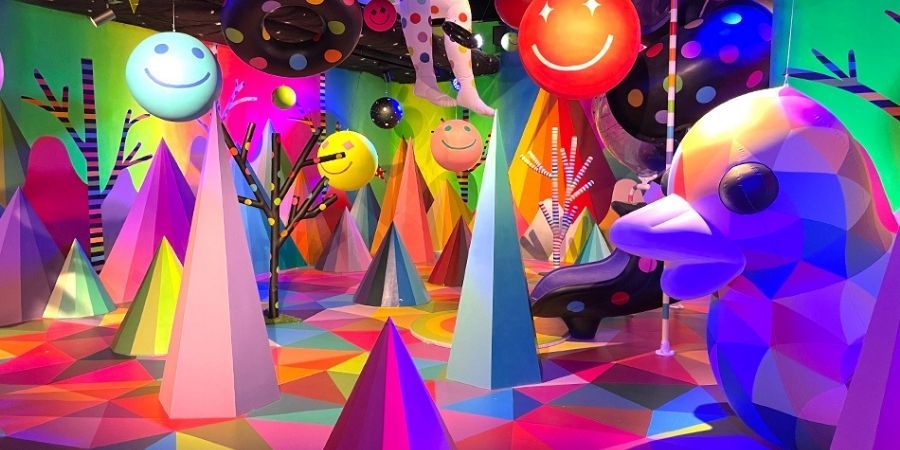 Sweet Space
Source: city-confidential.com
If you're looking for a unique experience, there are options that are truly fantastic. Sweet Space, for example, is an interactive tasting experience that mixes art and new digital trends to experiment with taste. You can smell, touch and taste through the exhibit; there will be many surprises! Renowned artists (like Okuda or Ágatha Ruiz de la Prada) have worked on designing this original exhibit which goes beyond the ordinary. And once Sweet Space has sparked your appetite, finish the day by eating at one of Madrid's trendiest restaurants.
Stroll Around the City
Speaking of shows in Madrid, if you want to enjoy a surprising mix of nature and technology, the EXPLORIUM installation at the Real Jardín Botánico will leave everyone's mouth open. It boasts 15 kilometres of LED lights throughout the central path of the garden with textile sculptures that illuminate and create new shapes to enjoy like never before. The walk is worth it.
Do you like unique gastronomic experiences? With the Centenary Gastro Xperience from ARTIEM Madrid, you can visit the city's history-filled old restaurants and enjoy a delicious meal after a guided tour of the premises by the maitre d', who will tell you the best stories and everything about the famous people that have passed through.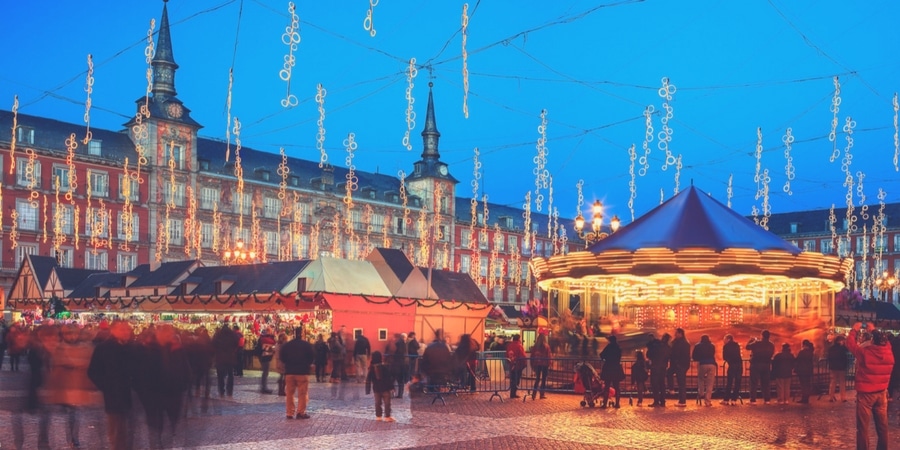 Chritsmas market at Plaza Mayor
Source: bocadosdemadriz.com
While walking around Madrid, you can also stop at some of the open markets. The most welcoming event during the long weekend is the Mercadillo del Gato, held from 3 to 12 December at The Westin Palace Hotel in Madrid. You can find fashion, art, gourmet, decor, accessories, jewellery and cosmetics. And for lovers of tradition, the Christmas market at Plaza Mayor will be open from 26 November to 31 December and has more than 100 stalls with all kinds of Christmas items, from decorations to ornaments and a lovely atmosphere with music, lights and the Christmas spirit.
Beyond Madrid
You can also spend the long weekend close to Madrid; even if you stay in the capital, you can take a car or public transportation and discover the prettiest towns on the city's outskirts. One of them is Buitrago del Lozoya in the Sierra Norte, a unique destination because it's the only city that completely maintained its defensive walls, which rise over the river. It was declared a National Monument in 1931 and Buitrago del Lozoya is located in the perfect place for hiking, biking or any other outside sport.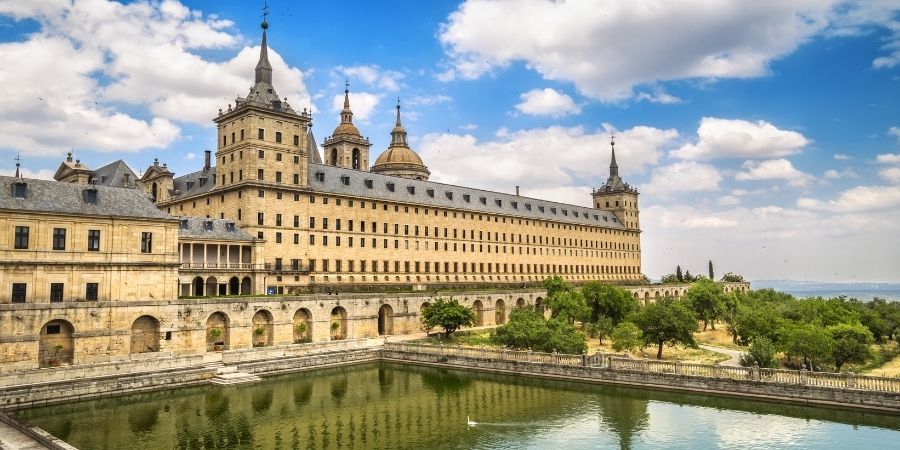 San Lorenzo de El Escorial
For history lovers, San Lorenzo de El Escorial is an interesting town because of its monastery, considered the Eighth Wonder of the World. And if you want to plan a trip to a picturesque and unique town near Madrid, Chinchón is a great alternative. It's a town of narrow streets criss-crossed with houses clustered on hills that is surprisingly urban and easy to walk through.
You've been taking notes, right? Now you just need to choose where to stay in Madrid during the long weekend. At ARTIEM Madrid, we offer everything you need for a well-rounded stay. Our small urban oasis in Arturo Soria is the perfect place to disconnect and discover the capital and its surroundings. In addition, we're offering the Love for Love experience if you're looking for a romantic getaway with your partner. We'll cover everything from breakfast in bed to champagne to romantic amenities. Let's get going, Madrid is waiting! And December's long weekend is the perfect time to go.