ARTIEM Carlos and ARTIEM Capri are our two Mahón hotels. You will enjoy a unique atmosphere in each depending on your holiday style. Discover which one to choose.
ARTIEM Capri and ARTIEM Carlos are our two 4-star hotels in Mahón, Menorca. They vary greatly from each other and offer visitors a contrasting atmosphere depending on your preferred travel style. Yet they share a common denominator that makes them unique: ARTIEM's DNA, turning each into a refuge to inspire happiness and relaxation.
Whatever the reason for your visit to Menorca, when reserving your accommodation, be bold and book a four-star hotel in Menorca. The island's capital is the perfect spot for every flavour of traveller: from those seeking to discover gorgeous undiscovered beaches and coves, to those who are here for business reasons and prioritise services and location.
If Mahón is your destination, be sure to choose ARTIEM's four-star hotels. In either you will feel right at home. But how to choose one or the other? Naturally, it depends on the reason for your trip. ARTIEM Capri is more of an urbanite, sited right in the city's heart. ARTIEM Carlos, on the other hand, is located on the Port Mahón shoreline and is a temple devoted to relaxation and releasing stress.
If you would like to know more about either option and why they should be your number one choice when seeking four-star hotels in Mahón, Menorca read on!
ARTIEM Carlos: a temple to relaxation on the harbour shore
The ARTIEM Carlos's magic resides, above all, in its location: right on the Port Mahón shoreline, the second-largest natural harbour in the world. This location was key during some of the most significant chapters in Menorca's history and the traces remain visible today.
The hotel overlooks the sea. From the restaurant, spa or your room you can watch vessels plying the harbour from one shore to the other. This peaceful, unhurried setting, cooled by a gentle breeze, invites you to enter a state of calm and relaxation.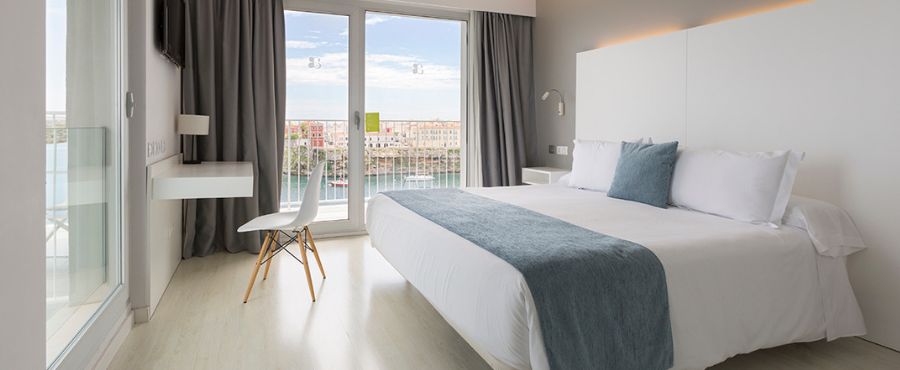 Double room with sea views
ARTIEM Carlos is the perfect hotel to rest, unwind and de-stress in its Sea Spa. Combine an outdoor area with an infinity jacuzzi overlooking the harbour and an indoor area with Turkish bath, sauna or thermal relaxation loungers. Give your body and mind the rest they need while you let yourself go in the Sea Spa. And if you feel like it, you can also book a personalized cabin treatment: relaxing massages, body and facial treatments, beauty care . . .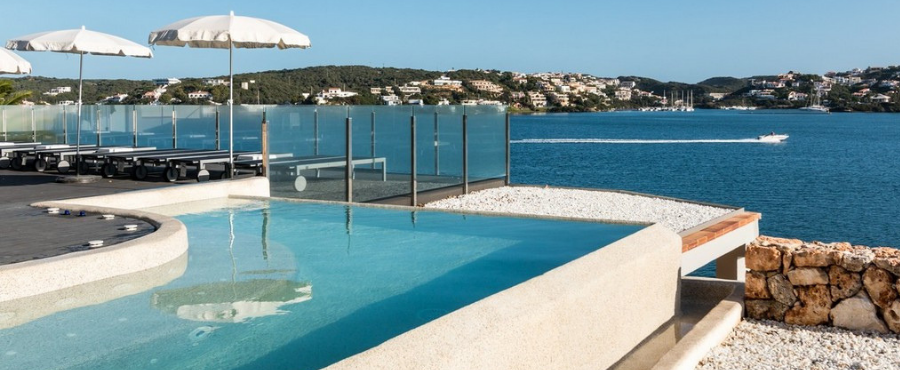 ARTIEM Carlos infinity jacuzzi
In the Carlos's restaurants, you will likewise discover a gastronomic paradise where you can sample the delights of Menorcan cuisine: fish, seafood, cheeses … Everything prepared using ingredients of optimum quality, mostly sourced from the island itself. You can choose between the Medi Restaurant, perfect for a special dinner; or the more dynamic, informal and tapas-based Dock Lounge & Snack Bar. The latter is transformed throughout the day to offer you a space where you can enjoy a light breakfast, an aperitif at mid-morning or a cocktail at night.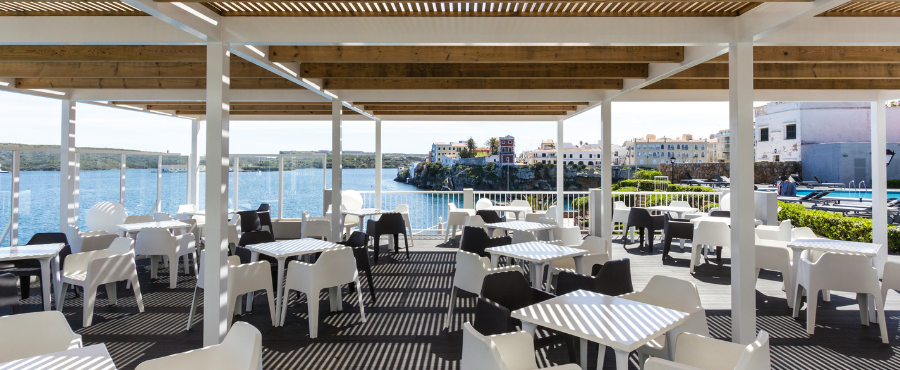 Restaurant Medi terrace
From the hotel, as well as strolling round Mahón's environs, you have access to many points of interest just a few minutes' drive away: Binibeca fishing port, Punta Prima Beach, Favaritx Lighthouse, S'Albufera des Grau Natural Park … If you feel like discovering Menorca, you simply must choose to stay at ARTIEM Carlos!
ARTIEM Capri: your urban hotel in Mahón's heart
Our other 4-star hotel in Mahón is ARTIEM Capri, a wise choice if you are coming to the island for work or enjoy staying in more urban environs. And this hotel sits right in Mahón's heart. Its foremost attraction is its terrace, where one can kick back and contemplate the city's tiled rooftops and relax.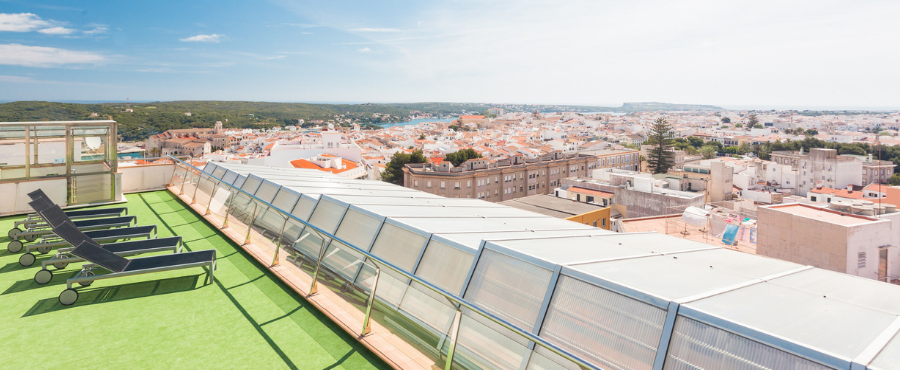 ARTIEM Capri terrace
You can get up onto the terrace from Le Petit Spa, where you can relax in the jaccuzzi or the pool. Winter or summer, it makes no difference: when it gets cold we deploy the glass roof to protect you, so you can keep on enjoying this area of the hotel. We remove it in the heat so that nothing comes between you and the sun's blessed rays. Without a doubt, this is a spot for pampering yourself, for relaxing after a long day in town. Also, if you wish, you can contract various treatments at Le Petit Spa.
In this same area, we have a large roof that is the setting for our yoga classes, pilates, stretching, etc. . When the weather is good, hotel guests and spa partners can enjoy these free sessions on the outdoor terrace. And if you feel like it, you can finish your routine at the gym.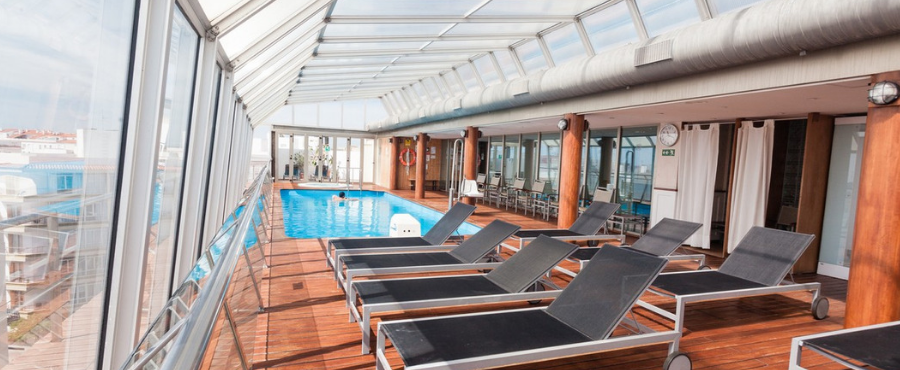 Le Petit Spa
You also have the perfect locale for having a drink in a pleasant atmosphere. El Living is the place to tuck in to a delicious breakfast every morning, whereas the Telegraph is a sublime venue to try a tasty cocktail while listening to good music.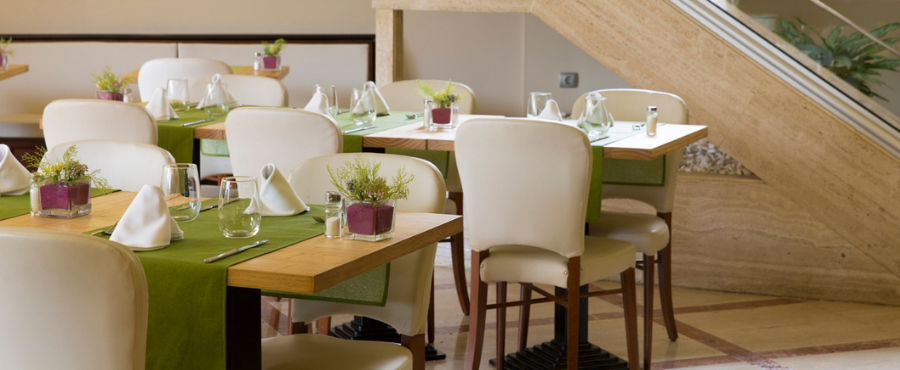 El Living Restaurant
At ARTIEM Capri we have also had a thought or two for those arriving in town for work. We have a meeting room and a conference room, as well as a coffee break space where you take take a short break every so often. Also, close to ARTIEM Capri, we have a different option if you prefer a holiday appartment in Mahon. Have a look!
Either of our four-star hotels in Mahón, Menorca is the right choice if you visit the island. Each of them, with their unique features and similarities, will offer you what you seek for your stay in Menorca.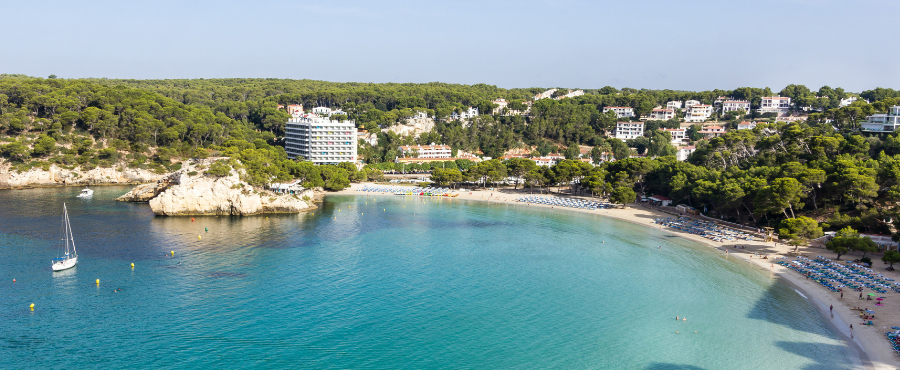 And if you don't mind staying a little further out from Mahón, you could also choose ARTIEM Audax. This is our third hotel on the island. It is located in Cala Galdana, half an hour by car from Mahón. Here you have a paradise for adults who love sports, the sea and open-air activities. It is also a paradise in which to unwind, since at Audax you can immerse yourself in the pleasure of Menorca's only spa circuit. As well as relaxing, we can suggest a wide range of activities, guided by our expert sports and nature monitors. ARTIEM Audax is the best recipe for optimum fun during your holidays!
Whatever your choice, at any ARTIEM hotel you will receive intimate, friendly treatment and the inspiration to unwind and be happy. This is our commitment!