The temple of gastronomy in the capital: the Mercado de San Miguel. Discover more than 30 stalls with fresh produce and dishes that will surprise your palate.
The years will go by, but Mercado de San Miguel will remain the favourite rendezvous for travellers who are looking to discover a place through its flavours. Someone once said "There is no modernity without a good tradition" and it wouldn't be surprising if they were inspired by this market, which perfectly combines the latest gastronomic trends with traditional Spanish cuisine. If you'd like to try them all, carry on reading and discover all there is to know about Mercado de San Miguel!
Gourmet markets have become one of the preferred culinary options for travellers who want to discover and try local dishes without renouncing gastronomic quality. So, if you're visiting Madrid and you're looking for a different activity be sure to visit Mercado de San Miguel, a ground-breaking venue in the capital and the most traditional of them all.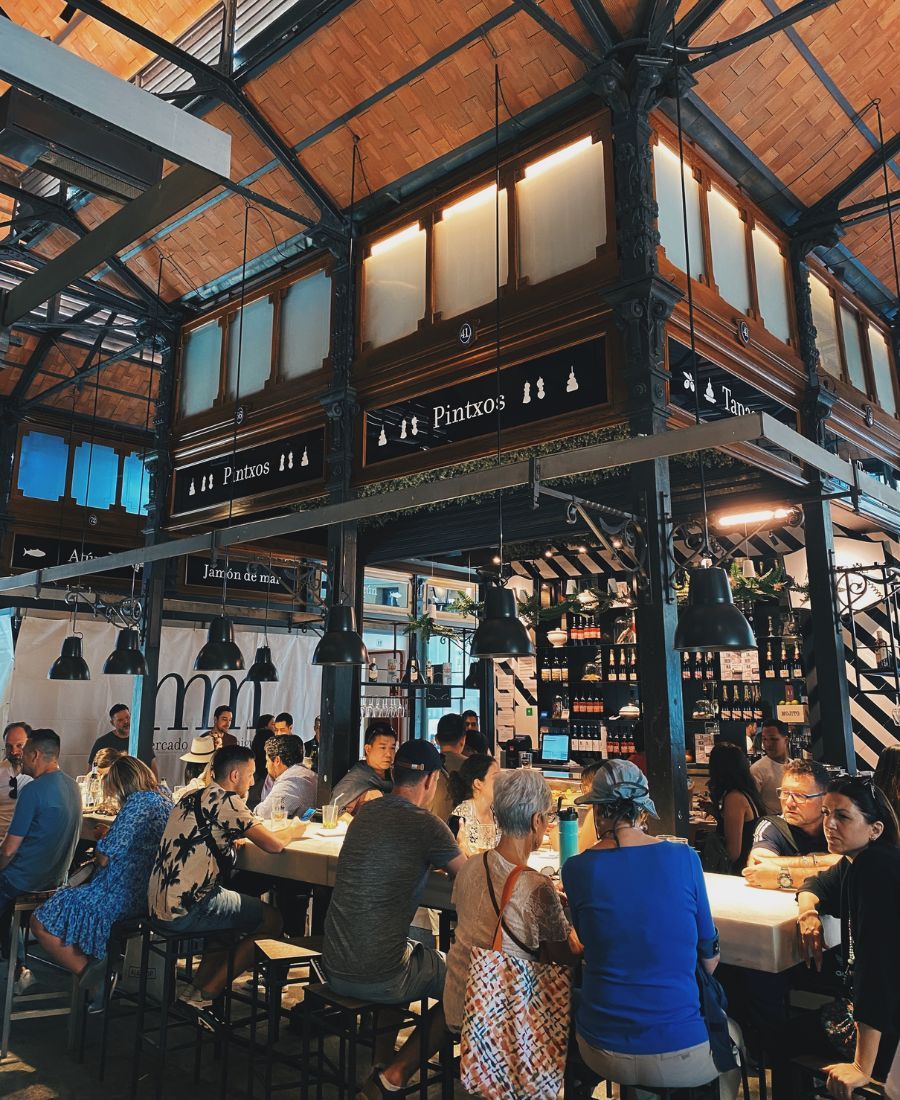 How to get there?
That's easy, as it is right in the centre of Madrid, between the famous Plaza Mayor and the impressive Royal Palace. This busy market, which is classified as a Site of Cultural Interest, is a meeting-point for hundreds of persons who come every day looking for the promise of the chefs who bring life and flavour to the market: fresh, traditional, high quality, innovative products.
Fancy going there right now? Well, feel free to do so without hurry, as it's open from Monday to Friday from 10 a.m. to midnight and on Saturdays and Sundays from 10 a.m. to 1 p.m.
The best stalls in the Mercado de San Miguel
No matter which entrance you use to enter the market, they are all worth it, not because we say so, but because all your 5 senses will do so, once they detect the fantastic aroma that emanates from each of its more than 30 stalls.
Source: www.mercadodesanmiguel.es/en
From a bread roll filled with fried calamari, one of the most famous foods in Madrid, to an Asian classic like sushi. The gourmet culinary offering of Mercado de San Miguel includes all manner of products to satisfy the needs of the visitors who fill its aisles and counters, eager to have a good time.
It's certainly difficult to decide where to start, and we at ARTIEM want to help you out by recommending some of the best stalls to visit. Shall we begin?
1. Madri
It wouldn't be right to start this gastronomic adventure without visiting Madrí and its typical counter emblematic of the traditional local taverns. If you want to spend an evening like a local, order some classic patatas bravas (fried potatoes with spicy sauce), mejillones tigre (breaded mussels with béchamel sauce) and a cold beer.
2. Daniel Sorlut Oyster
If you are more of a sea person, be sure to stop at the Daniel Sorlut oyster bar during your stroll around the market. Oysters speak for themselves, as does the stall that serves them, as the ponds where the oysters are bred are dug by hand to guarantee the quality and flavour of the products.
Source: www.expansion.com
3. Pinkleton & Wine
End your visit to Mercado de San Miguel by pairing it with a good wine. There is no better place to do this than Pinkleton & Wine, a bar that offers a variety of more than 200 wines and champagnes for you to enjoy. Don't leave without trying a glass of sherry, to which some people refer as "heritage of Spain".
4. El señor Martín
"Where is El Señor Martín"? That's the question you should be asking if you want to try a unique dish of freshly-caught fish prepared in one of the best gourmet fish restaurants in Madrid, which has received awards for its taste and for the quality and innovation they put into their work. Be sure to order one of their specialties, the "cartuchitos gaditanos", fried fish that come from southern Spain.
5. Quesoba
Quesoba: cheese is on its way. That's what this artisan cheese shop is about. More like a paradise, it welcomes countless cheese lovers every day. Here, they serve cheese skewers and platters that feature national cheeses and where you'll practically never come across the same products, so if you fall in love with one of its cheeses, you can buy it and take it home.

Source: www.viajes.nationalgeographic.com.es
The truth is, we could go on writing and naming the more than 30 stalls that give life to this old food market which, today, is a veritable gourmet temple. It's impossible to have just a few favourites. For that reason, we invite you to discover it for yourself.
These spaces seek to adapt to new times and consumer habits, and in Madrid you'll find a dozen markets that have managed to become ultra-modern meeting places thanks to their wide range of gourmet foods on offer.
We have no intention of starting a debate, but for ARTIEM none of these markets is like Mercado de San Miguel, with its beautiful architecture and its array of the choicest, freshest and most delicious national and international products.

If you're staying at ARTIEM Madrid, then it's even easier. Our hotel is just 20 minutes by car from Mercado de San Miguel. As a better alternative, there are various options to get there by public transport. Best of all, if you are staying with us, the transfer to the city centre is included at weekends. What could be better?