The Asturian cuisine is one of the richest and most famous in Spain. With this in mind, don´t miss the chance to pay a visit, on your next getaway, to one of its eight Michelin-star restaurants.
In Asturias, the local gastronomy is one of the main attractions. But in addition to the traditional cuisine that is so typical here, it´s also possible to enjoy haute cuisine in various of the Michelin-star restaurants in Asturias.
This list will help you discover a part of Asturias you didn´t know and, specially, some of its best restaurants:
1. Casa Marcial, in Arriondas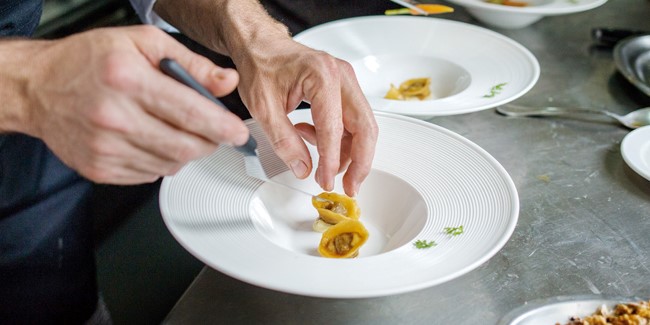 Image: https://www.casamarcial.com/
Esther & Nacho Manzano, the chefs of this restaurant, reconceive the Asturian gastronomy looking for new recipes that surprise guests and make them fall in love with the experience. It is the perfect union between the past and the present. Maybe that´s why it has two Michelin stars.
2. El Corral del Indianu, in Arriondas
This restaurant stands also for the most traditional cuisine and quality products. They´re famous for their bocarte marinated with miso soup, their nécoras (swim crabs in Spanish) and the strawberry tartare; you should also try the double-boiled pigeon with cacao and toast salmis.
3. Auga in Gijón
In the coastal city of Gijón, very close to where ARTIEM Asturias is located, you can visit the restaurant Auga. The specialty here are the classic stews, like the traditional Asturian fabada, and its modern tapas, among which we can find the incredible smoked sardine with apious puree, roe and tomato.
4. La Salgar in Gijón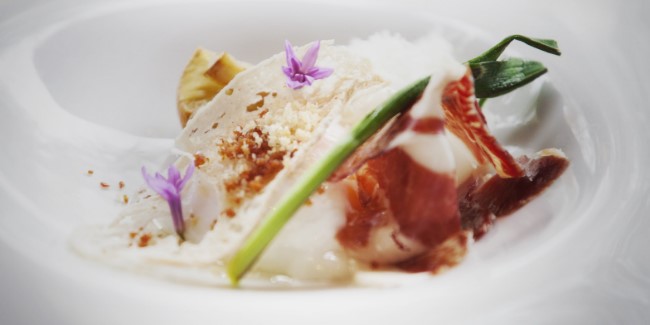 Image: https://www.lasalgar.es/
Other of the Michelin-starred restaurants in Asturias is La Salgar, run also by Esther & Nacho Manzano (as Casa Marcial, the first restaurant of the list). The menu tries to combine the best of modern gastronomy with haute cuisine, so you can try from a delicious crunchy seaweed with lemon mayonnaise to the traditional scrambled eggs of the house on torto de maíz.
5. El Retiro in Pancar (Llanes)
This restaurant is an example of how different flavors and textures, if well combined, can be delicious. For example, El Retiro prepares a succulent grilled duck with seaweed, an emulsion of pickled mussels and juice of red beans…. That is as surprising as mouthwatering!
6. Casa Gerardo in Prendes
As one of the best restaurants in Asturias, this is one of the most traditional establishments in the region and it´s run by Pedro and Marcos Morán, who are father and son. The menu is a sample of the traditional cuisine of the region in which neither meat nor fish fail.
7. Real Balneario in Salinas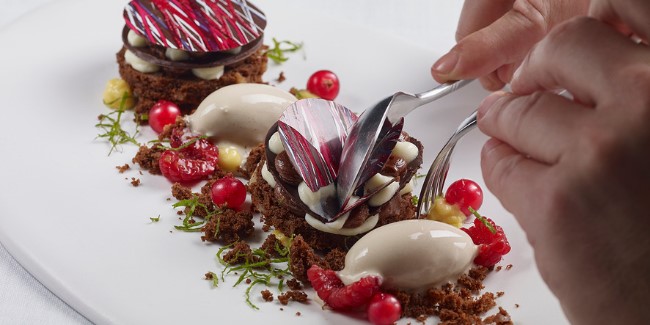 Image: http://www.realbalneario.com/es/
With beautiful views of the sea, in this Michelin-star restaurant of Asturias you can taste an innovative haute cuisine based on local products. Of course, fish and seafood are some of their specialties. Try the grilled halibut with squid juice and fake ravioli in its ink!
8. Arbidel in Ribadesella
Don´t miss the culinary works of Jaime Uz in Arbidel, a pleasure for the senses! It perfectly combines traditional and contemporary cuisine, creating unique and innovative dishes. The roasted pixin with couscous, the crayfish caramel and squid noodles or the green apple gazpacho are must trys.
Is your mouth already watering after reading about these eight Michelin star restaurants in Asturias?