As soon as you try poké bowls, you won't be able to stop. They are healthy, delicious and there are many different combinations. We tell you all about them!
What does paradise taste like? It tastes like a poke bowl, a delicious Hawaiian dish based on fish with rice, seaweed, vegetables, seeds ... An explosion of flavor and colors that has conquered half the world and that has become the preferred choice of lovers of healthy cooking.
This is because Hawaiians have been able to reflect the richness of their islands in a dish: fresh, natural and colorful ingredients that transmit the happy spirit of the Hawaiians. That's why, with the boom of healthy eating, the poke has gained fame first in the United States and now in Europe.
Trends or myths aside, poke bowl is a very healthy dish. The original recipe combines raw fish, usually tuna, marinated in dressings that may include soy sauce or sesame. To these you can add seaweed, avocado, cucumber, sesame ... and, in a separate bowl, rice.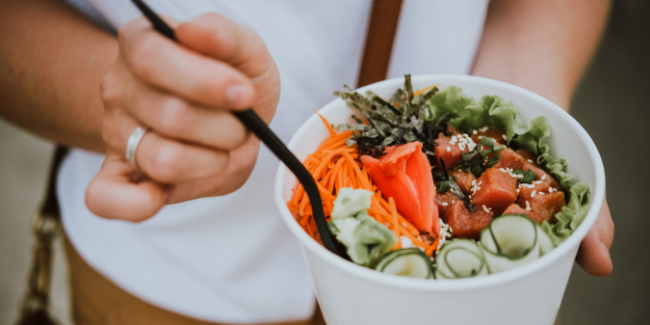 Experts say that Hawaiian natives, before having contact with the West, ate raw fish kneaded with their fingers or cut transversely into pieces (the meaning of poke). Then they added salt to preserve it, crunchy limu, toasted kukui nut and sea salt. The recipe kept changing and in its evolution the arrival of Japanese to the island in the 1970s was decisive. Thanks to them, soy sauce and rice were added to the recipe. However, since the poke bowl left the islands to conquer the world, you can find many different versions.
The best thing about this dish is that, thanks to it, eating well and healthy becomes very easy. There are very simple recipes of poke bowls which are quick to make, so there is no excuse to stop yourself from tasting paradise. To start with healthy cooking in the Hawaiian style, you can try these two simple options:
Poke Bowl by chef Vanesa Tuero from ARTIEM Asturias
In this video, chef Vanesa Tuero from ARTIEM Asturias shows you step by step how to create a fresh and healthy poke bowl. With ingredients and simple preparation, you have no excuse not to try it at home.
Mango and papaya poke with coconut rice
Ingredients:
For the base: 240 grams of whole grain brown rice, 400 ml of whole coconut milk, 4 tablespoons of brown sugar and a pinch of salt.
For the poke: grated and juice of 2 limes, 2 mangoes cut into 1 cm cubes, half papaya cut into 1cm cubes.
Elaboration step by step:
Cook the rice and meanwhile pour the coconut milk, sugar and salt in a saucepan to simmer everything until the sugar has dissolved.
When the rice is ready pour two thirds of the mixture with coconut milk and stir little by little. Pass it all to two bowls.
Remove the juice and the zest from the files with the fruit poke.
Stack the fruit on the coconut rice and serve it with the coconut milk mixture you have set aside.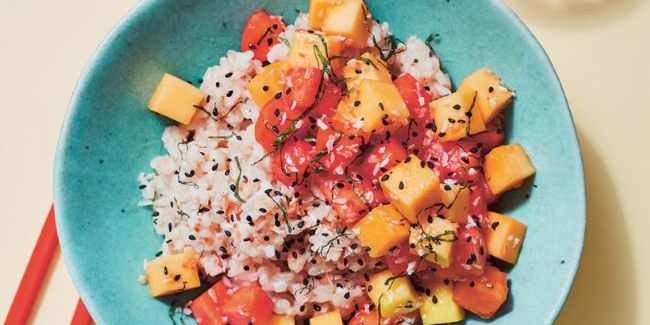 Source: doctormorano.com
Poke bowl of marinated red tuna
Ingredients:
200 g of brown rice for the base.
200 g of fresh bluefin tuna
For marinating:

5 tablespoons of sesame oil.
3 tablespoons of soy sauce (low in salt).
A piece of fresh ginger.
A grated garlic clove.
A small file
Roasted sesame seeds.

Fruits, vegetables and mushrooms for toppings:

One avocado.
One carrot.
Half red cabbage.
A ripe mango
A handful of dehydrated shiitake mushrooms.
Some radishes.

Salt and pepper to season.
Elaboration step by step:
Freeze the fish 48 hours before in a hermetically sealed bag and without air at -18 degrees minimum.
24 hours before you plan to cook your poke, marinate the fish (previously thawed in the fridge) in sesame oil, soy sauce, sesame seeds, lime zest, ginger and garlic.
Hydrate the mushrooms in one liter of hot water for one hour.
Cook the rice in the water in which you have hydrated the mushrooms, and let it cool (you can pass it through cold water to speed up the process).
Prepare and cut all the vegetables and fruit. Sprinkle the mango and avocado, after slicing them into slices, with the lime juice so they don´t rust.
Assemble the poke bowl with the rice as a base and the rest of the ingredients on top to your liking.
Finally, add a little more sesame oil (or olive oil) to the marinade broth, lime juice or lemon juice and pour it all over the poke bowl.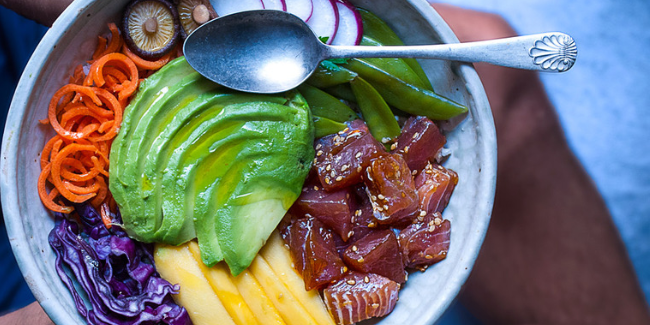 Source: gourmetier.com
If, on the other hand, you are one of those who prefer to order a la carte, there are already some restaurants in Madrid that specialize in making poke bowls. We propose three different options:
You will be able to find poke bowls in many more places as they are gaining a lot of ground, but in these restaurants, you will find a very authentic flavor and multiple options to never get bored with poke bowls.
If you like to have a healthy diet, don´t hesitate to choose this dish for its flavor and for all the different combinations you can try. Follow the diet of happiness and enjoy the Paradise, bite by bite.