The nature of Menorca is a treasure that we have the responsibility to care for and therefore we have joined the movement 0 Plastic Menorca, with the aim of raising awareness about the presence of plastic in the Mediterranean and do our bit towards a more sustainable future. We tell you all the details.
Did you know that every day in Spain 126 tons of plastic are thrown into the sea?
And that, as a consequence, 100,000 marine mammals and 1,000,000 seabirds die every year?
Did you know that the average person eats about 5 grams of plastic every week, the equivalent of a credit card?
From ARTIEM we are aware of the importance of the tourism sector and its key role as an agent of change. That is why we are continuously developing initiatives to reduce the use of plastic in our operations.
Over the years we have carried out many activities including awareness campaigns and cleaning up the coast of Menorca, in which both our FreshPeople and our clients collaborate in cleaning up the sea and beaches.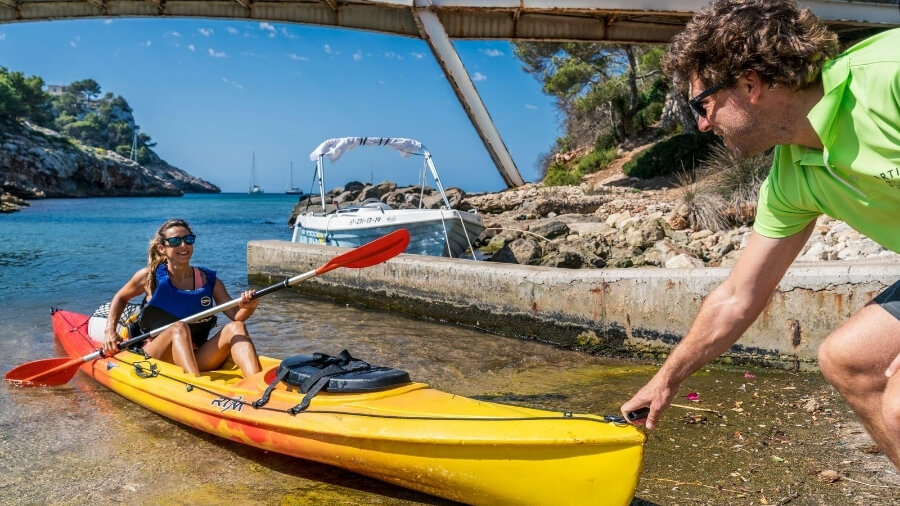 ARTIEM JOINS THE 0 PLASTIC MENORCA MOVEMENT
With the aim of involving more people and organizations from all over Spain, the environmental movement 0 Plastic Menorca has emerged this year, promoted by the Association YouSocial Volunteer along with the local Association Per La Mar Viva, and which ARTIEM has decided to join.
From 11th to 15th August, sea and land expeditions will be carried out by volunteers from all over Spain. In addition to these outings, there will be kayaking routes from Cala Galdana, organized daily by ARTIEM. Part of the proceeds will be donated to enhance the initiative and maximize its dissemination.
Undoubtedly, plastic collections are necessary and help the environment, but to ensure the future of environmental sustainability, there is also a need to raise awareness of plastic consumption.
To this end, a series of workshops and educational talks will be held on the beaches of Menorca under the name of "Beach Talks", in which experts from environmental organizations will share their knowledge.
Finally, on 13 August, ARTIEM Carlos will screen the documentary "Out of Plastic", ending the evening with a talk by GOB Menorca.
In ARTIEM we seek to improve to build a better planet, and for this we rely on partners who share our values. For us, this union with 0 Plastic Menorca is only the beginning of a long journey together, with the aim of continuing to give visibility to this problem and fight for a plastic-free Mediterranean.
BEYOND PLASTIC: WHAT ELSE ARE WE DOING?
In addition to carrying out actions such as this, and in accordance with our vision of "being a leading company because of its innovative and inspiring model, focused on people's happiness, and because of its commitment to sustainable prosperity and positive impact on our environment", we continuously control and optimize our processes.
These are some of our main lines of action:
We contribute to the environment by properly managing the waste we generate in our hotels. In all our hotels we carry out the selective collection and make a correct management of the dangerous waste.
We involve our guests in activities to preserve and improve our natural environment.
We collaborate with non-profit organizations in projects contributing economically and with the time of dedication of our people.
We carry out programs to spread our culture and traditions.
We consume and spread the native products and the local gastronomy.
We work to achieve the integration of local suppliers in our value chain.
Do you want to know more about everything we are doing from ARTIEM for our planet? Consult our sustainability report.