Here at ARTIEM we are committed to taking care of the environment. We are dedicated to being a force for good. And we hope to inspire others to do the same. After all, we only have one planet: let's make sure we do our utmost to look after it.
The tourism industry sees millions of people travelling around the world each year. Though the past few years have been a little different, the reopening of the sector has proven that our wanderlust is still very much alive. The only issue is that this has an ever-increasing impact on the environment. Tourism presently accounts for 8% of global greenhouse gas emissions (with hospitality representing 1% of this), and the figure is set to soar to a massive 40% by 2025 if we don't take decisive action now.
Reducing our impact on the environment is not, however, a lone act. It is not something one hotel, or two for that matter, can do alone. We need collective action, for everyone to get involved. ARTIEM believes that we can inspire each other, set positive examples. When we all play our part, contribute in every small way we can, together we will make a big impact. Our way of saying 'thank you' for everything mother nature does for us.
The hospitality industry has plenty of sustainable development tools up its sleeves, from recycling and energy saving to water saving and promoting green habits. ARTIEM is determined to play a significant role in this radical shift in paradigm. To take action that is aligned with our founding values. We therefore thought we'd share everything we're doing to make our hotels increasingly environmentally friendly.
Sustainable hotels: how ARTIEM cares for the environment
Reducing CO2 emissions
At ARTIEM we seek to reduce the CO2 we generate through targeted actions. We have, for instance, installed solar panels at ARTIEM Carlos, ARTIEM Capri and ARTIEM Audax. And in the latter, we have even totally eliminated the use of diesel thanks to a new heating system that provides hot water to the SPA.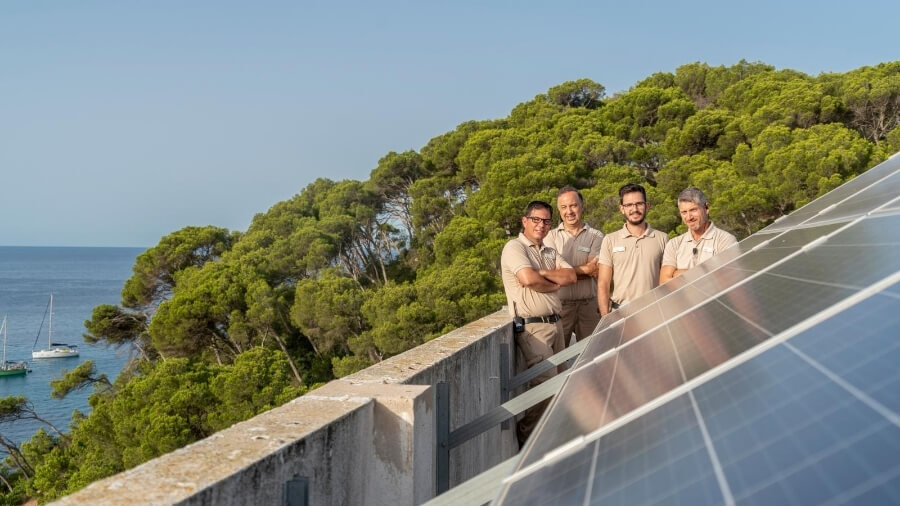 At ARTIEM Carlos we no longer purchase bottled water and have instead fitted water filters across the facilities. Not only does this help bring down our plastic consumption, it also breaks the cycle of CO2 emissions caused by bottled water, from storage to transport and delivery.
Creating a fume-free environment is much healthier for us and the planet. We have therefore equipped most of our hotels with electric car charging points, demonstrating our conviction that green vehicles are the future. We urge fellow hospitality companies to consider doing the same and take some positive steps to make this a reality.
Recycling waste
Our team of Freshpeople are trained to separate waste into different containers such that the various types of refuse can be recycled and used elsewhere. We also have organic bins where we place any food waste. This is then used to make compost, which is a great way to give what would otherwise have been discarded a new life.
Moreover, we are in contact with waste management to make sure that any dangerous materials we handle are correctly collected and recycled. The sustainable development of the hospitality industry depends to a great extent in reusing waste, giving it a second useful life, and preventing it ending up in landfill.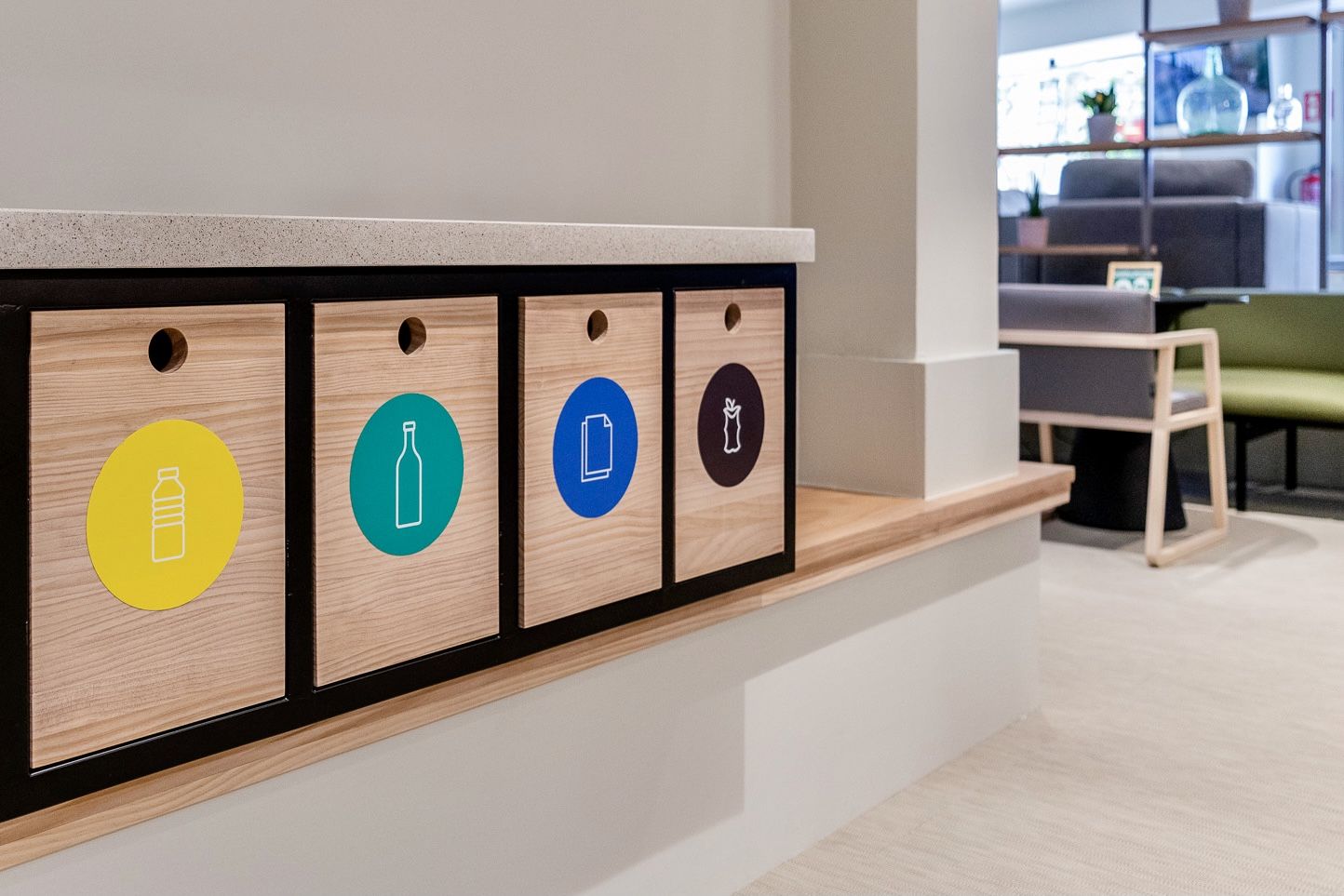 Reducing water consumption
As we seek to reduce CO2 emissions, we also strive to get the most out of the water we use. At ARTIEM Audax we have fitted a reverse osmosis system to generate the water required for the hotel's washing needs. This system generates between 900 and 1,000 m³ of water alone. The water is fed into a storage tank to be used in the outdoor pools and hotel spa.
Furthermore, we have installed storage tanks that collect the water used to clean the pool filters. Together these measures have optimised the water cycle at ARTIEM Audax, giving it a triple use: washing, filling the pools and watering the gardens.
Choosing local products
There is no better way to support the community than by buying local. It is an environmentally friendly choice too, as it avoids food being transported thousands of miles - with all the pollution that entails - before it reaches our tables.
At least 50% of everything we purchase comes from local suppliers. Our MenoquíKm0 initiative is a clear demonstration of our commitment to the land and the people who populate it. In collaboration with Sa Creu Roja, Cáritas, Caixabank and Sa Cooperativa del Camp de Menorca, we provide food to the households on the island that need it the most. The recipients don't have to travel to receive their parcel: it is brought to them. We are incredibly proud to be part of this impactful project.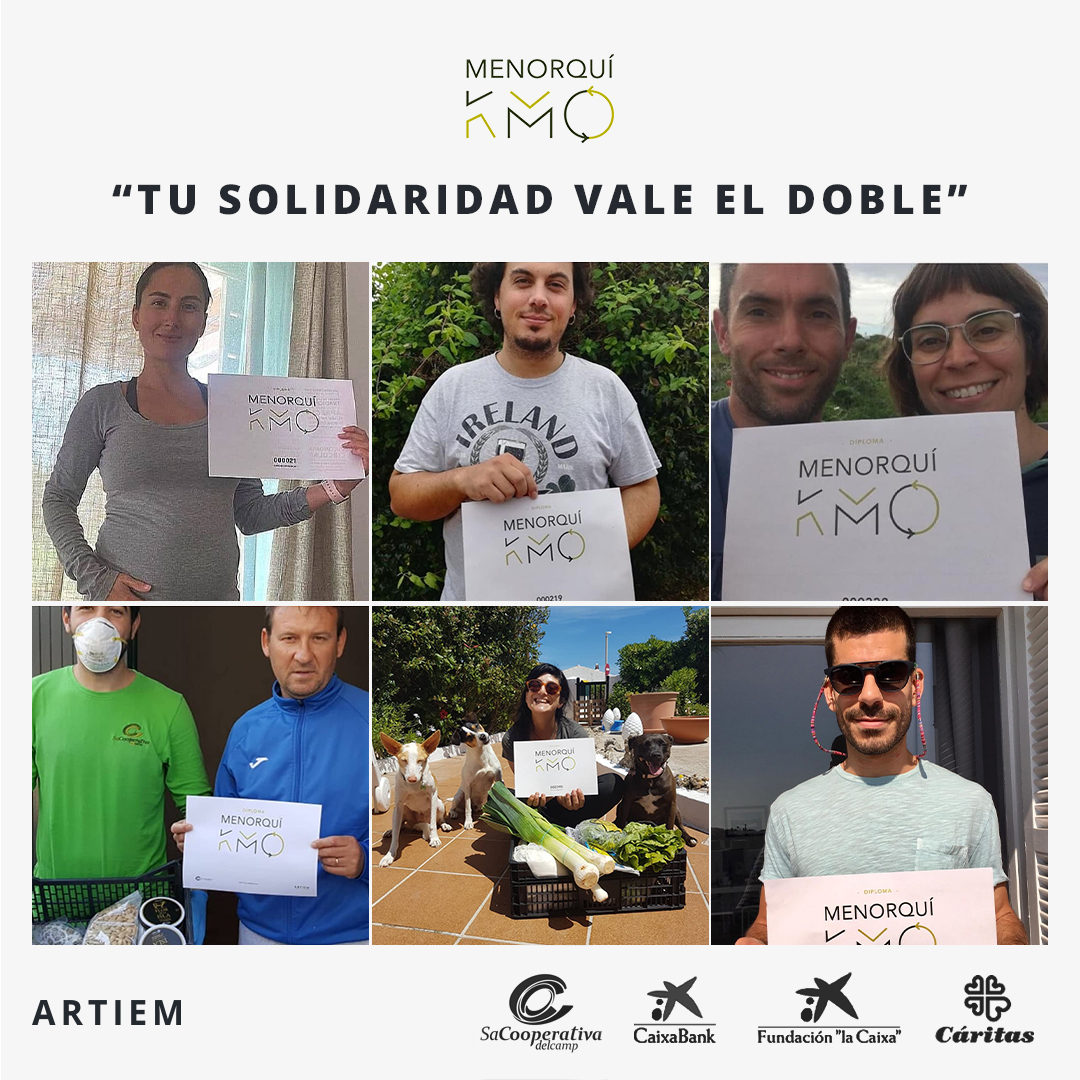 Speaking to the core of ARTIEM values, our environmental policy has been in place from day one. And we are pleased to announce that our hard work has paid off. We have been awarded the B Corp certification, which attests the positive impact our company has achieved by promoting a more inclusive and sustainable economy. And not only that, we are also the first hotel chain in Europe and the third in the world to be awarded the accolade. You - like us - can make a meaningful difference. Let's work together to take care of Planet Earth and make it a better place for us all to live.
Guiem Sintes
Director of Quality & Environment at ARTIEM