ARTIEM Madrid has evolved. We have renovated our hotel to improve the experience of business travelers. In this post we tell you all the news.
We want our guests to feel like home, especially those who spend long periods of time travelling for work reasons. Therefore, we decided to improve the facilities of our ARTIEM Madrid hotel to offer all our business travelers an experience adapted to their needs.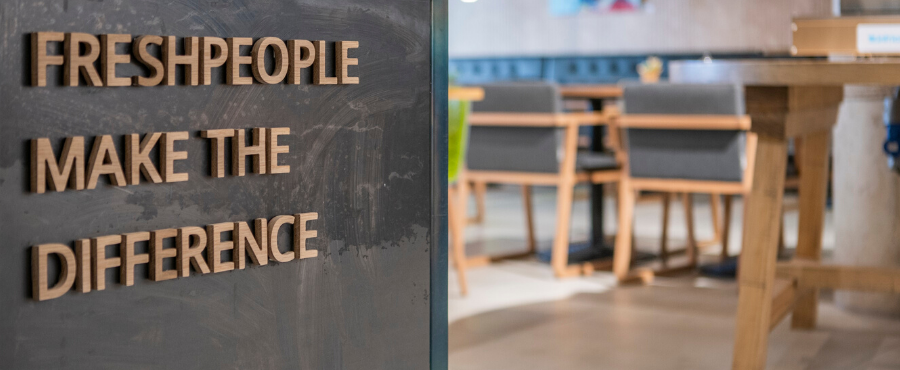 We know from experience that, when you are away for work, your home is what you miss the most. Finding a place to feel comfortable and really rest is not easy. But it is not impossible either. Therefore, and because we like challenges, we wanted to go one step further and reinvent the experience of our hotel in Madrid. The objective? To create the perfect space for all business travelers who choose us when they visit the capital.
The Green: more welcoming and functional than ever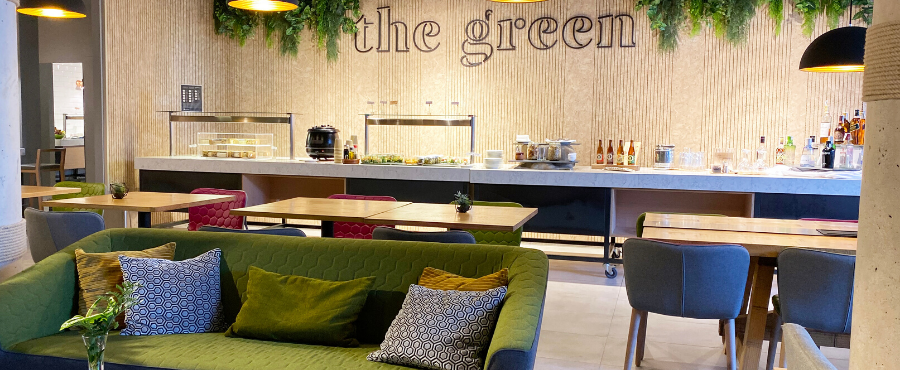 One of the main novelties has to do with The Green, a concept of space that has gradually become the true heart of ARTIEM Madrid. This corner has made us enjoy pleasant talks around a cafe, hours of reading in their armchairs and moments of inspiration in front of the computer. That is why, in this whole improvement plan, we wanted to give it the prominence it deserves. To achieve this, we have moved it to a new location that allowed us to increase the available space.
The new The Green is still a multidisciplinary space but now offers a much warmer and more welcoming environment: materials and colors that remind us of nature, pleasant music always in the background and the tranquility of ARTIEM Madrid hotel. In these 160 square meters of open plan you can have breakfast, snack at any time of the day, work or relax as if you were sitting in the living room of your house.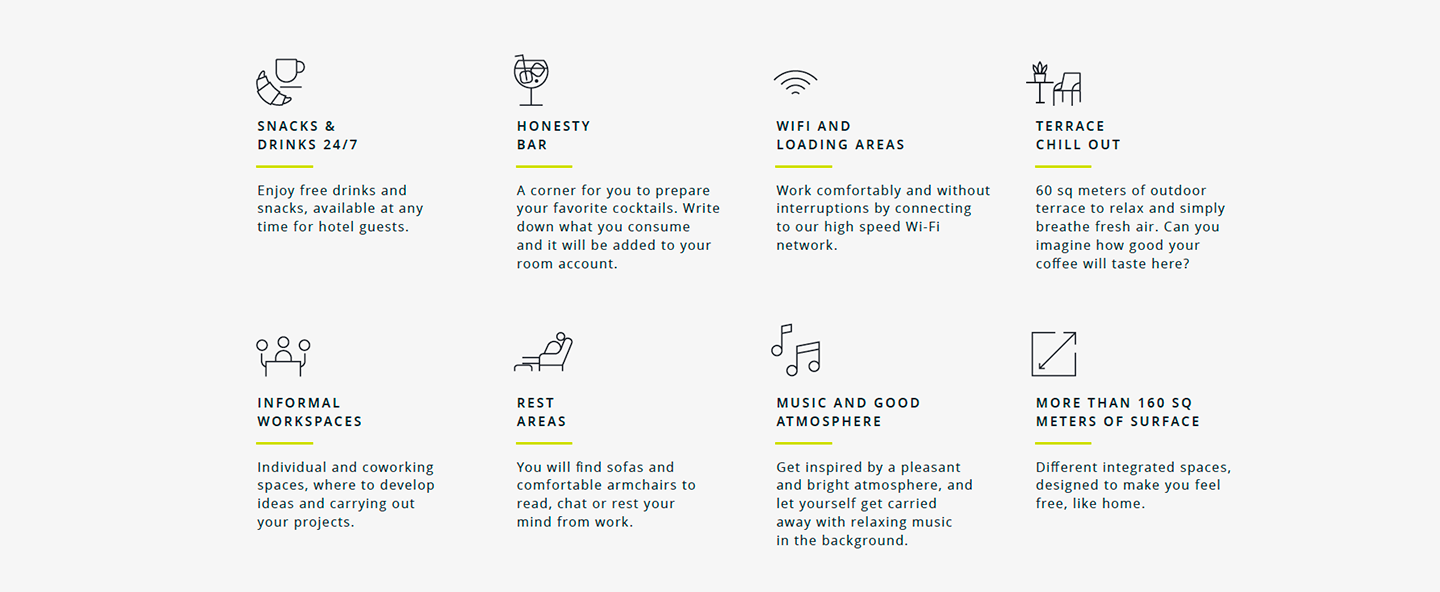 More gym space with the latest technologies
If something characterizes ARTIEM Madrid hotel is that it is the first hotel specialized in training in the city. We know that sport, especially when are in Madrid for business, helps you release tensions. That is why we wanted to expand this relax space. Now, our gym has 50 square meters and machines with the latest TechnoGym technology:
Treadmill.
Elliptical
Spinning bike
Rowing machine.
Weight rack
Adjustable bench
Multistation (Plurima)
The gym will remain open 24 hours, with towels and cold water fountain available.

We introduce our new Growth and Development Spaces (ECD)
Thinking about the Corporate public, we have also designed two Growth and Development Spaces (ECD). The aim of these is to promote creativity and inspiration to the fullest while, at the same time, they offer an environment conducive to quality work: good light, silence, comfort and basically everything you need.
The two spaces have the capacity to host different types of events, formations, meetings or team building activities. You just have to tell us your idea and our expert event organization team will help you shape it.
First, we have the ECD 610 space with 61 square meters, natural light, projector and screen and different distribution options. You can alternatively choose the ECD 290 space that is a little smaller (29 square meters) but has access to a small outdoor terrace where you can enjoy breaks in the fresh air. It also has a screen, projector and speakers for your presentations.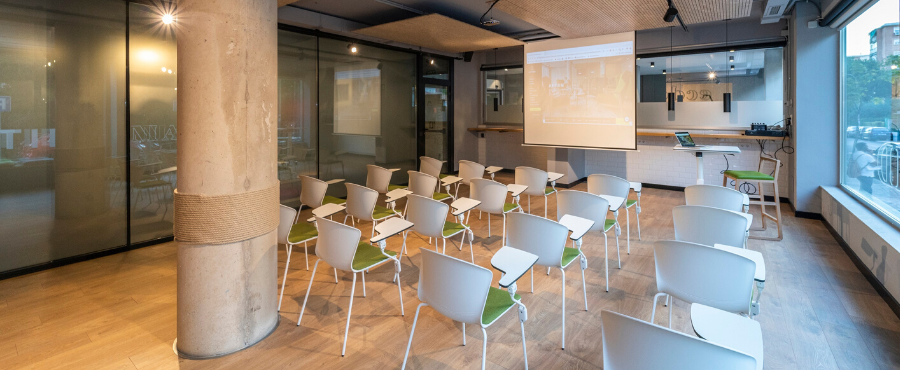 We have been studying for many years what the most suitable conditions for a quality job - natural light, the best technology, comfort - and we want to share it with our guests.
With these developments, ARTIEM Madrid has evolved to be the perfect place to hold a meeting, get inspired to work, follow your sports routine and, of course, disconnect after a long day's work or stay to enjoy the best plans of Madrid during weekend.
As for the rooms, all of them have a rain shower or sensation shower, king size bed and pillow menu to ensure a good rest. And to work with peace of mind, they also include a desk with ergonomic chair and natural light. They are the perfect refuge in the center of Madrid.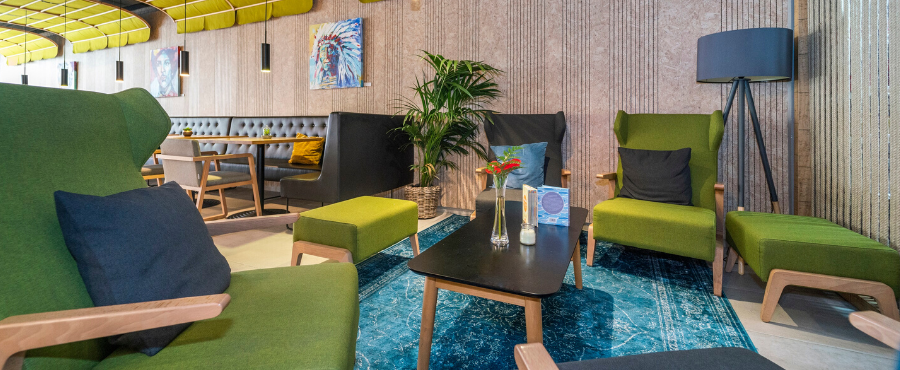 Besides, due to its proximity to IFEMA and the airport, ARTIEM Madrid hotel has become a strategically located business hotel. Getting to any point in the city is simple while, at the same time, enjoying the tranquility of a residential neighborhood.
With all this, ARTIEM Madrid offers an improved experience for business travelers. We adapt to your needs in order to provide them with the services and space they need during your stay. And our mission is to inspire people to be happy.