Treat yourself to a trip to Madrid and enjoy Christmas in the capital. The atmosphere is magical and the agenda will fill you with exciting plans. You sign up?
It´s beginning to look a lot like Christmas ... And it´s so close that at ARTIEM we already feel the Christmas spirit, what about you? Christmas in Madrid is truly magical, one of the most special times of year in Spain´s capital. Especially for those who keep that spark of illusion and magic alive. For those who, like you, live intensely every moment and smile all the time.
Why not taking advantage of this moment to make a wish? Traveling, maybe? If you have a few days of vacation before finishing the year gift yourself Christmas holidays in Madrid a to enjoy this magical time in the capital.
Madrid looks more beautiful in Christmas than in any other time of the year, with the Christmas atmosphere in the air and the typical decoration of this era invading its streets. Everything is full of life, lights and colors. And, in addition, the cultural agenda is full of interesting options to choose from. Some of them Christmas themed and others with a more original touch. But all of them worthy of a surprising and magnificent city, which has so many great plans to offer.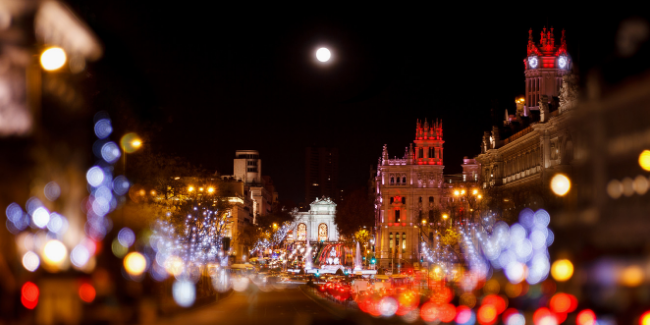 If you are looking for plans to do in Madrid on Christmas, here are a few ideas that you will love:
1. Ice skating
In recent years Christmas in Madrid is synonym with skating rinks and fun on ice. The skating rink of the Plaza de la Luna, near Gran Vía, becomes a very busy place at this time thanks to its fun leisure activities. Don´t you think it's perfect for the occasion? Although if you want to put on your skates like a pro, you must go to the Palacio de Hielo and try the 1,800 square meters of track they have there.
2. Make the route of the roscones de Reyes
The lovers of sweet eagerly await Christmas to enjoy the classic, typical and delicious, Roscón de Reyes. If you are passionate about this Christmas dessert ... why not making the route through the best pastry shops in the city? It points out five essential stops: La Miguiña, Antigua Pastelería del Pozo, La Duquesita, Pastelería Venecia and Pomme Sucre. This is, without a doubt, one of the tastiest Christmas plans in Madrid.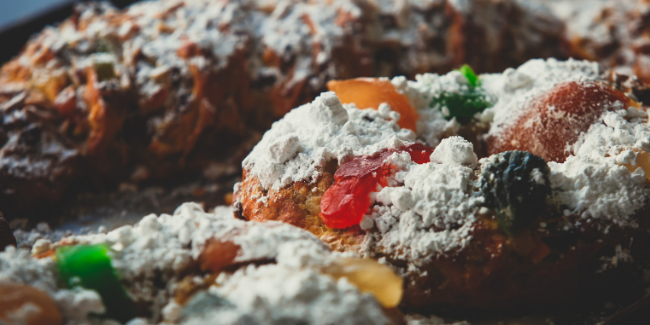 3. Go and see the "Christmas Tale" by Charles Dickens
Another plan to do at Christmas in Madrid is to go to the theater and get surprised with the number of quality shows that the capital hosts. This year we recommend you go to the Teatro Circo Price to enjoy a special show that combines circus, theater and gospel: the "Tale of Christmas" by Charles Dickens. It´ll be on from November 30th until January 6th!
4. Take something hot in a place that will leave you in love
Hot chocolate with churros is a Christmas tradition that can't be missed on your trip to Madrid. The most typical place to try them is the Chocolatería San Ginés, very close to the Plaza Mayor. It has been in operation since 1894, although throughout its history it has changed its name and function several times. What it does preserve intact is the classic style of the place, with its wooden chairs and marble tables. Currently, it opens 24 hours a day so that you can satisfy your desire for chocolate and churros at any time.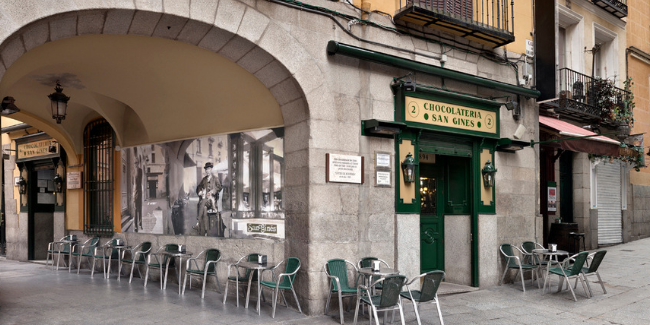 Image: www.chocolateriasangines.com
5. Run like a pro this Christmas in Madrid
This plan for your Christmas in Madrid is as fun as healthy: we´re of course talking about the race San Silvestre Vallecana Popular. The perfect way to say goodbye to the year next December 31st, doing sports and having a great time. 40,000 runners in action, some disguised, in a race with more than 50 years of history ... More than a race, it´s an experience.
6. Enjoy the Christmas lights
Going for a walk in Madrid to discover the Christmas lights is a plan itself. Year after year, the capital dresses in its finest galas composed of thousands of points of light that illuminate its main streets. If you want to see them from a different point of view, go up to the terrace of the Círculo de Bellas Artes and enjoy the show.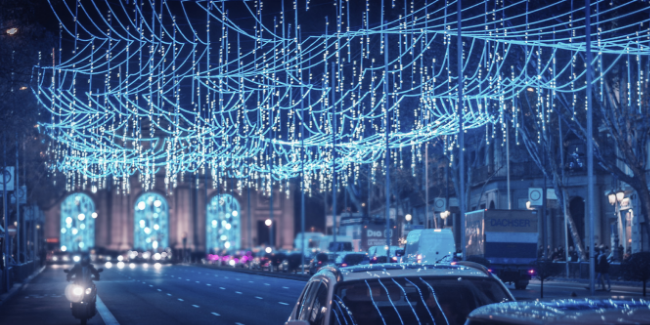 And, to make your getaway to the capital even more magical, choose ARTIEM Madrid to spend those unforgettable days. We invite you to our home so that you feel at home on some dates when you like to feel like family. Our hotel will become your perfect refuge in Madrid during this Christmas. Imagine waking up every morning submerged in the comfort of your room, having each afternoon a warm infusion in The Green or relaxing before going to sleep with a rain shower in your room. These festivities, we wait for you in ARTIEM Madrid!