Find the rest you need when crossing the door of ARTIEM Madrid, where everything has been designed to offer you an atmosphere of relaxation and well-being.
ARTIEM Madrid is the best hotel in Madrid to escape the noise, the vertiginous rhythm, and finally disconnect after a day in the city. Have a glass of wine while you enjoy music at The Green, watch the sunset from the private terrace of our Urban Top Terrace rooms or practice some sports at the gym. Whatever you need, we are your relax hotel in Madrid.
ARTIEM Madrid has been designed to change your mood from the moment you walk through the door. On one side are the rush and stress give way to calm, tranquility and well-being. You will find yourself immersed in a cozy and pleasant atmosphere and in which every detail has been designed to generate that comfort: music, armchairs, the intensity of light ... If you are looking for hotels to disconnect in Madrid, do not hesitate.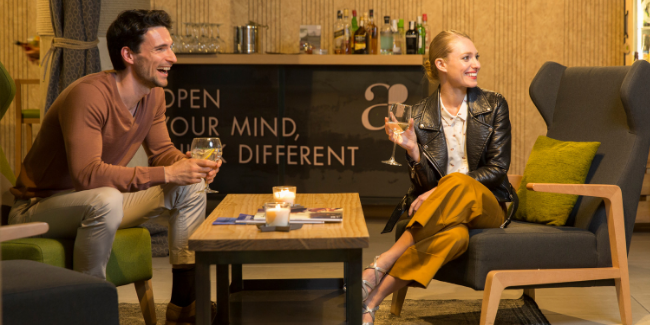 The first factor that contributes for ARTIEM to be one of the best hotels in Madrid to relax is its location, since the hotel is placed in a residential area, at 30 minutes' drive from downtown. The streets of the area are quiet, without any noise and perfect to go for a walk or practice a bit of running. You will be close enough to the main points of the capital, but at the perfect distance to get away from the noise and stress of the city center.
In addition to this, you´ll find that every corner of the hotel is designed with extreme care. The ground floor has been configured as a space to enjoy a relaxed leisure. One of our client´s favorite places, and the best example of this concept, is, without a doubt, The Green. This space acts as ARTIEM Madrid´s living room, full of armchairs, sofas and a wide bar of free snacks and drinks which stays open 24 hours for the guests. Thus, you can enjoy a coffee with cookies in the afternoon reading a book. In addition, you can also have a local beer at the honesty bar when the night falls, together with a snack. You will find a bit of everything here: pastries, salads, nuts, sweets, sandwiches, water, soft drinks, teas, coffee, beer, wines …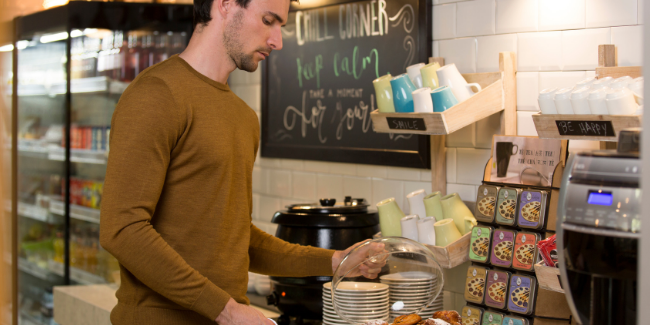 Finally, the gym is open 24 hours a day and includes all the necessary machines to keep your exercise routines. It´s equipped with the latest machines, towels and water to cool you during training. If you wish, you can also request the service of a personal trainer who will help you improve your routines and achieve your goals. Practicing sports will help you relax and clear your mind after a long day.
And of course, if you're looking for a hotel to relax in Madrid, the rooms are the most important part. There are four different types in ARTIEM Madrid, but all of them have one feature in common: they will become your sacred temple during your stay in the capital.
In your room you will find different areas for different moments. When you want to relax, read or watch TV, you´ll be able to do it in a comfortable armchair or chaise longue. You will have plenty of space to practice sports and stretching (you can ask, at reception, our gym in a bag, a bag with everything you need for it), a bathroom with rain shower to let the stress go down the drain and a very comfortable bed to have sweet dreams you´ll surely need.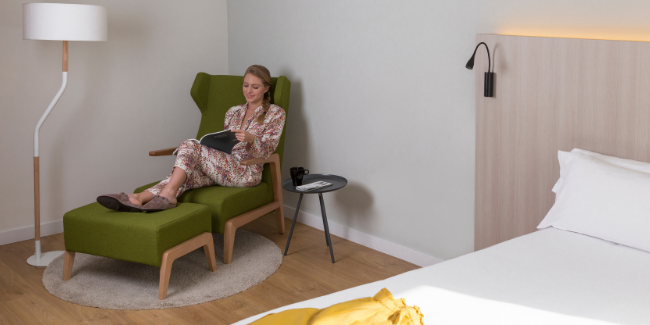 If you have booked a room with terrace, you will have a space just for you to enjoy the outdoors, the sunset or sunbathing. Everything, every little detail, guarantees relaxation in your room at ARTIEM Madrid. Even, if you wish, we'll bring your breakfast to bed.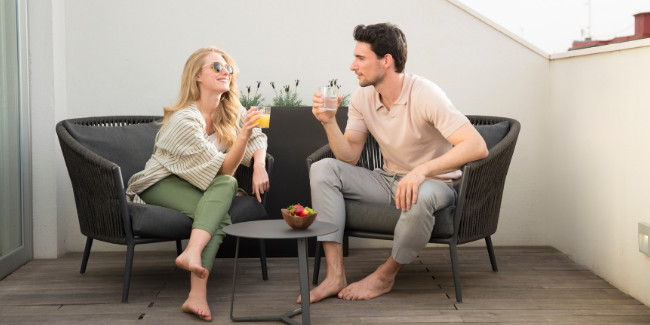 Even though words are nice, acts are much better. So the best option is to come and experience what it´s like to stay in one of the best hotels in Madrid to relax. No matter how long your day has been or how many activities you have done throughout the day, when crossing the door of ARTIEM Madrid you will be invaded by an absolute sense of calm and relaxation. Here you will find a small refuge, in the middle of the chaos.