Here at ARTIEM we understand that technology can help make our work processes easier while making our Freshpeople happier and inspiring others to be happy.
Back in mid-2017, we started thinking about how our world had changed over the past decade: how we connected with each other, how family dynamics had shifted, how we got our information, and how we moved about. As a society, we had certainly gained increased freedoms, rights, prosperity and resources and yet we had also seen an increase in the use of antidepressants and a sense of generalised anxiety. In other words, though our lifestyles had improved, we seemed to be less happy.
This reflection led us to the conclusion that at ARTIEM our mission as a company had to evolve to "take care of the mind and body in the search for wellness" and "inspire people to be happy".
In our search for HAPPINESS, we tend to look outside ourselves with thoughts such as I would be happy if only I had this object or if only I could achieve this goal. But while purchasing the item or reaching your objective may bring you what appears to be happiness, it is actually just a fleeting MOMENT OF JOY that quickly slips away. True HAPPINESS stems from within.
In companies and organisations, the same applies to technology, which is commonly viewed as the Holy Grail. We believe that if we introduce this or that technology, tool or system then we will be more competitive, more profitable, which is of course no bad thing. Nevertheless, true improvement stems from within, within employees and the business itself. It is not a question of adapting technologies, tools and systems to the way we currently work, but rather of evolving the way in which we work to use technologies to harness their potential. We are, of course, humans and stepping outside our comfort zones is difficult and normally the biggest hurdle in implementing new technologies.
At ARTIEM we are in the process of learning that before introducing a new technology or system, we need to prepare the organisation for it, integrating it into our culture and values.
For our MISSION to be a success, we first needed to identify the steps that were needed to get us there.
Experience culture at ARTIEM: our values
Off the back of these considerations, we concluded that the first thing to do was to share our values with our staff. The first of these is TRUST, which is what all relationships are built on and which gives us the feeling of being valued and respected in our work. From this trust stems a PASSION for the job, fulfilment, and as a result, we start to emanate happiness in everything that we do. When we reach this point, it is also because we have taken decisions in our lives, defining our own future. This LEADERSHIP pushes us to set challenges, advance, develop personally and professionally, and push ourselves outside our comfort zones. In sum, to GROW. And to move onwards and upwards, we must turn to INNOVATION. While all of this will certainly make us grow as people, it will not - alone - bring us true happiness. For this, we must seek to have a positive impact on our surroundings, creating prosperity and being INCLUSIVE to all.
Then, for us as an organisation, we felt it was important that our FRESHPEOPLE© were able to develop professionally, enjoy autonomy and have a clear purpose. The happiness of our employees is important to us. We wanted to, as we discussed in a previous post, create the future and so we turned to Daniel H Pink's book Drive to take a look at what really motivates people. According to his thesis, motivation comes about when people and organisations are aligned, focusing all processes and services on our guests.
Finally, we decided to use our processes and services to help us achieve our mission. We were therefore guided by the following six traits, which Harvard professor Tal Ben Shahar has noticed happy people possess:
Building meaningful relationships
Simplifying life, meditating
Living a healthy lifestyle
Giving space to emotions
Showing gratitude
Carrying out actions meaningfully and with pleasure.
Areas for growth: ARTIEM and sustainable development
We have set out a people-oriented business model that will enable us to create the future that we, as a company, decided we wanted to see. Back in January 2019, 87 employees holding a range of different positions across our hotels came together at a summit to share their opinions. From this, we were able to identify seven areas where there is room for growth. Technology and digital culture are key to making these a reality. Our goal is to create an organisation that is more digitised, but also more human.
Circularity
We are aware that resources are finite and that a linear economy, which involves using something once and then throwing it away, is not sustainable. At ARTIEM we want to clearly restate our commitment to protecting the environment, helping transform our industry through a competitive business model that revolves around the 7 Rs (redesign, reduce, reuse, repair, renew, retrieve, recycle) of the circular economy. We have therefore decided to integrate the use of the internet of things (IoT) and tools such as Power BI in our restoration and maintenance processes.
Lean culture
We are dedicated to creating a workplace in which Freshpeople© are able to develop their full potential in terms of both the value for the company and personal and professional growth. Technologies that use artificial intelligence (the chatbot we have called Freshpi), automate processes (EdocAssistant) and manage staff (Visualtime) are helping us to boost our employees' professional development through better knowledge in real time. We have also launched projects such as DHK (Digital House Keeping) to help us avoid unnecessary administrative processes, have greater control and act faster while improving the quality of the housekeeping departments.
Experience culture
We believe that hospitality is a high added value industry that is moving from the service economy into the realm of the experience economy. Tools such as CRM B2C, PowerBI and social media monitors, such as ReviewPro, help us create personalised relationships with our guests while understanding any new needs that will improve their experience. Tools such as Online Check-In not only enable us to eliminate administrative processes and waits, they also help us to adapt our services to the guests' expectations.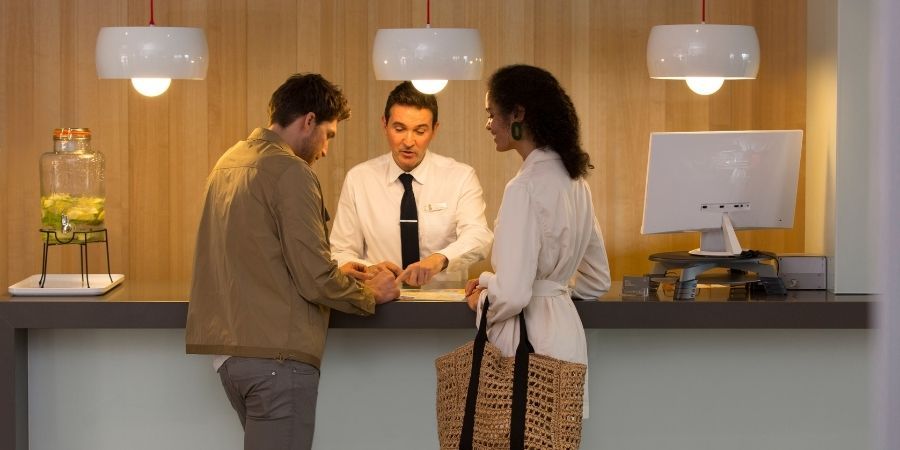 Creating ambassadors
As Peter Drucker famously said, "culture eats strategy for breakfast". And this is exactly what this area for growth is all about. We are committed to harnessing our CULTURE, which we will seek to develop and grow, to help us become more competitive. The app Happy Force (which opens up conversations in an open and honest way) enables us to see a daily picture of staff's happiness levels, check in with them, detect their needs and build trust.
Distribution 5.0
We are dedicated to developing meaningful relationships with our guests through a number of different platforms. Tools such as CRM B2B and B2C, a chatbot, Online Check-In, and apps such as Turitop and OAKI enable us to be agile in anticipating demand and responding immediately, 24/7 and 365 days a year. A level of attention that more and more guests are asking for. Moreover, this year we have started to integrate the Stay App in our hotels where our guests can find all the needed information about the hotel during their stay and where we can offer them constant and fast assistance.

Sustainable growth
It is a reality that value is more intangible than tangible nowadays. We are therefore looking to plant the seeds of growth by creating and giving value to intangible assets. Introducing technologies means we can apply our limited resources to developing and giving value to the intangible. Hospitality can most definitely be more sustainable.
Social value
Imbuing our strategies and business processes with social responsibility can only make us more competitive.
Technology will help us accomplish our MISSION "to inspire people to be happy". A future that is within reach if we can adapt to these new realities and step outside our comfort zones as both people and a business.
Pepe Díaz, CEO of ARTIEM