Let's take a trip together without leaving your sofa and experience the Holy Week traditions in ARTIEM's destinations while hoping we can immerse ourselves in the seasonal aromas of our island, the capital city's customs or in the fresh air of a natural paradise. Will you join us on this unique trip at home?
A trip is always the right time to come home with tons of stories to tell, and while we can't get lost in any corner of the globe at the moment, we'll continue to make those memories differently. We're doing it by taking a pause to progress, to remember the simple pleasures that bring us happiness and realise that this is an opportunity to make time for ourselves. Today we want you to enjoy that moment by reading an article that will transport you a world away from your sofa. This time of year, we're taking you on a journey through the Easter Week traditions in Menorca, Madrid and Asturias.
While the circumstances have not let you go on your long-anticipated holiday, ARTIEM has some ideas for you to enjoy Holy Week at home. What are the seasonal flavours in Menorca? How can I follow Madrid's traditions? What would it be like to get lost in Asturias this time of year? Let's embark on our journey through their stories and hope that the trip you had pending will happen sooner or later. Since stopping and taking a pause brings out our creativity, now's the time to show it! Then you'll have tons of stories to tell.
Easter Week in Menorca at home
Menorca is an island with endless landscapes, coves that look like a fairytale and made for total relaxation. Beyond the processions along the main streets that are cancelled this year, the island has a unique, intense and heady aroma. On this island famous for its pastries, Easter Week in Menorca would not be complete without traditional Easter treats. That's why we're bringing you recipes for two of the most customary delights: formatjades and Easter sweets (caramelos de Pascua). Are you willing to give them a go?
The first recipe is empanadas filled with a variety of ingredients, but the ones with meat filling are the most renowned. You'll need flour, lard or olive oil, water, yeast, pork or lamb, sobrasada, saffron, salt and pepper. Once you have these ingredients on your counter, it's time to get the work! Here are the steps to help you get a little taste of Menorca:
Dissolve the flour in water and add the lard (or olive) to the mixture.
Mix the ingredients and then make two balls with one being larger than the other. Then roll both balls of dough with a rolling pin.
Shape the larger piece of dough into a bowl-like shape and fill it with the lamb or pork meat, sobrasada and lard.
Cover the patty with the smaller piece of dough, then repeat until you run out of the initial batch of dough.
Poke holes into the top of every formatjada and bake them at 180 ºC.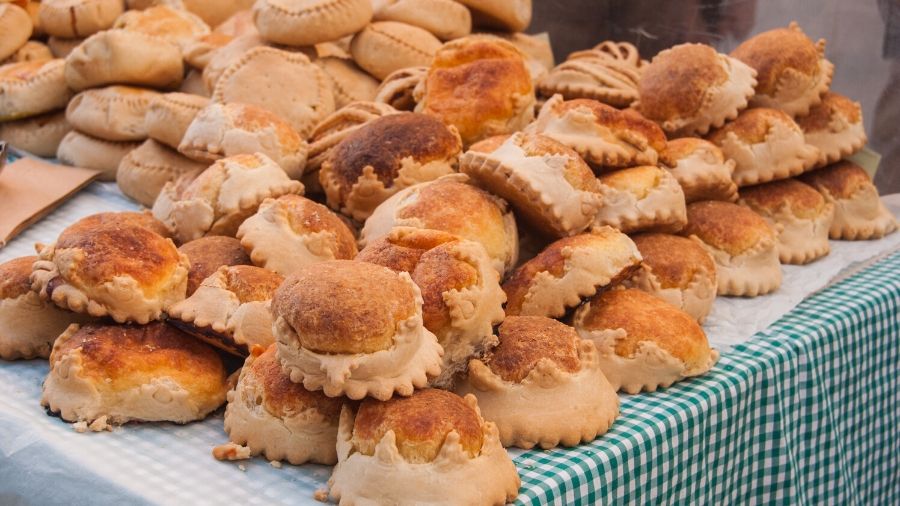 The sweet side of a Menorcan Easter at home comes from the Easter sweets (caramelos de Pascua). The caramel.ler tradition has gone on for years in the villages around the island, especially in Alaior, where children go to collect their sweets from Dalt es Fossar. Although they can't leave their homes this year, the Civil Protection troops have brought their sweets to their houses. The delight on their faces said it all, and since we're all about making you smile at ARTIEM, we have the recipe for you to make them so you can delight in the flavours.
The most typical sweets are the so-called caramelos largos that are long candies, but you can also find turrón this time of year. You'll only need some peeled, toasted almonds and sugar while following these instructions:
Slice the almonds.
Add the sugar in a pot or pan and melt it on low heat until it liquidises.
Add the almonds to the sugar and move them around, so they caramelise.
Pour the mixture onto a tray smeared with oil and stretch until you have a combination that is a litter less than a centimetre thick.
Cut it into squares and let it cool.
Easter Week in Asturias at home
Tradition is also dominant during Easter Week in Asturias. From Gijón to Oviedo through the interior and fairytale fishing villages, there are generally a wealth of processions and activities filling the streets at Easter time. While the celebrations have stopped, but we want to make sure you get lost in something this natural paradise can bring you. And, yes, it can come to you!
Dream of taking a mini-break to Asturias and imagine the surroundings. While everyone will choose to explore different places, but there's one thing they all have in common: nature. During this pause that brings out our creativity, we wanted to bring you the essence of Asturias to you at home through these virtual hikes in Asturias. Immerse yourself in them, take in fresh air and disconnect.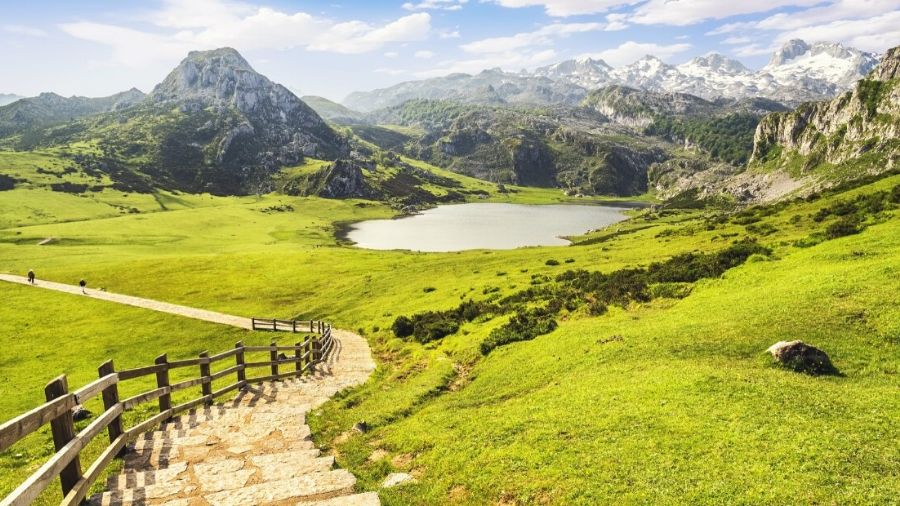 Easter Week in Madrid at home
Talking about Easter time in Madrid is taking a trip through the purest part of the city. This year, the traditional and avant-garde will come together, and while we won't get to see the enthusiasm in the processions, we will be able to see all the religious ceremonies. The Almudena cathedral will host the Easter Week Masses, and while they are closed to the public, they'll live stream them on the Diocese's YouTube channel for the faithful to watch at home.
If this idea doesn't convince you, we have another option. For that, we have a tour through the most traditional Easter time Madrid flavours. How about trying a daytime menu of regional dishes from the Madrid region? Make yourself a delicious Madrid-style potaje de garbanzos, or chickpea stew, with salted cod, spinach, potatoes and a hard-boiled egg. For your afternoon snack, make yourself some torrijas (similar to French toast), and for dinner, make salted cod the star of the show with battered-fried strips of cod (soldaditos de Pavía) and croquettes. You'll feel like you're in Madrid without stepping out your door!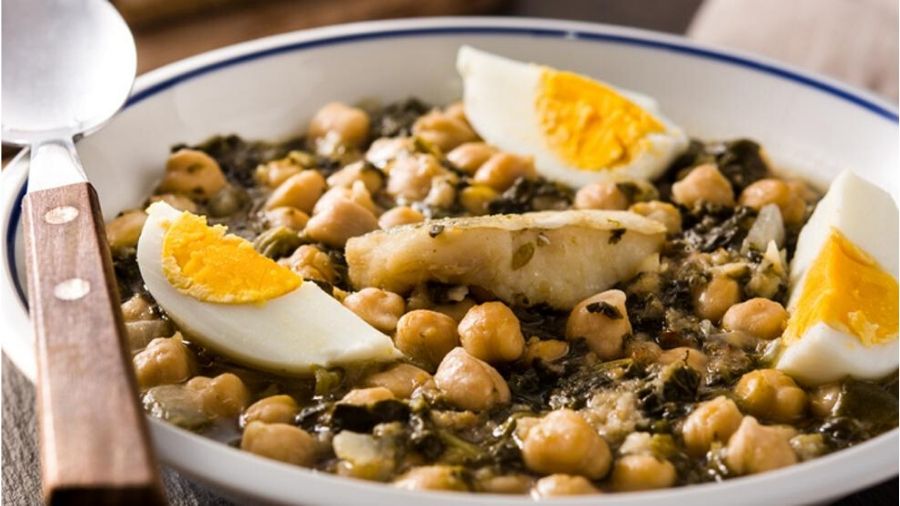 Give your Easter a different feel by getting inside the Easter Week traditions from ARTIEM's destinations at home. Spend time during this pause for progress because, as Italian writer, Cesare Pavese once said, "We do not remember days, we remember moments." This is your moment, and we want you to share it with us! Tell us your stories, and share recipes and traditions from this time of year on social media using the hashtag #APausetoProgress and inspire others with your moments of joy.