Because being happy and enjoying our work is possible, but to do so, we need to consider two very important factors: communication and visibility. That's how we work at ARTIEM, and that's how we've succeeded in positioning ourselves as one of the best companies to work for in Spain.
We won't lie, making work enjoyable hasn't been an easy task, but we continue to work every day to do it. And everything suggests that we're heading in the right direction, as tools like Happyforce help us measure the satisfaction/happiness of our Freshpeople.
We care about the happiness of our Freshpeople
Inspiring people to be happy is what drives us at ARTIEM, starting, of course, with our Freshpeople. For that reason, we support them from day one through actions and decisions that are always endorsed by ARTIEM's values. Values such as trust, passion, leadership, innovation, excellence and above all, inclusiveness.
Our team is made up of positive, friendly, integrated people who have many things in common, such as a passion for their work and willingness to do their best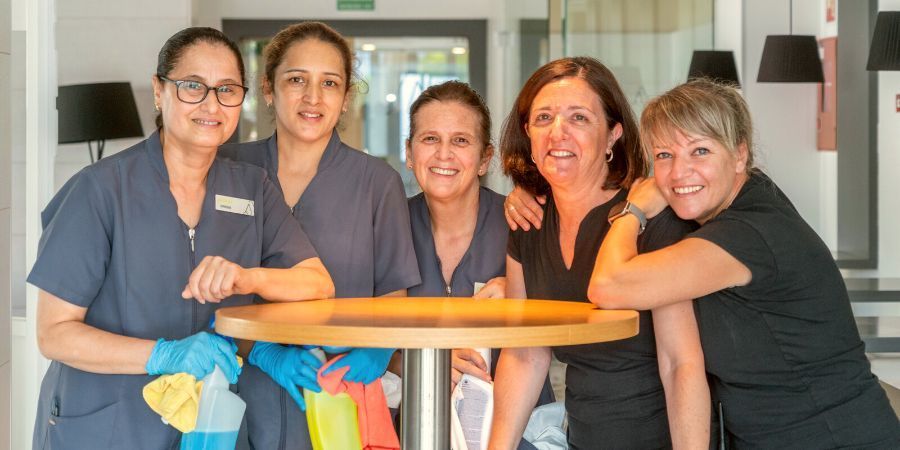 As you see, our Freshpeople are those who make the difference at ARTIEM and so their well-being and happiness is our greatest concern. Thanks to the door we open to technology in our processes, we facilitate work and make our Freshpeople happier; above all, we can measure their satisfaction by using tools like Happyforce.
Continue reading to find out how Happyforce helps us measure ARTIEM's happiness levels.
We measure our satisfaction at work with Happyforce
We don't believe in hierarchies, we believe in inclusion and in individuals with names and surnames. All our Freshpeople have a lot to give, and so our purpose is to create work environments that inspire and motivate, enabling each member of the ARTIEM staff to give the best of themselves, and feel part of a family that grows and moves forward together.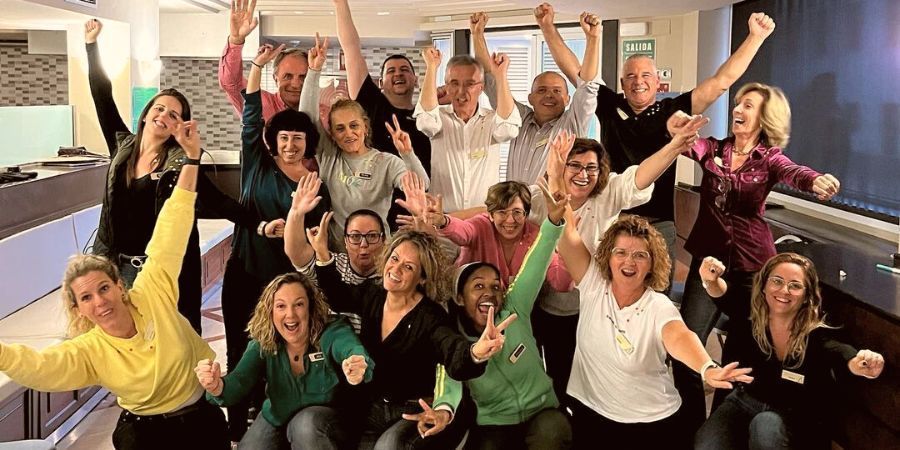 To achieve this, however, we need to know and understand both the positive and the negative aspects of the Freshpeople's day-to-day routine. This is where Happyforce comes in, an app that allows us to effectively measure the level of satisfaction of the team through anonymous daily assessments.
It's basically a (highly intuitive) feedback platform that enables honest and transparent communication between the company and its employees. Thanks to its results, we can achieve the best possible team management.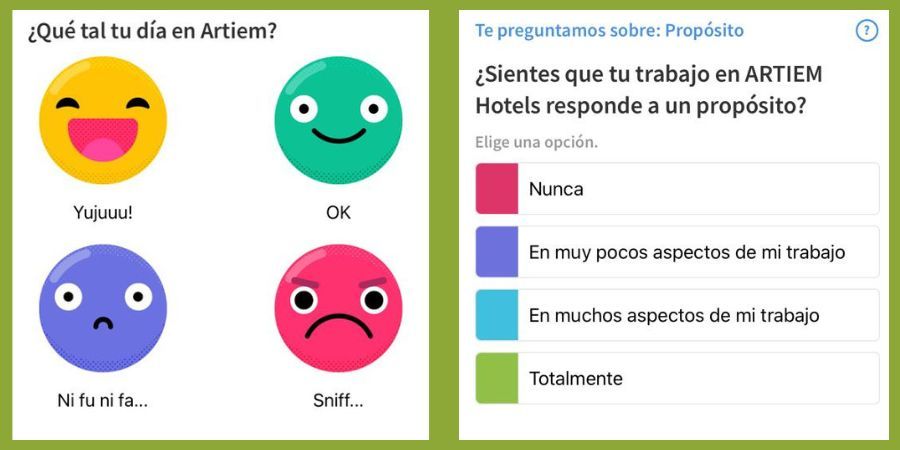 As we mentioned earlier, good communication is a key aspect of happiness, as it eliminates the pursuit of goals for one's own benefit, encouraging teamwork and a sense of belonging.
Most importantly, Happyforce helps us measure that communication continuously and in real time. How? Every day, the Freshpeople can speak their mind anonymously through the app, either by responding to surveys on the working environment, or by publishing comments, ideas or contributions as well as expressing doubts or problems that interferes with their performance.
It is more than just a communication channel for the Freshpeople; we also use it internally to communicate news and acknowledgements to all our staff.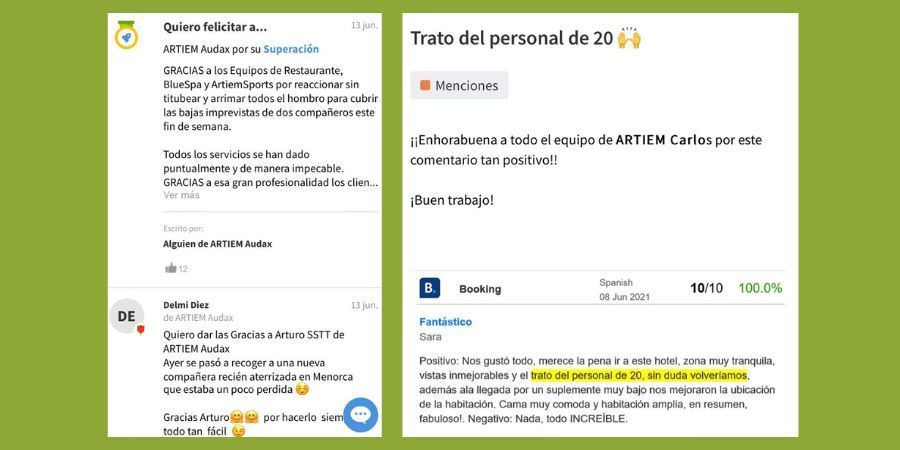 Does it work? The figures speak for themselves. In 2002 we received:
18,007 votes

3,941 comments

171 new ideas

510 acknowledgements

1,196 thanks
It is in our nature to inspire people to be happier through a set of values and culture focused on generating a positive impact on both people and on the planet. We will continue to work to make the Freshpeople feel proud of the company they work in.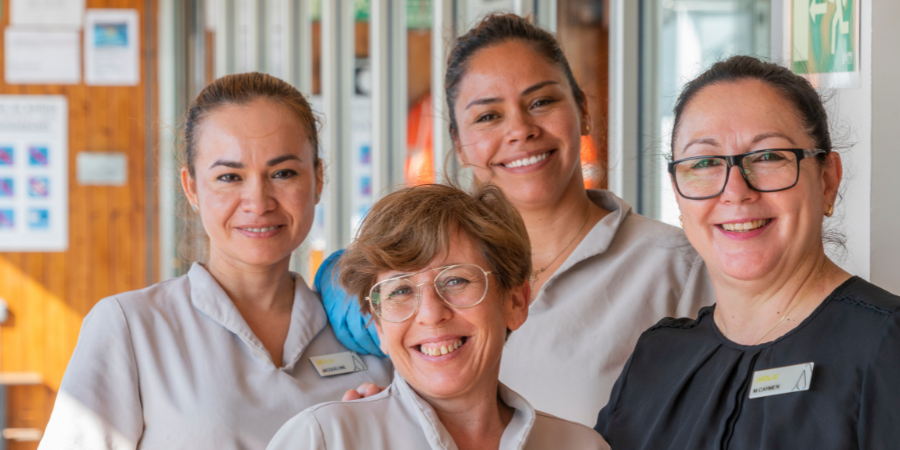 We bring transparency to the happiness of our Freshpeople
Every step we take at ARTIEM is aimed at protecting our best human asset, the Freshpeople. That is why we want to make sure they have all the necessary tools to promote their well-being, happiness and satisfaction.
We are just as transparent and honest with the employees of ARTIEM as we are with our followers. For that reason, one year ago we decided to give visibility to the happiness of our staff by posting on our website the current level of satisfaction of our people in each ARTIEM hotel.
How do we measure it? With the Happiness Index (HI) from 0 to 100 developed by Happyforce based on the results of the anonymous daily assessments.
Here is the current level of satisfaction of the Freshpeople in each of our hotels:

As you see, ARTIEM is much more than a place to sleep. For that reason and many others, we are the Best Place to Work and we want to be the Best Place to be. We are totally convinced that we will achieve this with the support of our Freshpeople and platforms like Happyforce.
Because Freshpeople Make The Difference ;)