Eating healthy this Christmas is possible. Don´t believe us? Check out the complete menu we have prepared.
Christmas is synonymous with family celebrations, meetings with friends… and eating. In these dates we give ourselves to the noble art of big meals and we are seduced by seafood, lamb, roscón and other delicacies typical of this time of the year. However, and even it might seem incredible, you don't have to give up the idea a balanced diet, since there are many healthy Christmas recipes.
The secret to eating healthy these holidays is to maintain some level of control and try not to exceed more than necessary. That is to say: avoid pecking and snacks, keep an eye at the size of the portions, reduce the serving of sauces... You can even visit some healthy restaurants. But, of course, the best way is to get to the controls of the stove and make a delicious and balanced menu. Missing specific ideas? Here are some healthy Christmas recipes:
Appetizer: vegan mushroom and nut pate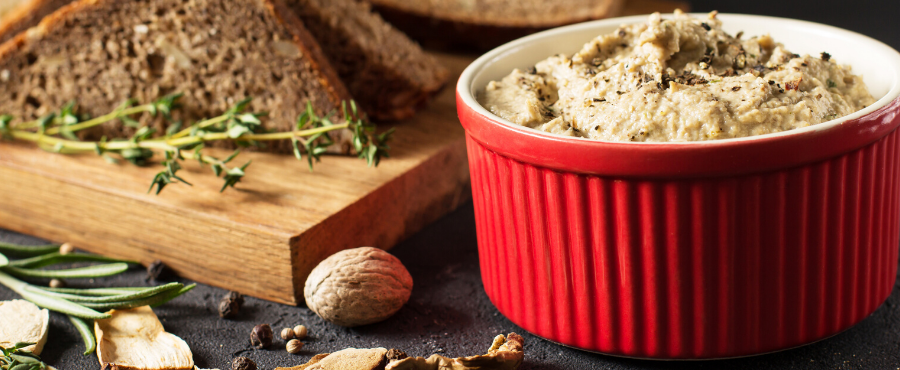 After a healthy breakfast ... it's time for the appetizer! Surprise your guests with a vegan mushroom and nut paté. Delicious and very easy to prepare.
Ingredients (for 6 people):
500 grams of mushrooms.

3 garlic cloves.

1 onion.

1 teaspoon of brewer's yeast

80 grams of peeled walnuts.

1 tablespoon of extra virgin olive oil.

Salt.

Ground black pepper.
Elaboration:
Cut the onion and garlic into thin slices while heating the oil in a pan.

Brown the onion and garlic over low heat for two minutes.

Meanwhile, cut the mushrooms into slices and add them to the pan. Keep the heat at medium temperature until the mushrooms begin to toast.

Toast the nuts in the oven at 180 ° C for two minutes.

With the blender, triturate all the ingredients of the pan together with the brewer's yeast, a pinch of salt and another of pepper. Crush it all together.

Add the nuts and continue crushing until you get a fine and homogeneous cream.
First course: cream of leeks with crunchy ham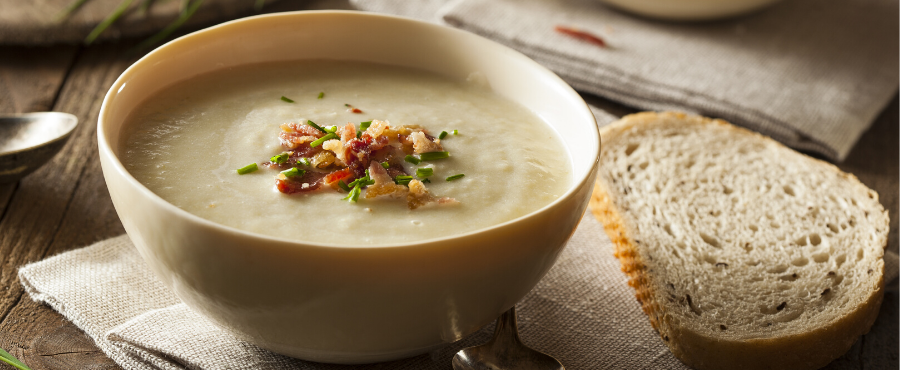 The first of the main healthy Christmas recipes we suggest is a delicious cream of leeks with crunchy ham. Starting with something light will allow you to enjoy more the rest of the meal.
Ingredients (for 4 people):
3 leeks.

8 slices of ham.

3 cubes of soft cheese.

250 ml of vegetable stock.

1 potato

15 ml of virgin olive oil.

Salt.

Ground black pepper.
Elaboration:
In a casserole, add a little oil to saute the previously chopped leeks.

When they start gaining color, add the potato, peeled and chopped. Then proceed to cover it with water or vegetable stock.

Cook the mixture for 20 minutes until the vegetables are soft.

Add the cheese, the salt and a bit of little black pepper.

Blend the mixture and cook it for another 10 minutes.

Meanwhile, stretch the slices of ham on a plate and microwave until crispy.

Serve the leek cream and use the ham strips as decoration and accompaniment.
Main course: monkfish in green sauce with clams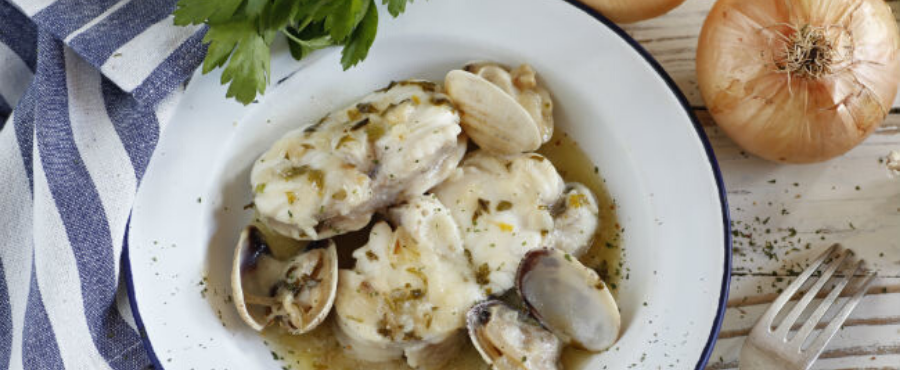 Image: www.directoalpaladar.com/
Other idea for healthy Christmas recipes is opting for fish, a healthy and delicious product. In this case, we suggest you prepare a monkfish in green sauce with clams as the dinner´s main course.
Ingredients (for 4 people):
2.5 kilos of fresh monkfish.

400 grams of onion.

2 cloves of garlic.

200 ml of Albariño white wine.

200 ml of fish stock or fumet.

250 grams of fine clam.

40 degrees of wheat flour.

1 gram of cayenne.

80 ml of extra virgin olive oil.

30 grams of fresh parsley.

Salt to taste.
Elaboration:
Wash the fish and soak the clams for 30 minutes in salt water so that they release the sand they may have inside.

Add half a liter of water to a large pot, include a bit of oil and a quarter of an onion. Once it starts to boil, add the monkfish head to cook it for 15 minutes.

Once that time has passed, strain everything and keep it aside.

Chop the onions, garlic cloves and parsley.

Take a saucepan, add oil and heat it over medium heat. Sauté the onion, garlic and parsley while adding the cayenne.

When the onion is soft, add two tablespoons of flour and stir while baking for one or two minutes.

Add the wine and let it evaporate.

Then pour 200 ml of fish stock. Reserve the rest if you need it later.

Let it cook for 10 minutes and add the pieces of fish and clams.

Let it cook for another 10 minutes until the fish turns white.

Add salt to taste.
Dessert: roasted apples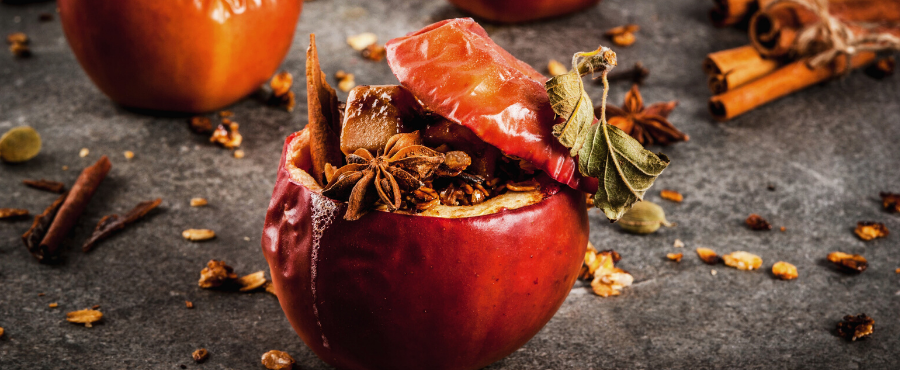 To top off this healthy Christmas menu, our recommendation is a recipe of roasted apples for dessert.
Ingredients (for 2 people):
2 sweet but firm apples.

2 dates.

10 raisins from Corinth.

30 grams of almonds.

Grain or star anise.

Ground cinnamon.

Honey (optional)

Sweet wine or orange juice.
Elaboration:
Preheat the oven to 175º while you wash and dry the apples.

Take out the heart of the apple without going through the base. Leave a round hole to introduce the filling.

Cut dates with raisins, almonds, add the spices, a splash of wine or juice and honey to taste.

Fill the apples with the mixture.

Make a slight cut in the diameter of the skin so that they do not explode.

Place the apples in a bowl, add a little water to cover the bottom and leave them in the oven for 40-50 minutes.

Dilute some water, wine or juice with the juices at the bottom of the tray to obtain natural syrup to serve the apples.

Add cinnamon if you want, and serve.
As you can see, it is possible to create a totally healthy, light and delicious menu for this Christmas. Just give it a try, find the best healthy recipes and get behind the stove. You will not have any regrets this next January!