With stunning coves, tasty cuisine and friendly locals, Menorca has got plenty to seduce you this summer. And that's not to mention all the outdoor activities you can enjoy. Can you honestly think of anything better than doing some exercise in the most spectacular of scenery? Kayaking enables you to do exactly that, paddling through the sparkling waters of the Mediterranean. Read on to discover our list of the very best kayaking excursions on the island.
The Mediterranean Sea envelops the Balearic Islands in an embrace of sparkling azure. Picture-postcard beaches and coves are the perfect place to while away the hours in a haze of joy. Taking refreshing dips, lazing in the sun, doing some exercise: however you choose to spend your time here, it will be glorious. In this post we are going to take a look at a wonderful water sport that you may not have tried, but that you will have certainly heard of.
Kayaking involves paddling through the waters in a narrow boat. As you immerse yourself deeper in the seascape, you will feel your mind still and your body relax. The views, meanwhile, will spirit you away to the realms of the unimaginable, treating you to a unique outlook of the Menorcan coastline. If you don't have any kayaking experience, not to worry: you can always enlist the help of an instructor who not only will show you the best spots to go paddling, but will demonstrate the perfect technique and be on hand should the waters get choppy.
If you are keen to explore all the different nooks and crannies of Menorca from your kayak, you are going to need a place to stay. ARTIEM Audax, located on the white sands of Cala Galdana, is the ideal choice. The hotel firmly believes that the greatest happiness can be found in getting active in the great outdoors. To help you live your best life on holiday, we therefore thought we'd put together a list of the best kayak excursions on the island. Take a scroll to find out more.
The best kayak excursions in Menorca
Visit caves and go snorkelling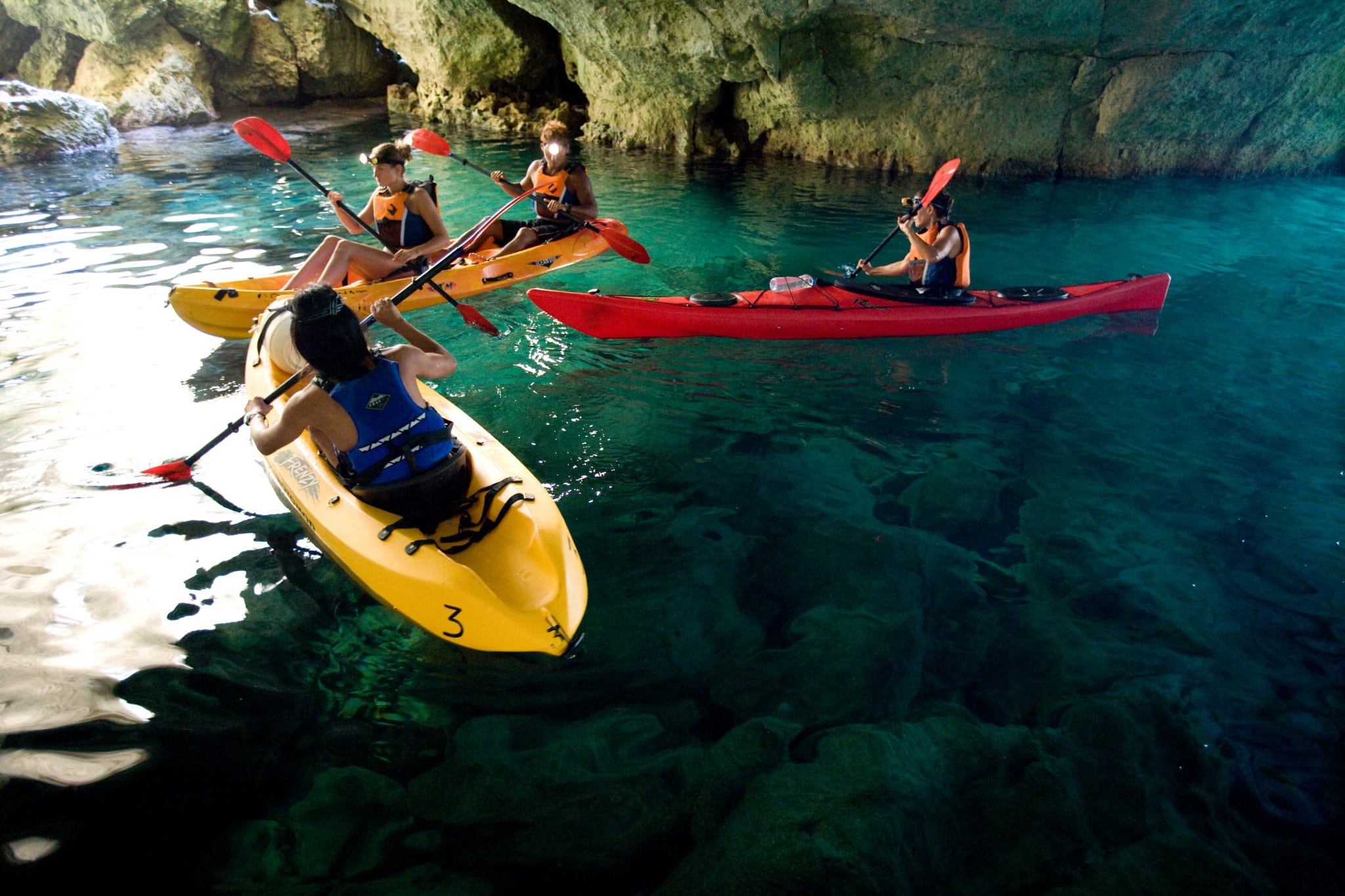 At ARTIEM Audax we offer guided kayak tours through Menorca caves in which your instructor will be with you at all times; we understand that if you're new to the sport, it's best to have a professional on hand. You will paddle from Cala Galdana along the coastline to Cala Mitjana or Cala Trebalúger, depending on the weather. Along the way, you will discover stunning caves and even have the opportunity to do some snorkelling in the rich Menorcan seas. Off-the-beaten-tracks idylls whose beauty will stay with you for years to come.
Gaze at the sunset from your kayak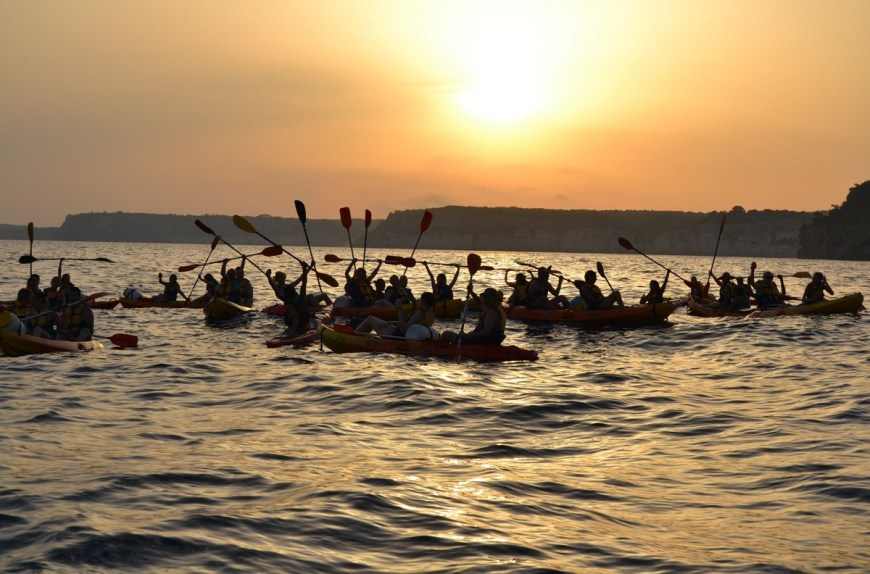 Talking of unforgettable sights, how about seeing the sunset from your kayak as you gently bob about on the sea? At ARTIEM Audax you can do exactly that with our sunset kayak trip. Carefully timed to coincide with sundown, you will be treated to the spectacle of the sun setting in a multitude of hues over the serene waters of the Mediterranean. Bring your friends, family or loved one along to enjoy a sight you certainly don't see every day. You will be accompanied by instructors at all times.
Explore Fornells bay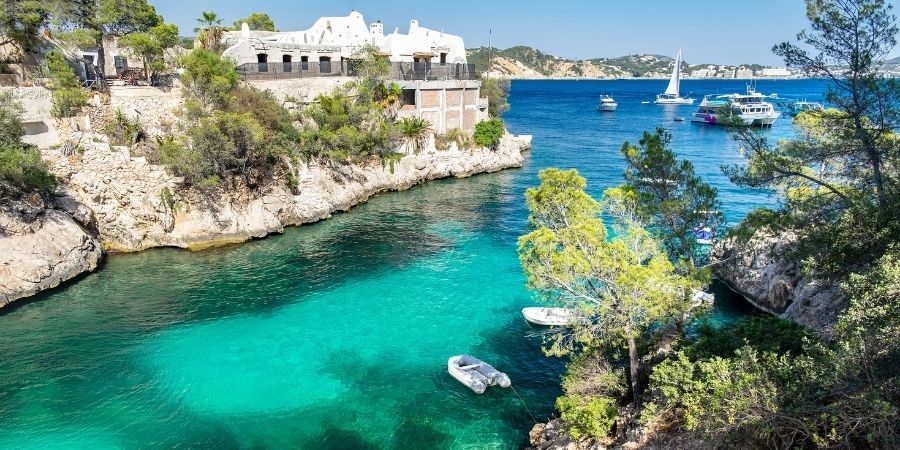 Of all the places to go kayaking in Menorca, Fornells bay is certainly up there on the list. This kayak route will take you on an exploration of the largest bay in northern Menorca. If you continue paddling close to the coastline, you will come across the most beautiful wild beaches. Fornells has a number of different places where you can hire kayaks, particularly in the summer months.
Get close to S'Albufera des Grau natural park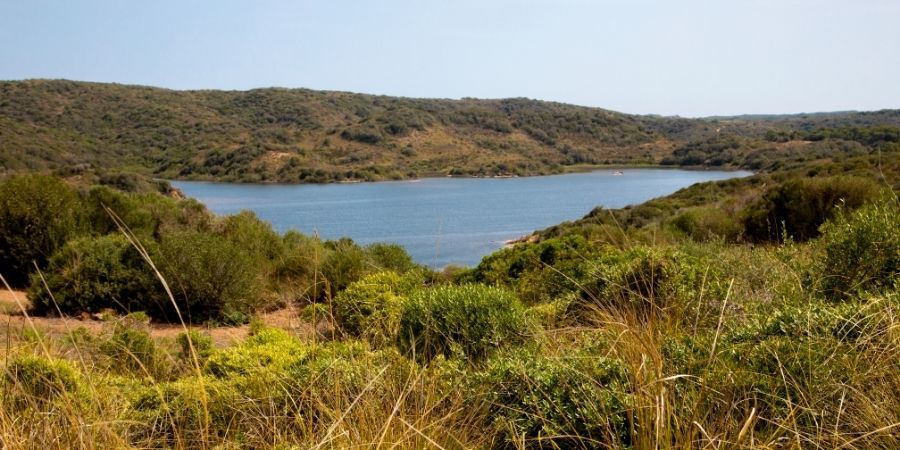 S'Albufera des Grau is the only natural park in Menorca. Paddle your kayak from Na Macaret to Arenal de Mongofre to explore this beautiful stretch of the northern coastline. This is also a wonderful spot to go snorkelling; the great geological wealth on the seabed, including reefs, will leave you speechless. When you reach Arenal de Mongofre, you will be taken aback by this slice of paradise, which is difficult to access by land, where peace and tranquillity reign.
This list has only just scratched the surface of the many kayak excursions you can enjoy in Menorca. If you fancy going it alone, without an instructor, you can hire a kayak and all the other equipment you'll need from ARTIEM. And don't forget: if you want to vary your exercise regime, ARTIEM Sports offers wellness programmes, a well-equipped gym and cycling excursions. Everything you need and more to keep fit and healthy during your stay.
Jump into your kayak to explore the waters and see Menorca from another perspective. If you are looking for an adults-only hotel where you can enjoy the company of your friends or loved ones, ARTIEM Audax awaits with open arms.