Are you planning your agenda of activities in Menorca? Don´t forget to include a kayak trip, it will allow you to discover the island from a different perspective while practicing sports.
Kayaking in Menorca can be an unforgettable experience, as it offers you the opportunity to discover the island from a different perspective while you live a new adventure, enjoy sports and the sea.
Whether you are a rowing fan or you have never tried it, a kayak excursion in Menorca should be on your list of activities for your time in the island. It´s a different way of doing tourism because, while discovering the island, you will remain in full contact with nature and the landscape. In addition, you will be able to access places (sea caves and coves) that can only be accessed this way. This means you will probably have these idyllic spots almost to yourself (and the group you go along with)!
We´re sure you will love getting to know Menorca by kayak! But, in case you´re still not sure, we want to tell you all the reasons why signing up for this activity is a must!:
1. Kayaking in Menorca is a must for athletes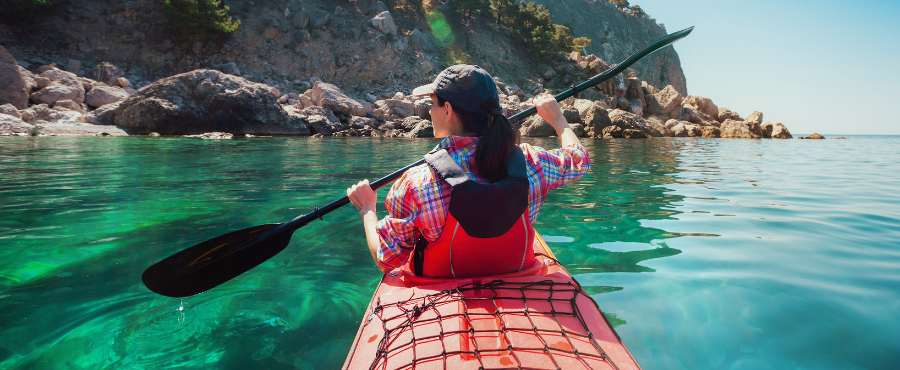 Sports lovers will love to use part of their holidays to try new disciplines or enjoying those that they love in a new location. It´s a way of knowing Menorca from another perspective and generating the endorphins that make us happy.
Kayaking in Menorca is a must, especially in spring and summer. Explore the island´s shore rowing along the coast, activate your muscles and have fun. Even if you don´t know the area or if you are not an expert in kayaking, you´ll have no problem as long as you´re accompanied by a local guide who takes care of you, shows you to the best spots and helps you perfect the paddling.
2. Discover unique corners of the island
We guarantee that the best postcards of your trip will be taken from your kayak. Contemplate the island from the water, especially at sunset; Enter marine caves or disembark in small coves to enjoy them for yourself. These unique moments will remain engraved in your mind and on your photo reel. To make the best out of this, make sure to look for the best kayak routes in Menorca to visit different caves and formations.
3. There are routes for all levels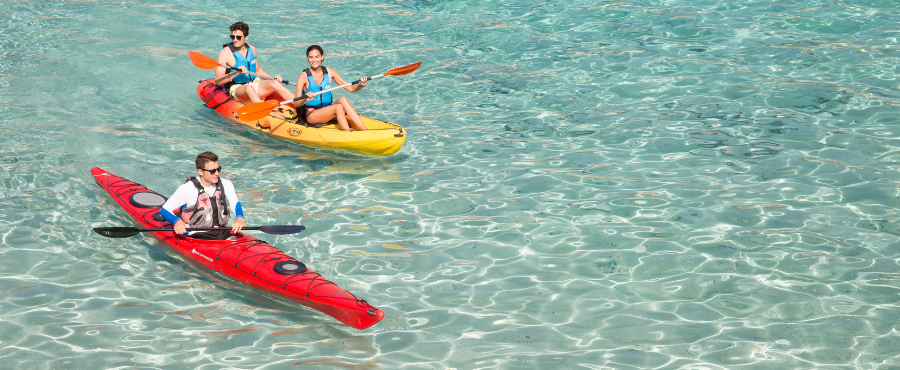 One of the best things about kayaking in Menorca… is that it´s suitable for everyone! Being inexperienced in this practice doesn´t mean you have to give up doing it! There are routes suitable for all levels on the island. Choose experienced instructors to guide you, such as our Sports & Nature monitors. They will explain how you have to paddle at all times. Trust them and enjoy the ride and the views.
4. The climate in Menorca is perfect
Kayaking in Menorca is possible almost every day during spring and summer, especially in the southern part of the island. The weather conditions are usually favorable, which makes the sea calm and practically flat. However, before beginning make sure to check out the forecast and if you have doubts look for a local guide to confirm if you should leave the tour for another day or not.
5. Add snorkeling to the excursion!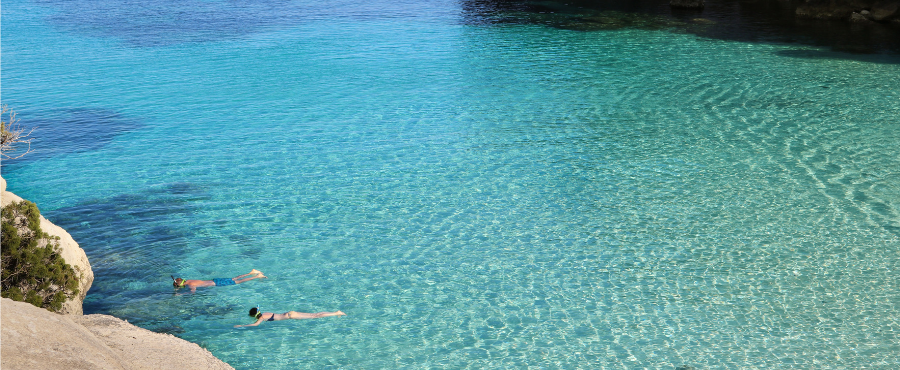 Touring Menorca by kayak can also be a great opportunity to snorkel and discover the biodiversity hidden on the seabed of the island. A guide can tell you which are the best spots to dive and, also, inform you of all the material you´ll need. You will find a wide range of fish, crustaceans and algae.
In ARTIEM Audax we have a Sport & Nature team that organizes, every day, guided kayak trips for our guests or offer equipment rentals if you prefer to go on your own. They are experts in the area and the best guides to get to know Menorca from the sea and rowing.
Are you already convinced to go kayaking around Menorca? Do not hesitate and leave some space in your holidays to go paddling and enjoy the island in a different way. The experience, we assure you, will not be disappointing.