The calm you seek on your holidays can be found in Menorca's most beautiful, secluded coves. Here, we let you in on Menorcans' best-kept secret.

Menorca has more than 210 kilometres of coastline, 75 beaches, 24 of which are considered virgin, and the most crystalline, turquoise waters in the whole of the Mediterranean. The island invites you to wander from cove to cove, enjoying long swims in the sea and relaxing on the white sand.
Menorca's coves are the best option for those seeking peace and privacy.
They are usually isolated and getting there sometimes means a short walk. However, the effort is worthwhile. Marooned among the rocks are tiny sandy beaches, like a wild slice of paradise.
If this is what you are seeking on your holidays, ARTIEM can reveal Menorca's most beautiful coves to you. Help us keep the secret!


This tiny northern cove ensconced in a picturesque pine forest lets you escape the sun and shelter from the wind in its pleasant shade. From La Vall car park, take a path crossing the beautiful Cala Tancats cove and a gentle stream. It takes about 30 minutes on foot, but every step is well worth it. Upon reaching this unspoilt cove, its crystal-clear, calm waters invite you to relax, swim and marvel at its surrounding natural beauty.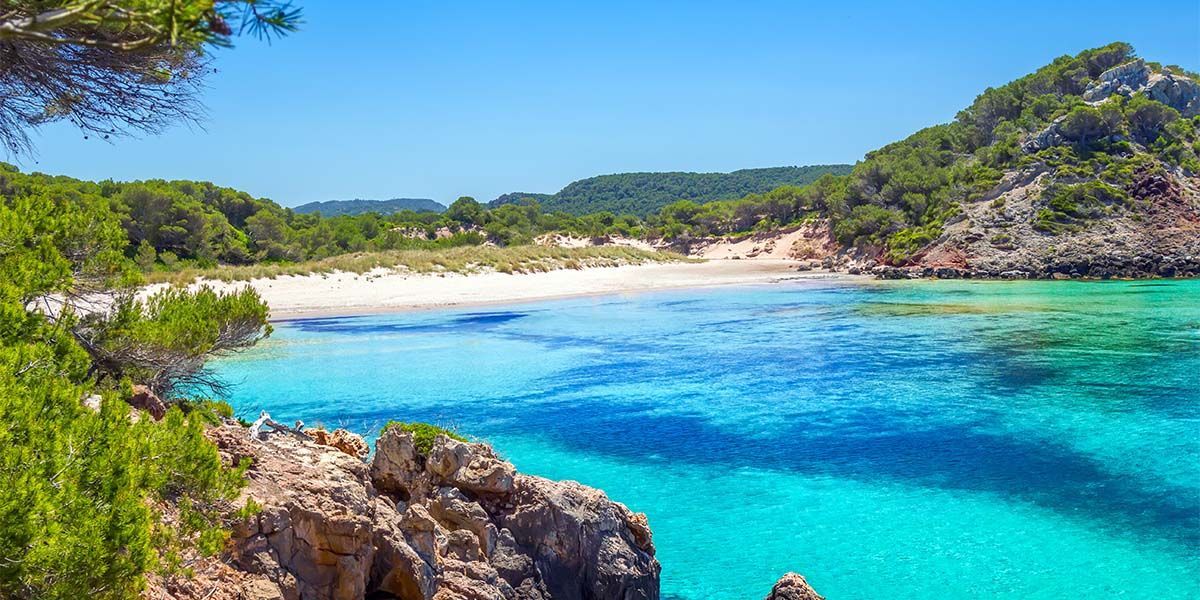 Within our selection of undiscovered Menorcan coves, we simply must mention Cala en Turqueta, having earned its reputation as one of the island's most charming coves. Hidden amongst lush pine trees, its waters appear bright turquoise. This, along with its fine white sand, makes it one of the island's most special coves. Discover how to get here easily to enjoy this true paradise.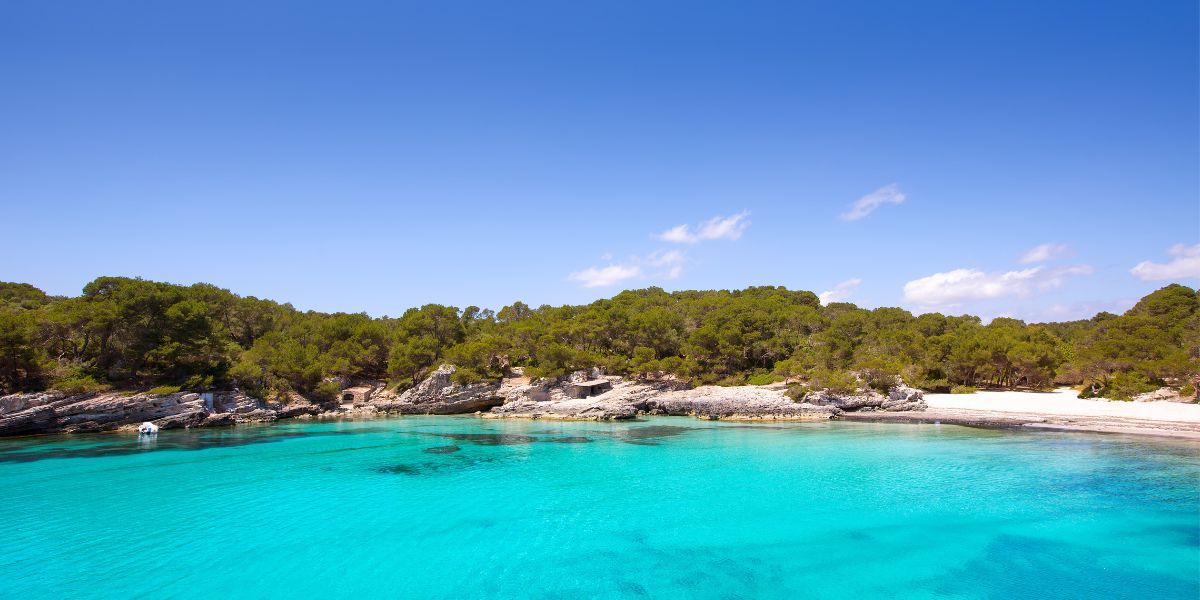 Though these coves are not so unknown, you simply must enjoy this small paradise in southern Menorca before you leave. The turquoise waters on this sandy beach barely 80 metres long will truly captivate you. This is one of Menorca's most visited hidden spots during the summer. As well as Cala Macarelleta, make sure you visit its big sister, Cala Macarella. Both coves share the beauty of their turquoise waters and the charm of their unspoilt surroundings. Cala Macarella stretches along a beach of soft white sand, fringed by lush Mediterranean vegetation. Together they form a perfect duo that will captivate you with their natural beauty, inviting you to savour moments of calm and connect with nature. Discover more of their charms and how to reach these fabulous coves.
On Menorca's stunning north coast, Cala Pregonda is an instantly seductive beach. The golden sands, crystal-clear waters and breathtaking scenery of this unique, unspoilt cove will amaze you. Its singularity lies in its turquoise waters dotted with tiny islands and rocky tors. Its golden sand invites you to go barefoot while enjoying the sea breeze. Flanked by hills cloaked in Mediterranean vegetation, Cala Pregonda offers a wild and spectacular landscape. Its rock formations emerging from the sea create natural pools ideal for relaxing and exploring its diverse marine life.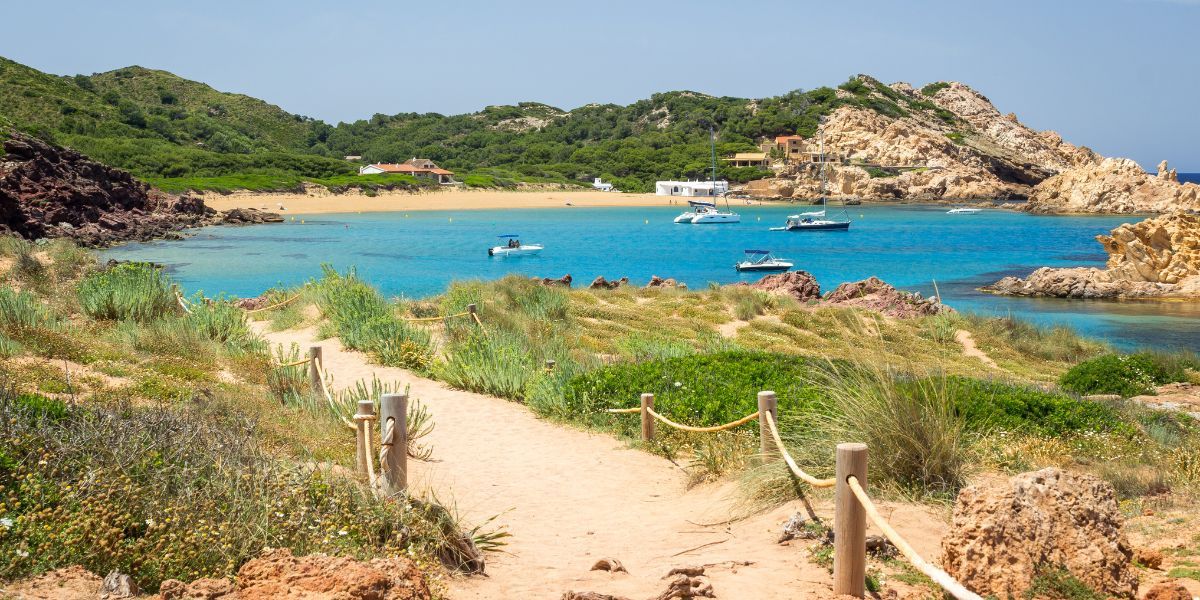 Cala Trebalúger, one of Menorca's most inaccessible coves, more than rewards you for the effort required to reach it. After walking approximately 40 minutes from the Cala Mitjana car park, you find yourself at a cove surrounded by unspoilt nature. This cove offers you a peaceful setting far from the tourist hordes, where you can enjoy its waters' serene beauty. Furthermore, its secluded location makes it a perfect retreat to relax and unwind, since it is usually less crowded than other more accessible coves.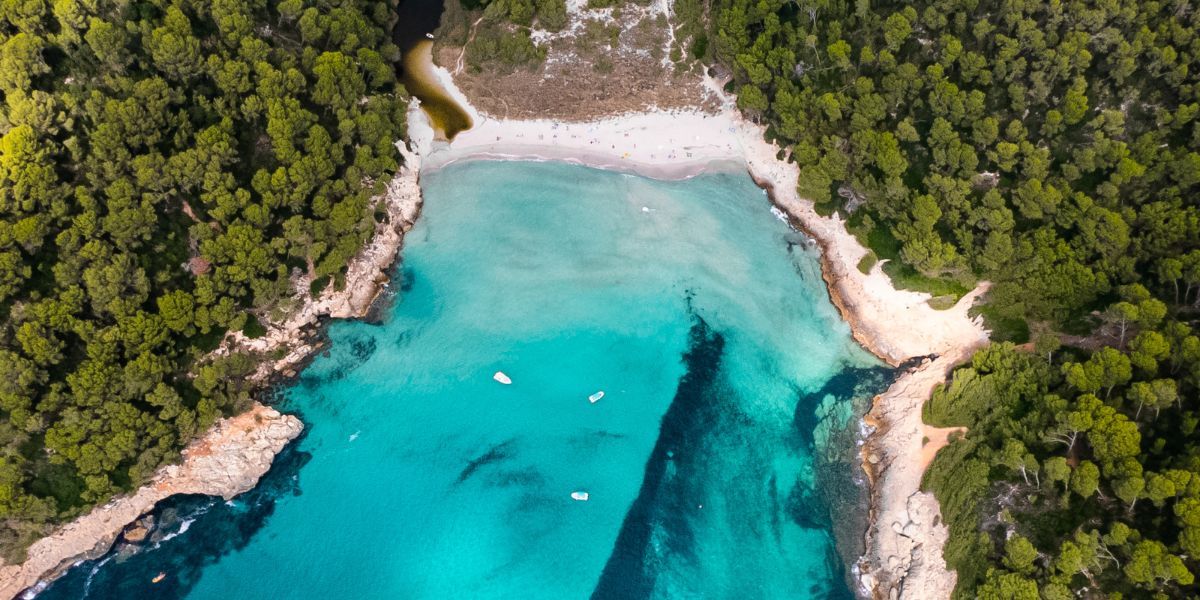 It is a real hidden treasure in Menorca, ideal for those seeking calm and a connection with nature. Its remote, little-known location means you can enjoy the solitude and the sea's soothing wash in an unspoilt environment. To reach this cove, you walk approximately 45 minutes from the Cala Mitjana car park, along a pleasant track surrounded by lush nature. It is a favourite among locals as it is far from the crowds and offers an authentic experience.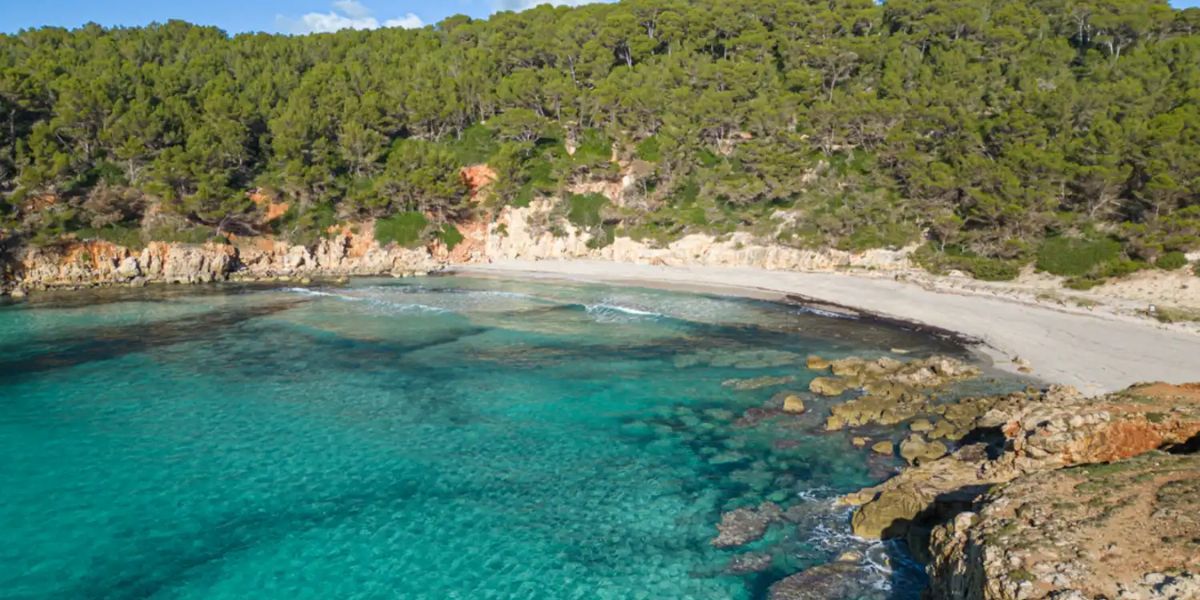 On the island's north coast is Cala del Pilar, a 250-metre stretch of unequalled reddish golden sand. It is characterised by the clayey soil surrounding it, as well as by the dunes and woods you have to cross to get there. Moreover, being within the North Coast Marine Reserve, where fishing is prohibited, it is the perfect cove for snorkelling and enjoying the marine fauna. Nearest access is from the Cala Pilar car park. Park your vehicle here and get ready to walk. A signposted path will take you to the beach. The path towards Cala Pilar is quite rocky and can be steep in places, so we recommend you wear suitable footwear. The walk takes about 30 to 40 minutes.

Discover Cala en Brut's unique beauty, with its crystal-clear turquoise waters that contrast with the rugged surrounding rocks. Its rock formations create natural pools that are perfect for a refreshing dip. Explore its sea caves and admire the underwater life while snorkelling. Furthermore, Cala en Brut is ideal for cliff jumpers, with its cliffs offering thrilling opportunities for jumps. From the cliffs, you can enjoy breathtaking views of the brilliant blue sea. Different levels of difficulty offer options for all levels of experience. Cala en Brut combines natural beauty with the thrill of jumping in a breathtaking setting.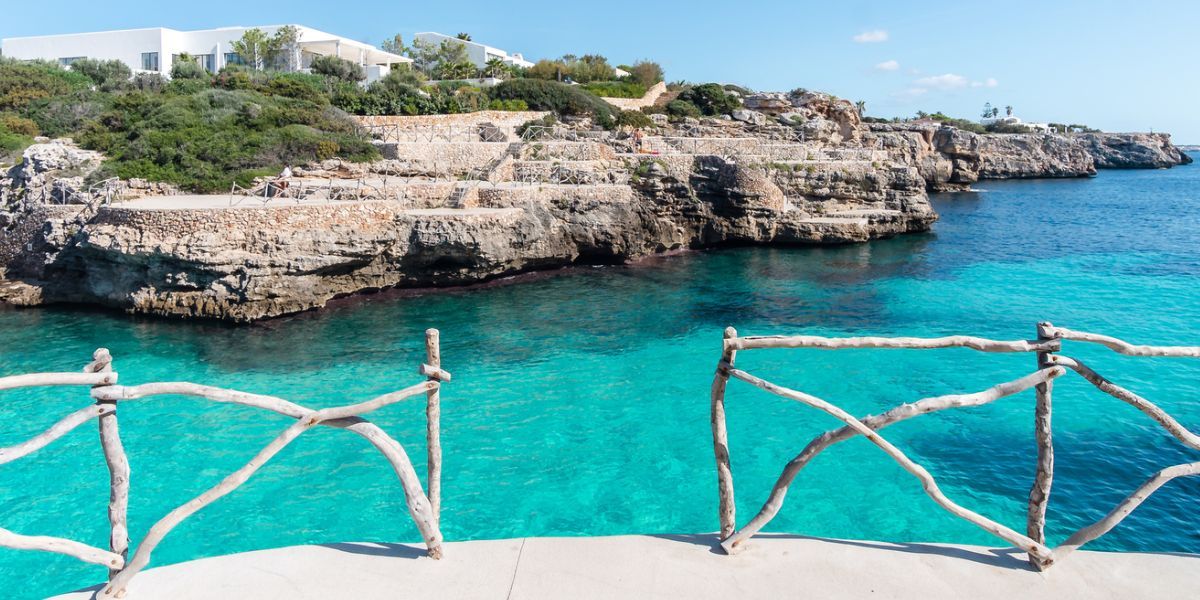 Within the Natural Park of S'Albufera des Grau, this beach offers clean, crystalline waters. A stretch of fine white sand 180 metres long, it is one of our favourite coves in Menorca. Nearby, you can visit Cala Presili, two wild, unspoilt beaches with views of the Favàritx lighthouse. To get there by car, follow the Mahón-Fornells road towards the lighthouse until you come to a free, unsealed car park before you reach it. From there, walk for more than 20 minutes along the Camí de Cavalls Bridleway to the cove. During the summer months (June to September), you can get there by bus from Mahón. Buy your tickets online or at the bus station. The bus will leave you near the Favàritx lighthouse, from where you walk to Cala Tortuga. The experience is well worth it!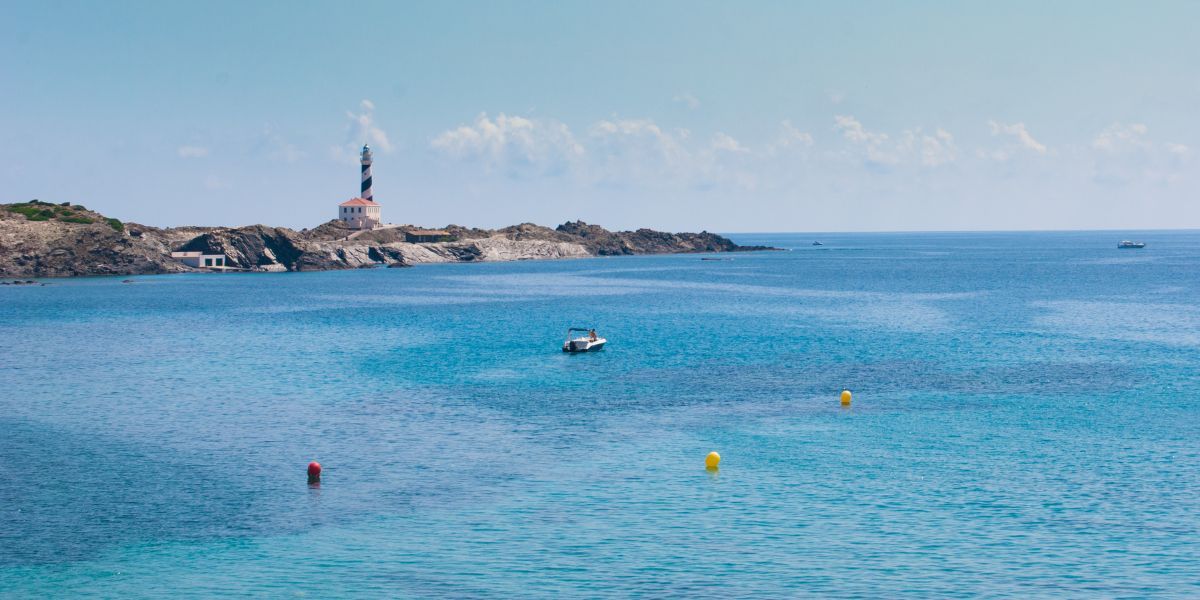 Cala Fustam is one of the most isolated coves on the island you can visit – in fact, the remotest on the island's south coast. If you are looking for peace and quiet, wanting to escape the hustle and bustle, this is the perfect choice. Getting there may take a bit more effort, but this small drawback rewards you with an unspoilt, serene natural setting. Make sure you bring everything you need for a day at the beach – food, drinks, sunscreen – as there are no facilities nearby. You should also wear footwear suitable for walking on uneven terrain to get there.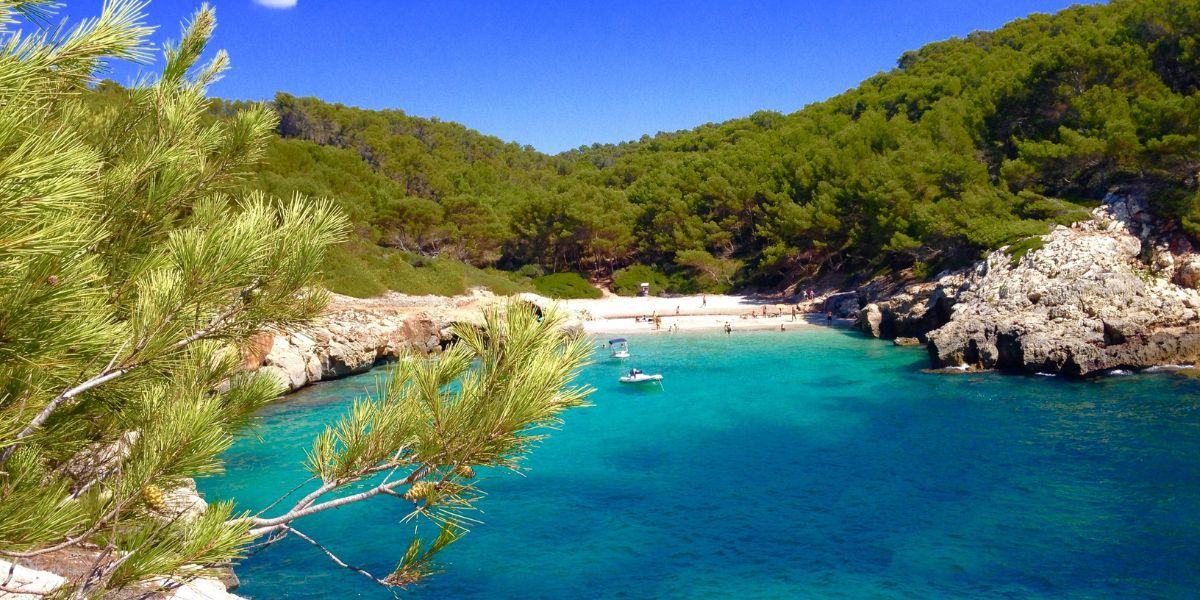 If you are looking for charming coves in Menorca, Es Talaier's crystal-clear waters will amaze and enchant you. They are perfect for diving, home to a rich variety of marine life. Dive into this fascinating underwater world and discover colourful fish, fascinating rock formations and a vibrant marine ecosystem. This beautiful cove is exceptional for its shallowness, making it an ideal spot for the family, where they can relax in total comfort in the sea. To reach Es Talaier, leave your car in the Son Saura car park and walk for about 20 minutes along a path that will lead you to this marvellous cove.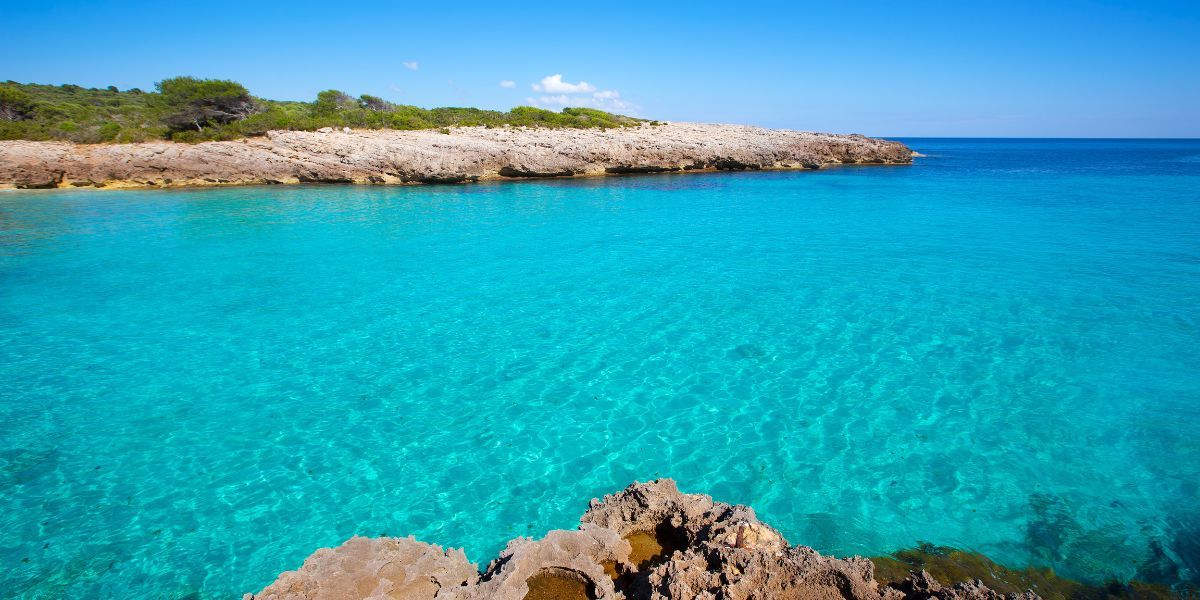 In Menorca's north, discover the charming Cala Morell, a beautiful cove nestled in a small natural bay flanked by majestic cliffs. Although Cala Morell Beach may not have much sand, this does not lessen its attraction, as it is sited in a breathtaking setting with sweeping views and picturesque scenery. Its rocky environs create a calm, secluded ambience, far from the tourist bustle. What is more, its lack of crowds means you get to enjoy a feeling of intimacy and privacy as you relax, gazing at its crystal-clear waters. Furthermore, nearby you have the Cala Morell necropolis, a group of fourteen caves used from pre-Talaiotic times up until the second century AD, offering an interesting glimpse into the island's history and culture. Exploring these ancient, mysterious archaeological sites adds historical and cultural value to your visit to this beautiful cove.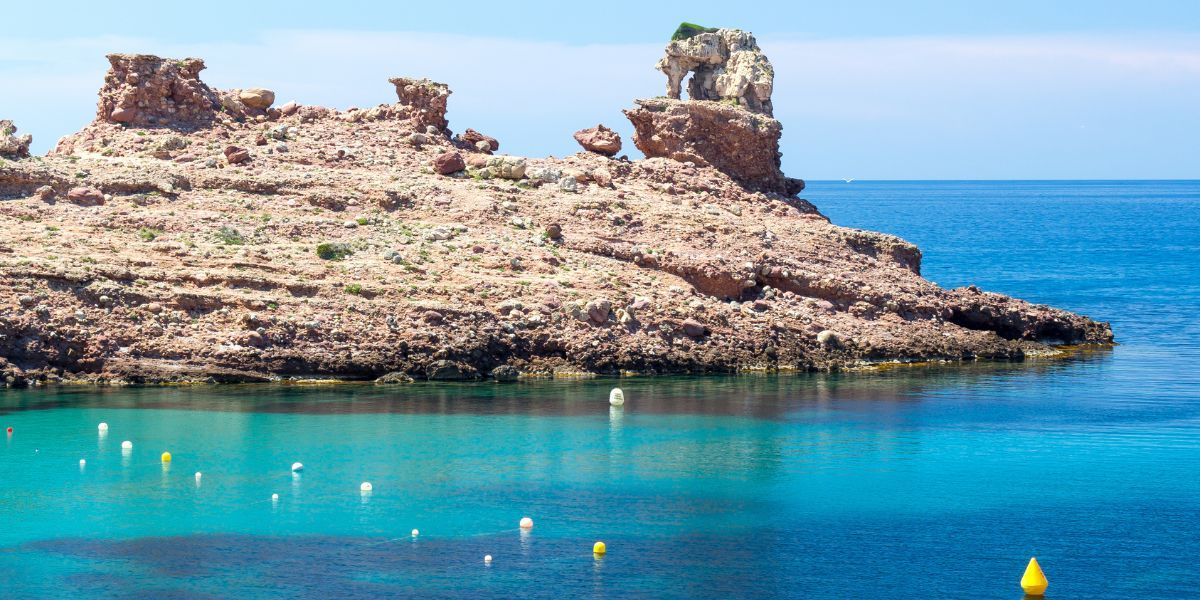 Cala Binidalí, a miniscule cove located next to the Binidalí housing development, is a true hidden treasure in Menorca's south. Its small size makes it the perfect retreat for those seeking peace and relaxation. Although the beach is narrow and shallow, its turquoise waters and white sand create a stunning visual spectacle. Once you reach Binidalí, throw yourself down on the white sand to enjoy the views, sun and crystal-clear water. We also recommend taking a short hike along the right side of the cove, where you will come across a picturesque hut, the perfect spot for capturing dreamy photos of the beach.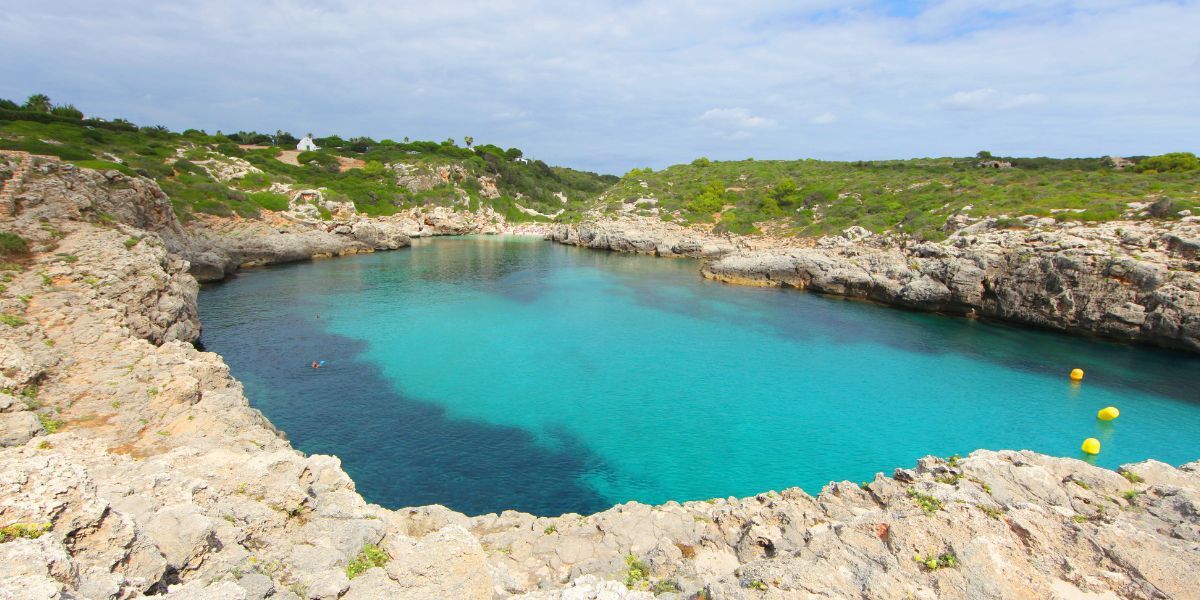 Cala Rafalet, this hidden virgin jewel in Menorca offers a unique experience for nature lovers. Embraced by cliffs and verdant greenery, this sheltered cove is perfect for snorkelling or exploring its rocky promontories. You can also enjoy activities such as slacklining and deep-water soloing on its climbable cliffs. Cala Rafalet has no sand, but does have a seabed of flagstones and boulders, beckoning you to dive into its waters for a refreshing dip. Remember to wear proper footwear to protect your feet on the rocks and check that the water is a safe depth.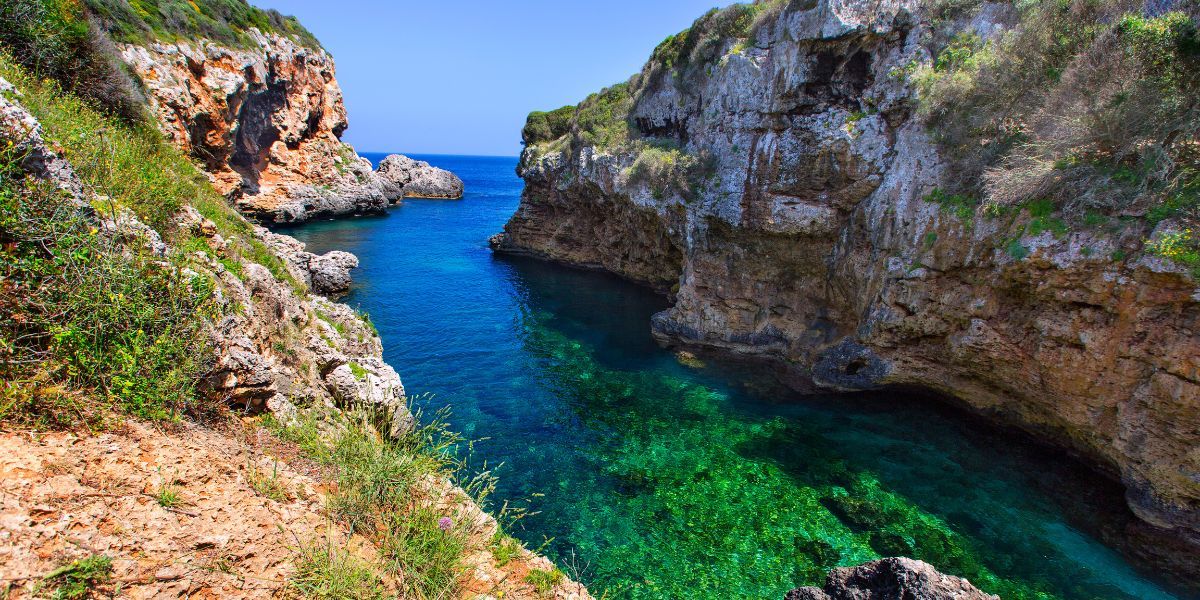 CIUTADELLA AND MAHÓN COVES: HIDDEN CORNERS OF MENORCA
Menorca is full of charming spots and beaches that will leave you breathless. Here are some of Menorca's most beautiful coves near two of the island's main points of interest: Ciutadella and Mahón.
Coves near Ciutadella

Ciutadella is the perfect place to experience Menorca's more urban side: going out for lunch, dinner or simply wandering through its streets. To unwind, we also recommend these coves, which are easily accessible on foot, by bike or public transport:
Cala Santandria
Cala Blanca
Cala en Bosch
Cala en Blanes
Cala en Forcat
Son Xoriguer
Coves near Mahón

After visiting the Favàritx lighthouse, taking a stroll around the port and delighting your palate with the cheese that bears its name, we also recommend the following coves near Mahón:
Cala Rambla
Es Canutells
Binissafúller
Alcaufar
Sa Mesquida
Cala en Porter
Binibequer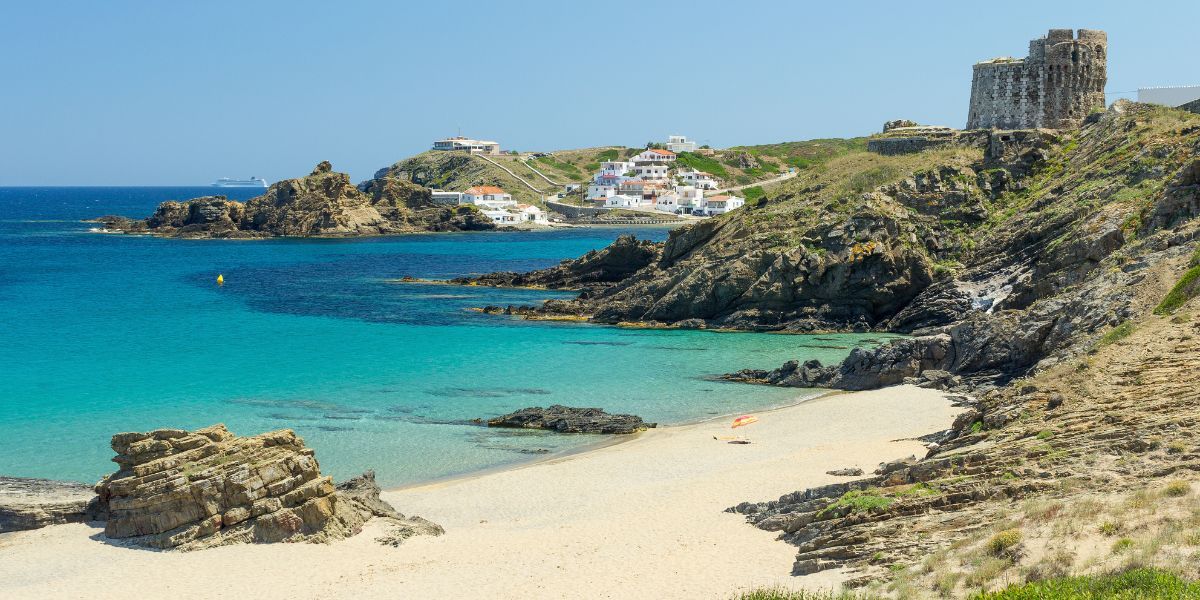 If you don't like walking to get to these coves, you always have the option of hiring a small boat or going on a kayak trip to reach the most inaccessible spots.
Here you will find the calm and privacy you are seeking in Menorca's coves.
Menorca and its coves await you! And at our hotels ARTIEM Carlos, Audax and Capri you can enjoy their charms to the fullest.