We help you organise your trip to Menorca with these tips for a dream holiday on our beautiful island. Ready to pack your bags?
Planning a trip is like making a leap in time: we think about the place we're going to visit and imagine what we're going to do, the typical dishes we want to try, the corners we want to discover… It's an exciting and fun part that will also help us make the most of every second at our destination.
However, sometimes organisation may not be our strong point, or we simply don't have the time. With this advice for travelling to Menorca, we'll be able to help you plan your dream trip if you've chosen this Balearic paradise as the destination.
At ARTIEM, we're lovers of conscientious tourism. That's why we like to welcome travellers like you, who savour and enjoy their trip while being mindful of the nature, culture and people of the places they visit. This allows us to offer you the best holiday experience, with all of us taking care of people and our surroundings.
Because what we do is make people happy. Our Freshpeople are ready and waiting for you, interested in what you're hungry for and ready to make the best recommendations about Menorca for you. We'd like to get to know you and offer you a unique experience.
And if you're asking yourself "should I rent a car?", "when should I go?", "where should I stay?", "what do I need for travelling to Menorca?", etc. Listen up! Here we'll tell you everything you need to know before travelling to Menorca.
REQUIREMENTS FOR TRAVELLING TO MENORCA AND FALLING IN LOVE
When is a good time to travel to Menorca?
The answer depends on you. Think for a moment: what appeals to you? Any time is the perfect time for travelling to Menorca, but depending on what you're looking for from your trip, certain dates will be better.
If what you want is to enjoy the sun and the famous coves of Menorca, then spring and summer are the best seasons, without a doubt. In this case, we would recommend May and June, because they are especially pleasant months when the weather is mild and the island is peaceful.
But if what you want is to disconnect, then we recommend travelling to Menorca in autumn or winter. You'll have the island practically all to yourself, and you'll be able to enjoy its wonderful scenery almost completely alone. In both fall and winter, the influx of tourists drops, and Menorca becomes an ideal place for exploring the island in its purest state.
In addition to being more economical in fall and winter, given that it's the low season, travelling to Menorca during this time is also more sustainable because there are fewer crowds, there is less consumption and the island's natural rhythms are respected.
Choose how you want to reach the island
Did you know that you can get to Menorca by both plane and boat? If you prefer a quick trip, then make your plane reservations now. The island is connected to many of the major European and Spanish cities.
But if what you'd like is a little adventure, then go by boat. Sail to the island like in the past, while enjoying a gentle sea breeze until you reach your destination. If this is your choice, then keep in mind that ferryboats depart from Barcelona, Valencia and Mallorca. Plus, going by boat allows you take your own vehicle and move about the island as you wish.
Decide on your dream trip
There are as many options as there are types of travellers: sun and beach, relaxation, sports, culture and gastronomy, etc. Menorca is different and you'll find what you're looking for, whatever that may be.
For example, if you're a lover of art and history, then in Menorca you'll be able to visit the famous main theatre of Mahón, as well as many archaeological remains of the Talayótica culture. Or if you love sports as much as we do, then you'll be able to hike the stages of the Camí de Cavalls trail around Menorca, enjoy a kayak trip through caves or rent a bike and discover the coast of Menorca as you like.
Your decision about this aspect is important because it will determine certain details such as your hotel location or the clothes you pack. To help you plan your trip to Menorca, here you can find more ideas about the wonders that the island has to offer.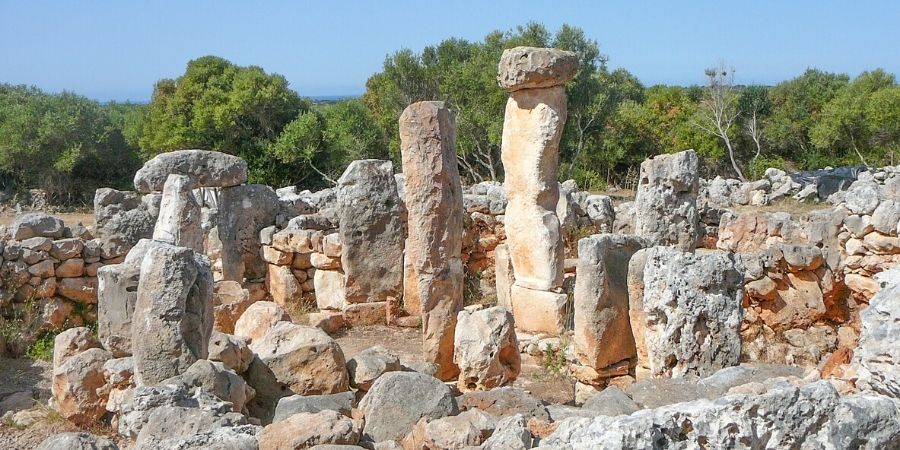 Book the ideal accommodations for your trip
Every trip is unique and requires different accommodations. What are the keys to choosing the perfect place to stay?
Undoubtedly, the location and the type of experience: if you're looking to be enveloped by the city, then you'll need accommodations in Mahón, the epicentre of urban life on the island; but if you're looking for adventure and nature, then the coast is where you want to be. If you'd like to see our recommendations don't miss the end of this post.
Transportation for moving about the island
If you want to discover every corner of Menorca, you'll obviously need to move about freely. You can rent a car or motorcycle, whichever you prefer and whichever adapts the best to the season when you visit the island. If you'd like to move about without restrictions or time limits, while supporting a local company, you can enjoy a 10% discount on vehicle rentals if you make a reservation with ARTIEM on Menorca.
There are as many options as you'd like. In fact, if you prefer your own vehicle, you can also bring it with you if you come by ferryboat. And if you'd like to move about the island without having to worry about parking, remember that you always have the option of public transportation. It's more sustainable, and Menorca is perfectly connected so that you can explore every corner.
Feel free to travel in every direction of the compass, stopping at any viewpoint, or turning around and going back to that magic cove: you set the pace of your trip. Many travellers choose this option, and undoubtedly it is highly recommendable to have a vehicle on the island.
Come up with a little plan to make the most of your time on Menorca
Plan your trip to Menorca so that you don't leave anything out: its magical, unspoiled coves; the Port of Mahón; unforgettable outings by kayak; the archaeological remains of the Talayótica culture; Mount Toro; the Cova d'en Xoroi; hiking or biking the mythical Camí de Cavalls trail; the delicious local cuisine; the best sunrise on Menorca…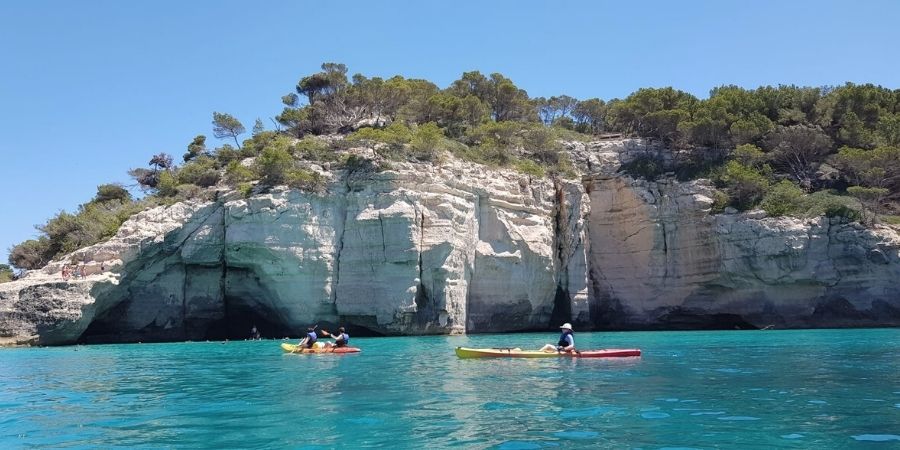 As to the question about how many days it takes to visit Menorca, the answer will depend on your availability and your tastes – you know how it goes: "the sweeter, the better". This travel guide relates an experience of 7 days on Menorca so that you have an idea of the visit times, plus it gives you a few more places you won't want to miss.
But you should always leave a little time for improvising and letting the island surprise you along the way. And don't be in a rush. If you leave Menorca while still having something left to visit, then you'll just have a good excuse to come back again. It's some of the best advice for going to Menorca.
Clothes for going to Menorca
Whether you plan to stay in a hotel and enjoy the pool or go everywhere on the island, put comfortable clothes and shoes in your bag. Don't let anything prevent you from enjoying Menorca as you should. Even still, take something a bit fancy in case you want to enjoy a romantic dinner in one of the island's restaurants or you want to go to a fashionable place for a drink at dusk.
ARTIEM: 4 ACCOMMODATIONS IN MENORCA FOR ALL TYPES OF TRAVELLERS
Regardless of the experience, you're looking for, even if you're thinking about spending some very alternative holidays in Menorca, at ARTIEM we'd like to take care of you.
Infinity pools, breakfasts with views of the Mediterranean, the largest and most complete SPA on Menorca, a panoramic terrace above Mahón, sports facilities and activities, local cuisine with the best flavours on the island… but above all, the meticulous service of our team, our Freshpeople, whose purpose is to make your stay a memorable experience.
Which one are you going to?
If you're dreaming of waking up every day next to the sea, lying down under the sun, enjoying long walks along the beach or of taking part in outdoor activities, choose ARTIEM Audax. Our hotel is located right next to Cala Galdana and very close to some of the most beautiful coves on the south of the island: Macarella, Mitjana… You'll have everything handy to enjoy relaxing and disconnected days in an atmosphere only for adults.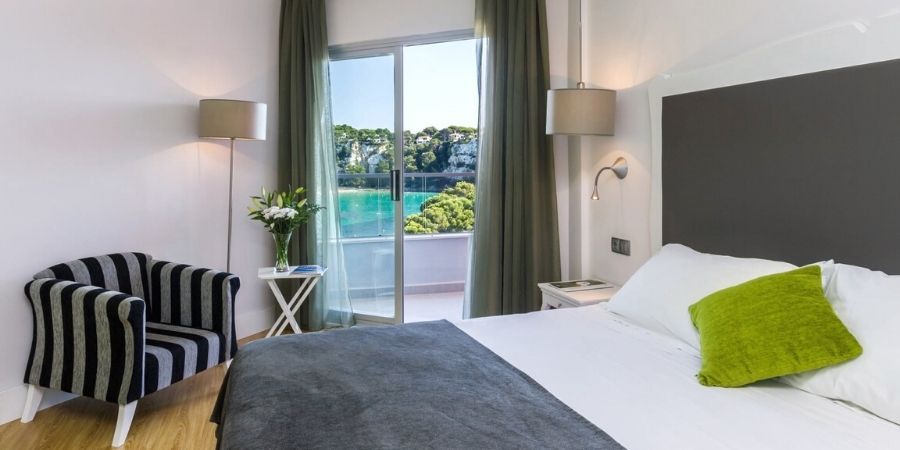 ARTIEM Carlos is a hotel whose character and personality are only for adults, located in the famous port of Mahón (the second-largest natural port in the world). Book your holidays at Carlos, and watch the comings and goings of ships every day. From the hotel, you'll also be able to visit a number of historical sites that speak of the island's past and the beautiful city of Mahón.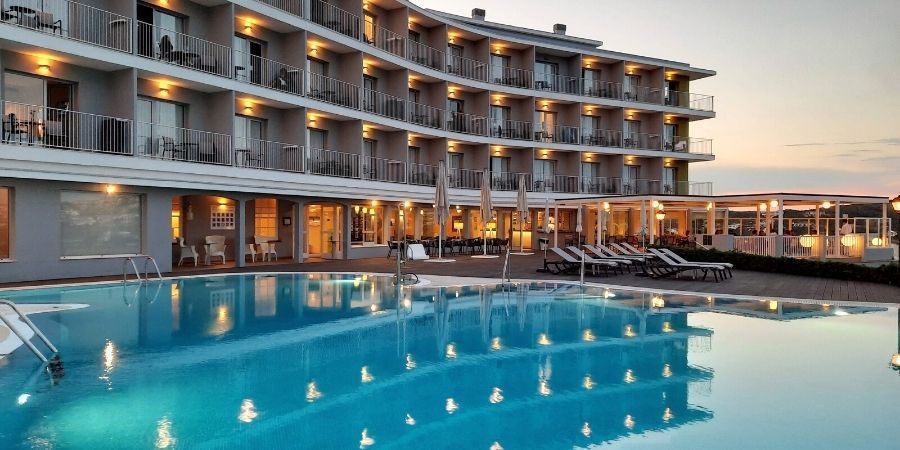 And of course, we have to mention ARTIEM Capri: our cosiest and most urban-oriented hotel, located in the city of Mahón itself. If you like to be in the middle of everything and enjoy the life of a small city, then this is your place!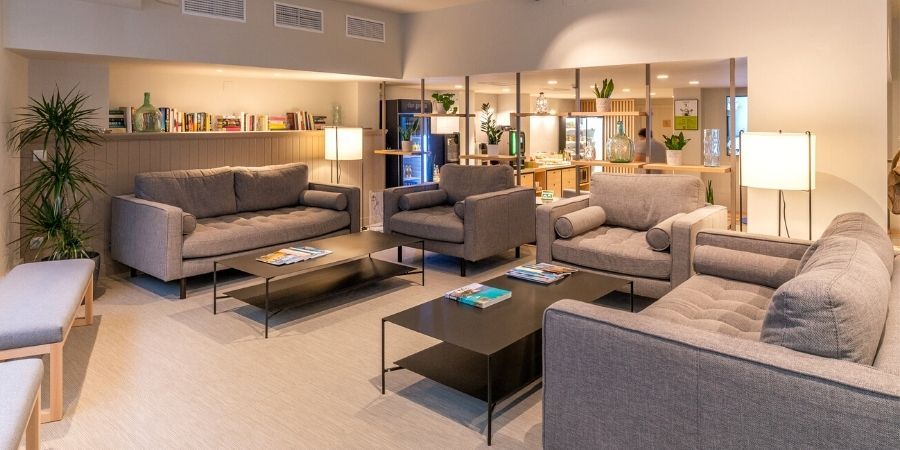 And if what you'd like is the comfort of an apartment in the very heart of Mahón, at ARTIEM Apartments you'll have all the freedom of an apartment with all the facilities of a hotel.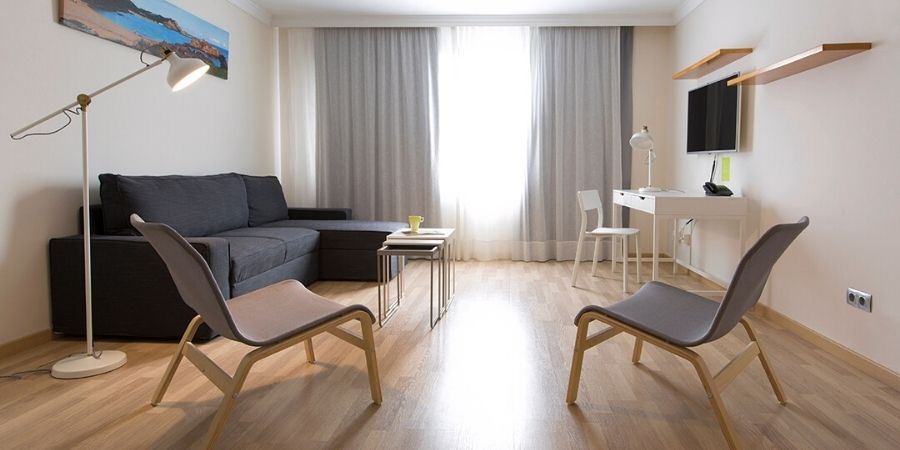 Making the right choice of hotel on Menorca will make your experience even more wonderful. At ARTIEM, we want all our guests to feel at home and hope that, just like us, they fall in love with our cherished island.
Are you ready for your next holidays in Menorca? Choose your available dates now and come to ARTIEM.
We can't wait for you to get here! :)