Asturias is a land defined by verdant scenery. One of the region's best-kept secrets is Moal woodland, a forest that will envelop you in an enchanted wonderland.
Summer is well on its way, the weather is getting warmer and our thoughts are turning to travel plans. We've all had a tough few months making sacrifices for our health and the health of others. And now we're keen for a change of scenery, to explore new places, experience different cultures and escape our routine. We can enjoy greater freedom, the freedom to travel, though we must - of course - be cautious and carefully follow all health and safety guidance and rules to keep you and others safe.
Asturias is a wonderful place for a getaway. Sitting on the shores of the Cantabrian Sea, this corner of northern Spain is defined by verdant valleys, beautiful mountain ranges, mild temperatures and incredible views that will blow you away. The region promises tasty cuisine, unspoilt beaches, fascinating culture and stunning nature. You can spend your time here doing whatever makes you happiest, whether that be sitting down to savour delicious dishes, going walking amid rivers and mountains or taking dips in beautiful coves.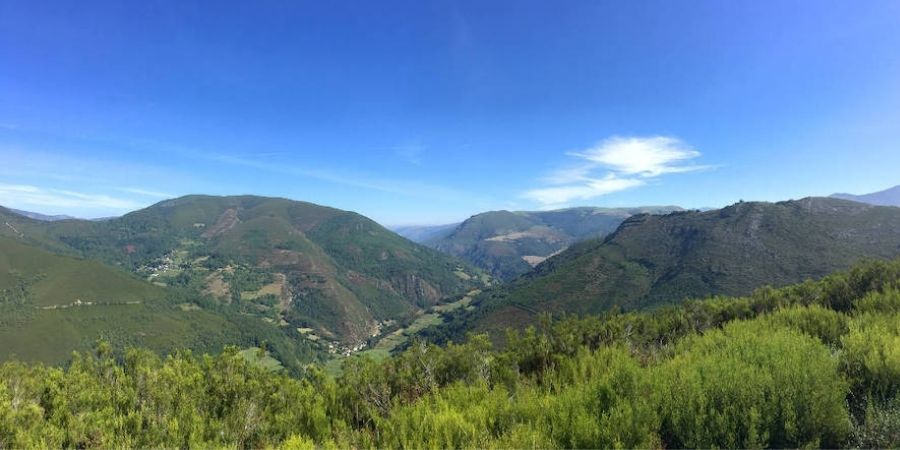 Source: El Comercio
Your health and safety must, nevertheless, be at the forefront of your mind. It is imperative that we keep being responsible to protect our health and the health of others while proving that travel can be safe when the right precautions are taken. A place we would love you to explore is Moal woodland in Asturias. Keep reading to find out more.
Where is Moal?
Moal is a small village located in the municipality of Cangas de Narcea, in the southwest of Asturias. With just 80 residents, there is no denying that the village is truly tiny, but it is nevertheless bursting with life. In 2018, it was the winner of the Exemplary Town of Asturias Award and its sustainable agricultural model - which protects both the countryside and livelihoods - is being studied such that it can be implemented elsewhere.
Moal is located at the foot of the valley of the river Muniellos, which meanders through the mountains, creating a spectacular backdrop for outdoor pursuits. If you love trail running, you're going to adore Puerta de Muniellos: a race that will lead you into the mountains for up to 32 challenging kilometres. The locals love the race, welcoming participants with open arms. Nevertheless, if you fancy something a little less strenuous, you can always walk some of Moal's trails, specifically the one that snakes through the local woodland.
Moal Woodland Walk
This beautiful walk will take you through fields, forests and agricultural land in the valley of Muniellos. Moal wood is located just next to Muniellos wood, a biosphere reserve to which access is prohibited. Moal Woodland Walk, however, is easily accessible and an absolute joy to walk.
The route starts in the village, though you can also cross the river at the sports centre and church and start walking from there. The trail comprises two sections - 8.5km and 5.5km long - which can be walked in about four and a half hours. The difficulty level is easy to moderate.
As soon as you start walking, you will be immersed in a natural wonderland. The route commences with a slight incline that takes you into the woodland that runs parallel to the river. Along the way you will find chestnut trees, oak trees, corripas, traditional structures used to store chestnuts, and cortinos, circular walled areas used to keep beehives safe from bears. You will also see plenty of Pyrenean oaks and beech trees as you make your way deeper into the forest, which skirts Muniellos nature reserve, without entering it. Towards the end of the second section, you will come to Mirador de Montecín, a viewing point affording beautiful vistas over the village of Moal and Connio port. Once here, there isn't far to go until you reach the end of the route. If you're a keen hiker, you are sure to fall in love with the enchanting landscape that beckons you to discover more and more.

If you are planning a getaway to Asturias to explore Moal woodland, you're going to need a place to stay. ARTIEM Asturias has got everything you could possibly want or need. Located just 10 minutes from Gijón, the hotel offers a spa to give you the gift of wellness, a gastro space to treat your palate any time of the day and comfortable rooms that will make you feel at home. An extensive set of health and safety measures are in place. Come and stay at ARTIEM and discover all the wonders of Asturias. We can't wait to see you.