We're betting on giving something more than an experience. We want the nice gesture of a present to be sustainable as well. That's why we're applying the principles of the circular economy and offering gifts with sustainable packaging.
At ARTIEM, we believe in sustainable prosperity, a model that respects our environment and, in addition, positively impacts and activates the local economy. We are focused on reducing our environmental impact; we only have one planet and we all have the responsibility to take care of it.
We're committed to optimising our waste management and control, reducing the consumption and use of natural resources, improving the environmental behaviour of our hotels and complying with every part of environmental regulations. And, we're always on the move, looking for new ideas and thinking of innovative ways to meet our sustainable development goal.
We are a member of B Corp and the first hotel chain in Europe and third in the world to achieve this recognition.
Within the B Corp community, we encourage collaboration between companies that have a common goal. We hold events such as B Retreat, the first B Corp community retreat in Spain, which we hosted. At the event, we were able to meet other companies that are committed to an inclusive and sustainable future. We are always looking for ways to connect with other B Corps that are aligned with our values and that's why we are working with Sheedo.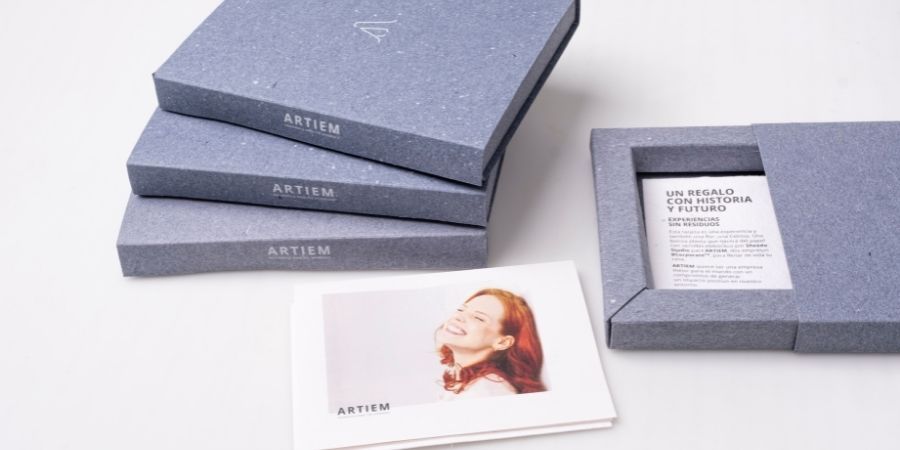 Sustainable Packaging: ARTIEM and Sheedo
At ARTIEM, we've spent many years wanting to bring our world of experiences closer to people through something as beautiful as a gift. With our gift vouchers, anyone can send a personalised ARTIEM gift to their loved ones.
We've gone beyond our goal of creating a positive impact on the environment by introducing the concept of circularity with this gift. How do we ensure we eliminate waste? Thanks to our collaboration with Sheedo, it's possible.
Sheedo is a certified B Corp company in Spain that revolutionised the ecological merchandising sector and paper industry with an innovative product: plantable paper with seeds. That's why we love working with them! We love having the chance to turn our gifts into a circular and sustainable experience that brings us one step closer to our goal.
Gift Voucher with Sustainable Box
Both the box that includes our gift voucher and the bag in which it is delivered have been made with ecological paper from used jeans.
We thought that as well as giving the box a new look, we should recover used denim garments that are not recycled. Hence the amazing blue colour, which is the result of mixing the garments, as no chemical dyes are added during the manufacturing process.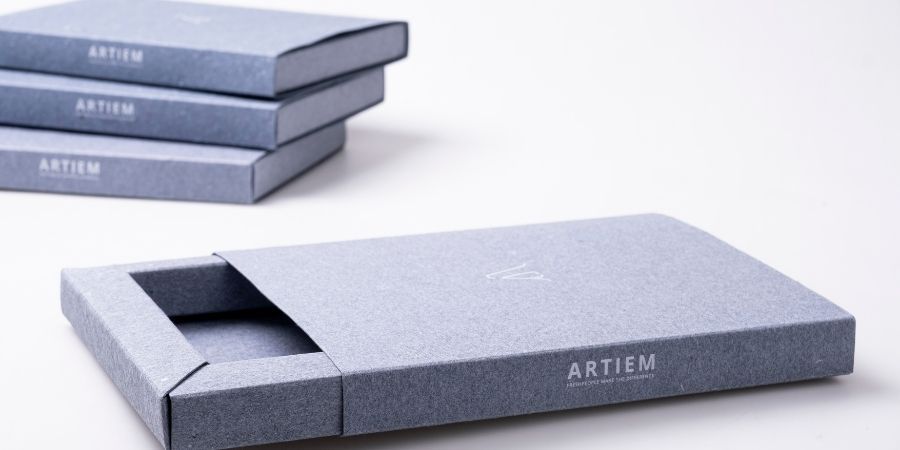 We invite our clients to give a second life to the box as a jewelry box, photo frame, or anything else!
Inside, the box has seeds that you can plant to see a beautiful flower grow in your home.
This proves there is a different and better way to live without creating waste. ARTIEM's experiences are unique moments of wellbeing, an opportunity to take care of your body and soul and enjoy the smallest moments of happiness: sunset with a glass of wine, watching the sunrise on the beach, enjoying local cuisine on a beautiful terrace…
No matter what your goal is, we guarantee an unforgettable experience. In addition, now your experience creates a positive impact for both you and the planet. Think about who you want to enjoy this with and send them our GIFT WITH A HISTORY AND A FUTURE: a way to gift happiness and take care of the environment at the same time.