Menorca is well-known for its incredible beaches and amazing weather. But it is lesser known for its stunning areas of natural beauty that lend themselves to outdoor activities and adventures. Keep reading to find out more about Camí de Cavalls, a hiking and cycling trail that flanks the island's beautiful coastline.
What springs to mind when you think of Menorca? Paradise beaches, perhaps? Kilometre after kilometre of stunning coastline kissed with the Mediterranean sun where you can enjoy taking dips almost all year round? Cala Macarella is a case in point. A cove whose beauty will take your breath away. A place where all your worries will simply disappear so you can be in the moment.
But Menorca is about more than the beach. The island is home to wild landscapes that are the perfect place to get active. Water sports are particularly popular. Whether you fancy trying your hand at kayaking, windsurfing, sailing, scuba diving, jet-skiing or relaxing on a boat excursion, you'll be out enjoying the waters in no time. Keen hikers and cyclists are also in luck as the land is snaked by a network of incredible trails. One of the best is Camí de Cavalls.
Camí de Cavalls: where history and nature come together
Camí de Cavalls dates back all the way to the 14th century when the trail was used to defend the island's coast, under orders from King James II. Following many years of campaigning for the trail to be restored, islanders were successful. Since 2010, Camí de Cavalls has been a public footpath that absolutely everyone can enjoy.
There are 20 stages to Camí de Cavalls, totalling 185km. Flanking the entire coastline of the island, this circular trail is a great way to get active while breathing in the most spectacular views that combine azure waters, verdant pastures and stunning little coves with impressive mountains.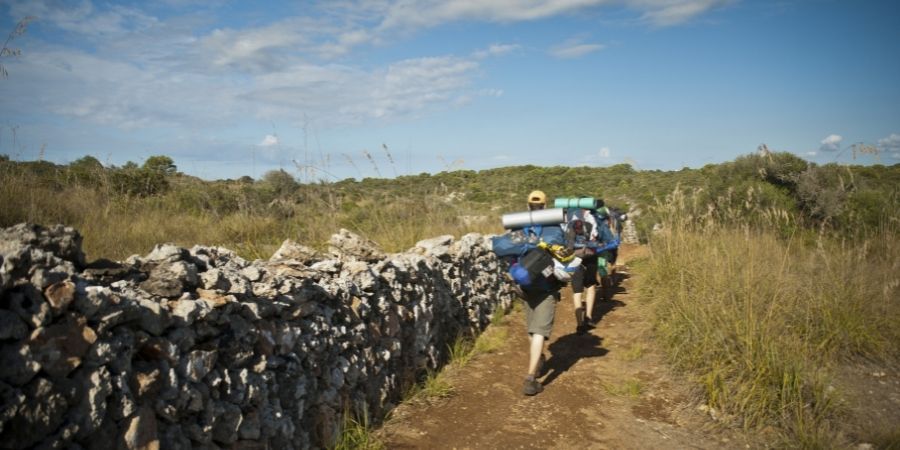 You can make your way around the Camí in whichever way you choose, whether that be walking, mountain biking or even trail running. The stages can be divided however you please, starting wherever suits you best, and finishing at the same place. There's also no need to do all the stages in one go: you can take your time, doing one or two stages throughout your stay. Discover some of the most beautiful sections of the route here.
Highlights of Camí de Cavalls
One of the most spectacular stages of Camí de Cavalls is the second, connecting Es Grau with Cabo de Favàritx. The whole of the stage takes place within S'Albufera des Grau, the only natural park in Menorca and home to stunning landscapes. Here you will come across unusual constructions such as Torre Ramblia, lighthouse Faro de Favàritx and, if you take a slight detour, pretty little coves where you can take refreshing dips. The stage is a total of 8.6km, which will take you about three hours on foot.
Stage 6 will take you through Benimel·là and Cala Pregonda until your destination: Els Alocs. It is the longest and most difficult stage of Camí de Cavalls, but the views certainly make up for the effort. You will go up and down, and there isn't much shade, so make sure you bring plenty of water and sunscreen. On this part of the Camí you will pass through one of the most dramatic parts of the Menorca coastline, defined by sheer cliffs and pristine golden beaches and coves such as Cala Pregonda and Cala en Calderer. The stage is 8.9km long, which will take you about 4 hours on foot.
Linking Ciutadella and Cap d'Artrutx, stage 11 is another of the most beautiful. There are two different ways to walk this section of the route. The classic trail takes you along the road for 9.5km, through Ciutadella and residential areas until Cala Blanca. Once here, you will continue to Cap d'Artrutx, following the coastline along a flat but rocky trail. Alternatively, you can skip the urban section and start at Cala Blanca, creating a shorter route that avoids the road. Whichever you choose, we highly recommend visiting the old streets and historic buildings of Ciutadella. The whole stage is 13.2km and can be completed on foot in 4 hours.
Last but by no means least, we simply have to mention stage 19, which extends from Punta Prima to Cala Sant Esteve. There are two points of interest on this part of the map of Camí de Cavalls: Torre d'Alclafar, an 18th-century tower, and Barranco de Rafalet, a gorge where you can chill out in the shade. The stage is shorter than others - 7.3km - and is an easy 3-hour walk. Don't forget that all the stages of Camí de Cavalls can also be cycled or ran. One important thing to remember is to shut any gates you open along the way: this keeps all the local cattle where they should be.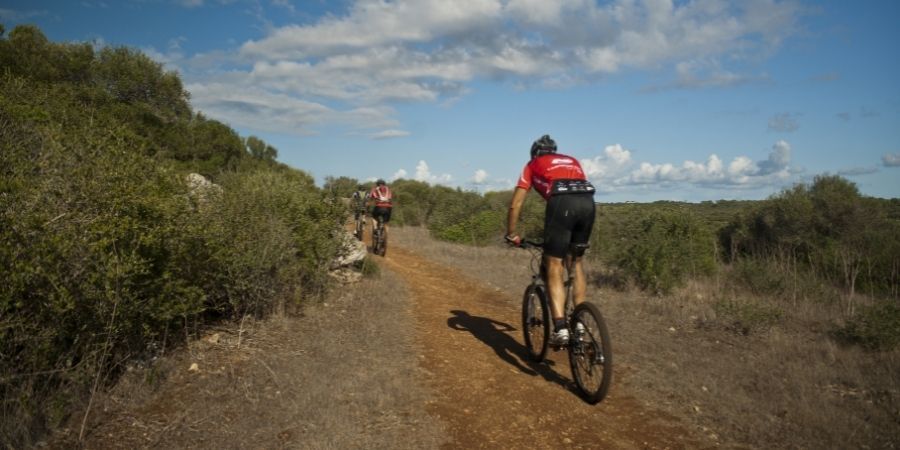 If you decide to hike or cycle Camí de Cavalls in Menorca, ARTIEM hotels are the perfect place to stay. Whether you choose ARTIEM Carlos with its views over Puerto de Mahón, ARTIEM Audax in Cala Galdana or ARTIEM Capri in Mahón Centro, the sports facilities will help you stay in shape. Re-energise in the gyms or, if you're craving some relaxation, unwind in the spa. Experiences that you will never forget.