If you're looking for places for a couples getaway, Mahón should be the first option on your list. It's a city surrounded by the ocean, with dreamy corners on each street and infinite options for leisure and food to overwhelm your senses. Visit Menorca's capital and find the best place to stay.
Menorca is a small island, but it's rich in experiences waiting to be cherished. And Mahón is the crown jewel: the capital of the island is a city with just 30,000 residents, located in the southeast and with a marvellous port that stretches more than 5 kilometres.
Mahón is the perfect destination for a couple's escape and offers you all kinds of ideas to experience some unforgettable days. Do you love good food? In Mahón, you can enjoy typical dishes from Menorca like caldereta de langosta, cheese, embutidos, or perol menorquín: all authentic dishes from the island.
Mahón is also full of culture, from the Orfeó Maonès to the Museo de Menorca and including buildings like the Teatre Principal. And don't forget its landscapes: crystal clear beaches, hiking trails and much more.
If you are visiting Mahón, you'll need a good place to stay and at ARTIEM we'd love to offer our Menorca apartments and hotels to add comfort to your Mahón adventures.
Places to Stay in Central Mahón with ARTIEM
ARTIEM Apartments
Choosing our apartments in Menorca has many advantages. Using an apartment as a place to stay gives you more freedom when planning your trip; you'll enjoy greater autonomy. And if you like to make your own meals, it's the best option. ARTIEM's Mahón apartments are perfectly located in the centre of the city in the Ses Vinyes neighbourhood and close to everything you could need.
ARTIEM Urban Apartments combine the best of a hotel and apartment experience and are located close to ARTIEM Capri. You'll have a reception team available to you 24/7 to resolve any doubts or problems. And, if you wish, we offer the option of breakfast in the mornings and access to the hotel's gym and spa.
You'll have a cleaning service available and you can choose between two kinds of apartments: the Urban Apartment, with a double room, dining room, fully equipped kitchen, and bathroom with a shower; or the Urban Studio, a studio with a living room, kitchen and bedroom all in one. Whatever you choose, your vacation apartment in Menorca will be splendid.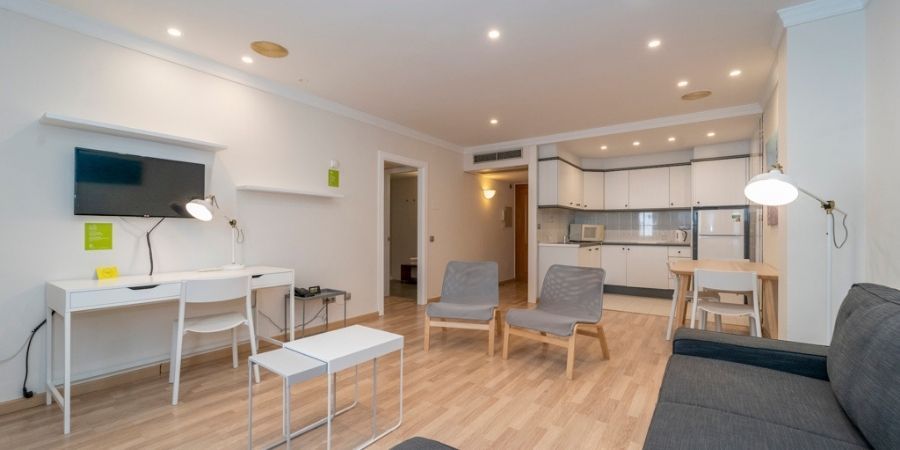 ARTIEM Capri
If you prefer to be cared for and spoiled during your stay, ARTIEM's Capri hotel is just for you. ARTIEM Capri is located just next to our apartments in the centre of Mahón and is ready to win over city lovers. It's much more than a hotel; it's a place to disconnect and rest like never before.
Have you considered relaxing at a spa while overlooking Mahón's skyline? It's possible at Le Petit Spa. Take in Menorca's stunning skyline from our rooftop with a pool, jacuzzi and sauna. And if you prefer physical activities, we have a space to help free your mind. Visit our gym which is equipped with indoor bicycles, treadmills, weights, and multifunction machines.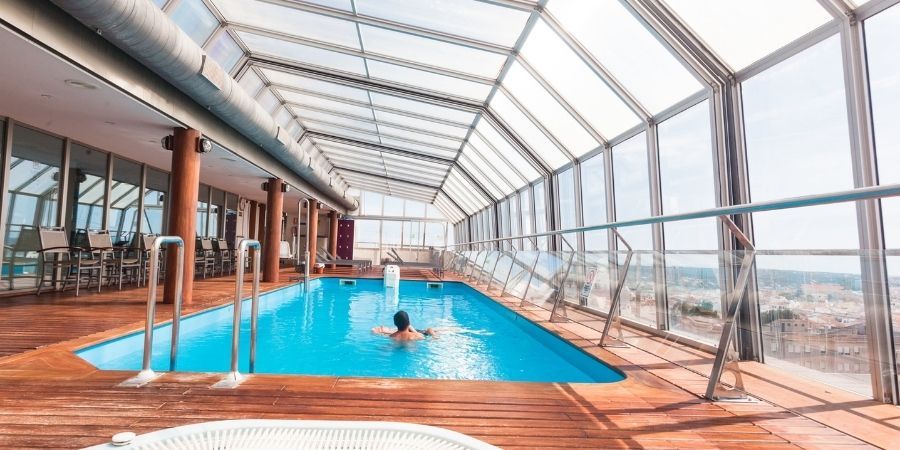 ARTIEM Capri is the ideal base camp for work trips as well. We have a Workbeing philosophy: Work + Wellbeing is our flawless formula. Our The Green space offers you a relaxing environment for working or hosting casual meetings with spaces filled with natural light, free WiFi, big tables with outlets and, of course, working areas where you can relax, share experiences and create synergy with your colleagues.
We hope we've convinced you that Mahón is a great place to spend a few days with the goal of discovering new landscapes, disconnecting and spending time with your partner. And don't forget to choose a good place to stay, it's the key to a good trip: trust in ARTIEM and choose our hotel or apartment in the centre of Mahón. You won't regret it!