Discover Menorca's secret corners with ARTIEM's Freshpeople and become an expert on our island. You must read these tips!
Whether Menorcan by birth or adoption, every islander has a special corner, that magical spot where they feel a unique connection.
If you wish to flee the crowds and discover the island's secret places, you are in luck! We asked our Freshpeople and they revealed a few of their favourites.
1. Cala Rafalet (Elena Castro at ARTIEM Carlos)
Situated on Menorca's eastern coast, this charming cliff-shrouded cove offers crystalline waters and a seabed that beckons you to go snorkelling. Take a dip in the sea and marvel at half-submerged caves and a sumptuous array of sea life.
Yet its most exceptional feature is the path you take to get there: a rustic trail recalling enchanted woods decorated in rocks and greenery. You hear birdsong and the murmur of animals scurrying into hiding as you pass while the whisper of a soft breeze caresses the boughs above.
This spot begs you to go exploring, to break with your old world and discover a new one for a while.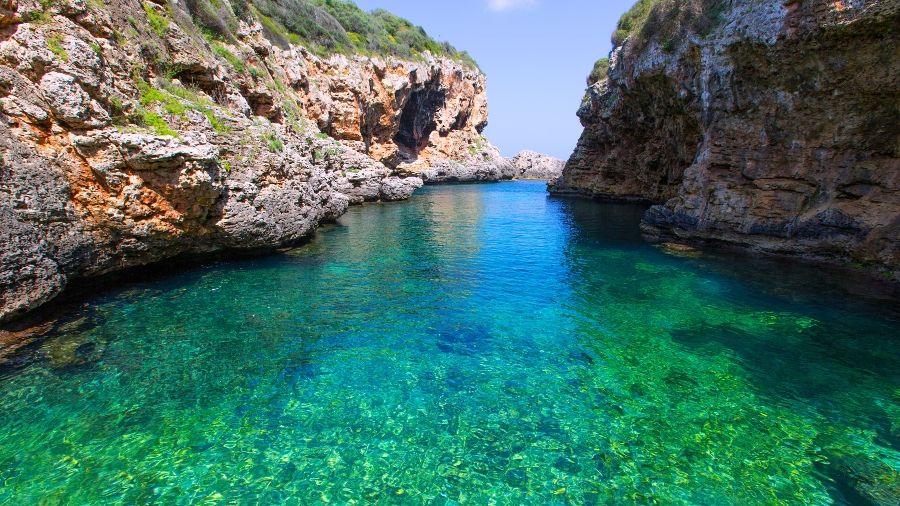 2. Cala Tamarells Lookout (Javi Lorente at the ARTIEM Office)
A few minutes on foot from Es Grau parking area you will come across one of northern Menorca's finest views: Cala Tamarells Lookout.
But to gain the reward of this view, you must set off first along the Camí de Cavalls Bridle Path until you reach Es Grau Beach. From here the path rises slightly and in a few minutes you will see the broad sweep of the bay and the endearing village of Es Grau.
The route continues northwards through a grove until you reach your goal. It is one of those hidden corners of Menorca that is absolutely worth discovering.
Wander just a few metres off the track and you will hear the whistling wind and see the landscape in all its glory. A bird's eye view of part of Menorca's northern coast, starting at Cala Tamarells and the Rambla Tower, and stretching to that magical spot on the horizon, the Favàritx Lighthouse.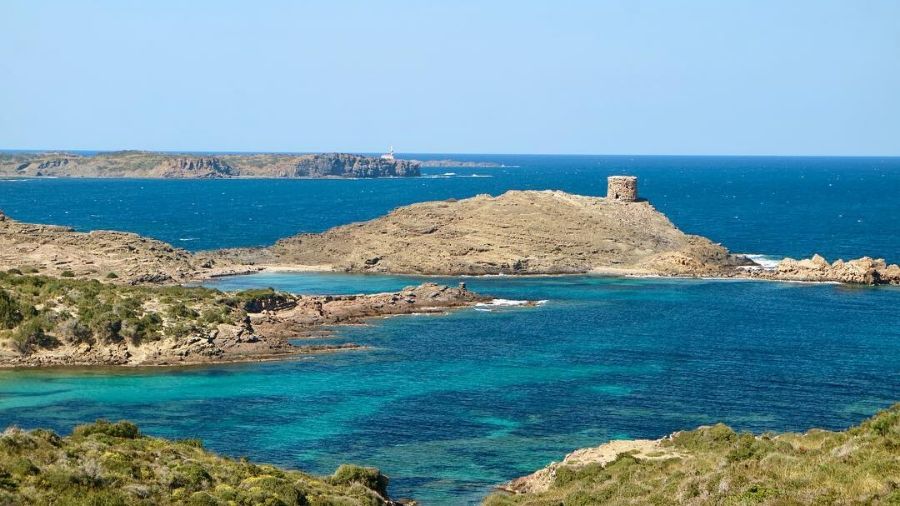 3. Macar de sa Llosa (Juanmi Pons at ARTIEM Carlos)
These calm, limpid waters reveal a mixed sandy and rocky seabed. It is set within the spectacular bay of Arenal de'n Castell, though the easiest, fastest way to get there is from Son Parc.
It is one of these little-known Menorcan coves that are barely mentioned in the guides, so help us keep its secret.
4. Cala en Porter – LLucalari (Daniela Iannaccone at ARTIEM Carlos)
If you love trekking, you will marvel at the section of the Camí de Cavalls Bridle Path between Cala en Porter and Llucalari. The route starts off as a path winding through the Cala en Porter ravine. This section offers majestic trees and a wide variety of fauna.
Beyond this, you come to terrain typical of the Menorcan countryside, with its renowned drystone walls and spectacular sea views. Llucalari Cove, flanked by enormous cliffs, is populated by rounded white boulders, of the kind known in Menorca as "macs". If you are lucky you may spy a wild goat perched on a rocky pinnacle.
Need to walk further? The path leads as far as the well-known Son Bou Beach.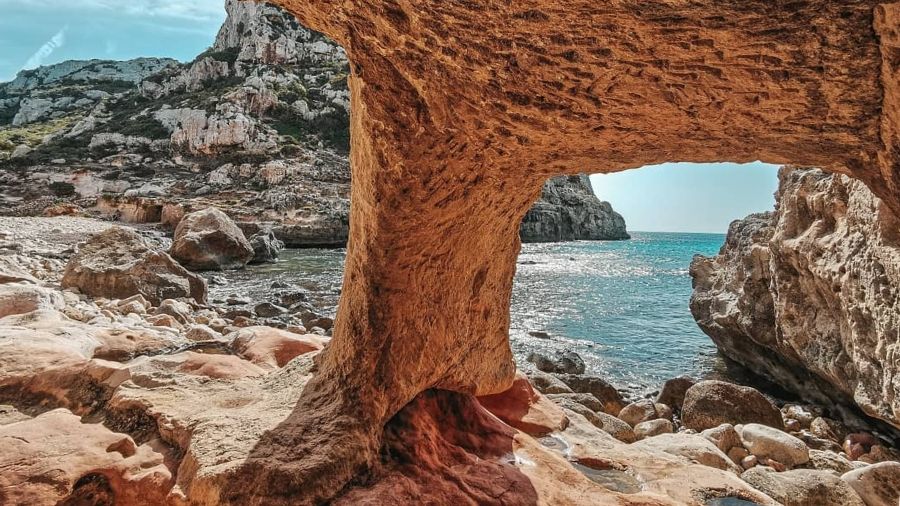 5. Cala Morell (Maria del Valle at ARTIEM Audax)
The north – how you pull my heartstrings! Fall head over heels again and again with Cala Morell each time you visit. Perhaps it is the sun setting magnificently behind the Elephant (as locals dub this natural sculpture with its peculiar silhouette).
The light in this cove pulsates uniquely. At different times of the day, with its distinct hues, it creates a kind of magnetism, a feeling of being fully at peace with the world.
Whatever the reason, this is one of Menorca's most astonishing spots.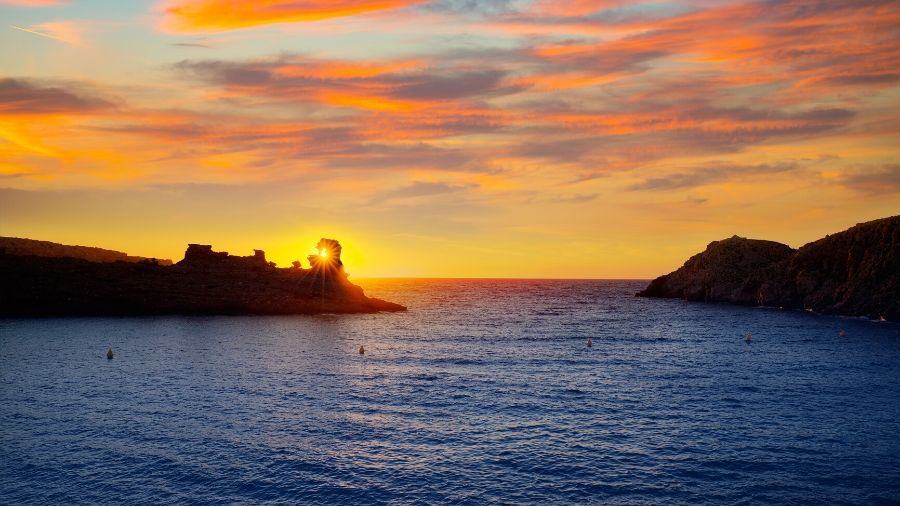 6. Punta Prima and Isla del Aire (Ana Panera at ARTIEM Carlos)
If you follow the road from the village of San Lluís, the abrupt unveiling of that majestic landscape is a memory you will carry with you always.
These are the bluest of all Menorca's seas with the tiny El Aire Island and its lighthouse laid out before you.
The beach is also directly linked to the Camí de Cavalls Bridle Path, with trails heading towards Alcaufar or Son Ganxo and Binibeca. And if you are weary of walking, you are in luck because this stretch of Menorca has a highway following the coast. Exploring this area is the perfect plan if you have just one day to enjoy Menorca. When you spy a pleasant spot, just park and head down for a refreshing dip.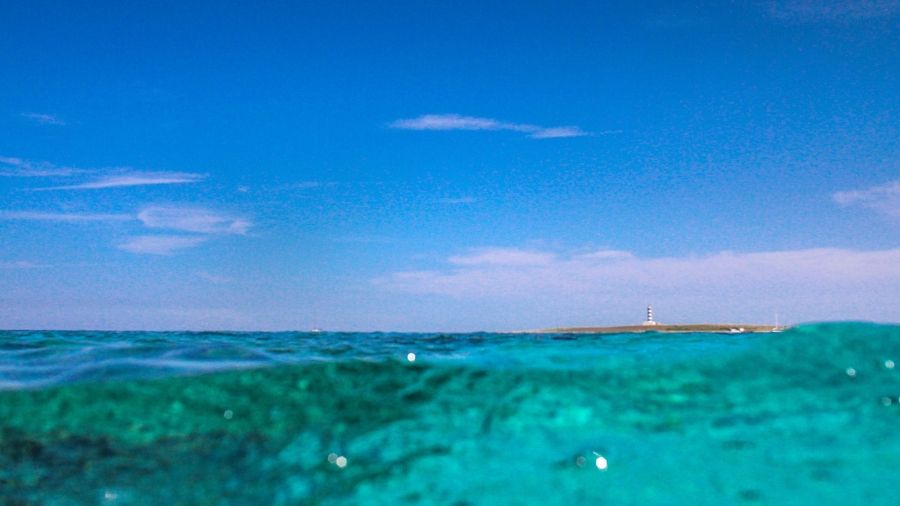 Photo: Joan Mercadal
7. Cala Pilar and Macar d'Alfurinet (Sam Freitas at ARTIEM Carlos)
As well as a gorgeous beach, this spot is special to me since my parents took me camping here as a kid most weekends – when it was allowed. We would fish, go diving and discover secret spots in our dinghy.
It is a pristine beach offering contrasts, with red clay, crystalline waters and fringed in leafy woods.
As well as enjoying its views and the bliss of unwinding, you can visit the Macar d'Alfurinet, just ten minutes' walk from the beach. This is a peculiar beach of pinkish boulders that have been polished spherical by the sea.
8. Es Caló Blanc (Laura Cappelli at the ARTIEM Office)
Located on Menorca's south coast between Binisafua and Cap de'n Font, Es Caló Blanc is not one of those secret corners of Menorca as such. Since its parking area is visible from the road, it fills with tourists during the day. Yet though it is tiny and you have to sit on the rocks, its crystal-clear waters are hard to resist.
Yet one thing makes this place special: The calm that abruptly fills the afternoon as people begin to leave for home plunges you into deep peace. This makes it one of the perfect spots to view Menorca's sunset.
All you need is great company and maybe a light snack. Listen to the silence and observe how night falls in this quiet corner of nature. It is a gift to your senses.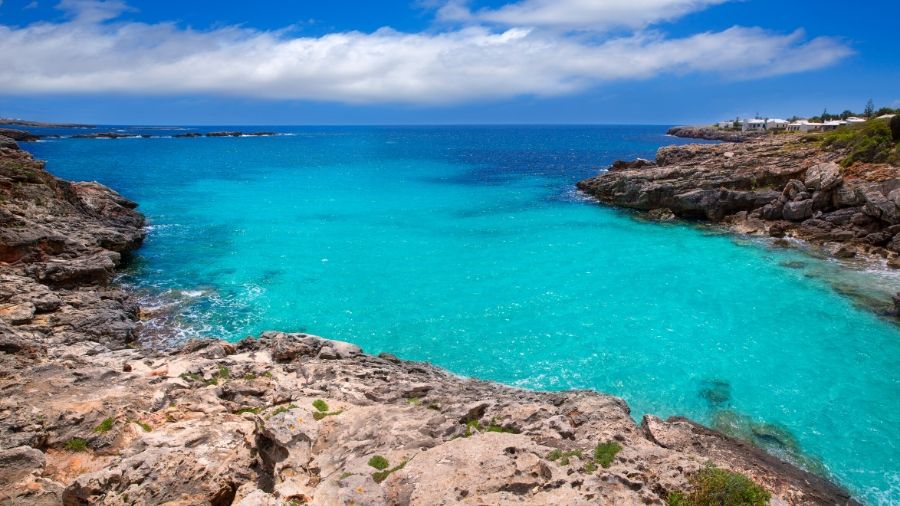 9. Cala Mesquida (Orlando Cubillan at ARTIEM Carlos)
As well as renowned pristine beaches, Menorca offers many others that are more accessible, lying closer at hand and brimming with charm and beauty, such as Cala Mesquida.
This northern Menorcan beach lies close to the town of Mahón. Though its shoreline is bedecked with summer residences, it breathes pure nature. It is especially pleasant for an early-morning dip just as the sun is rising, or in the evening.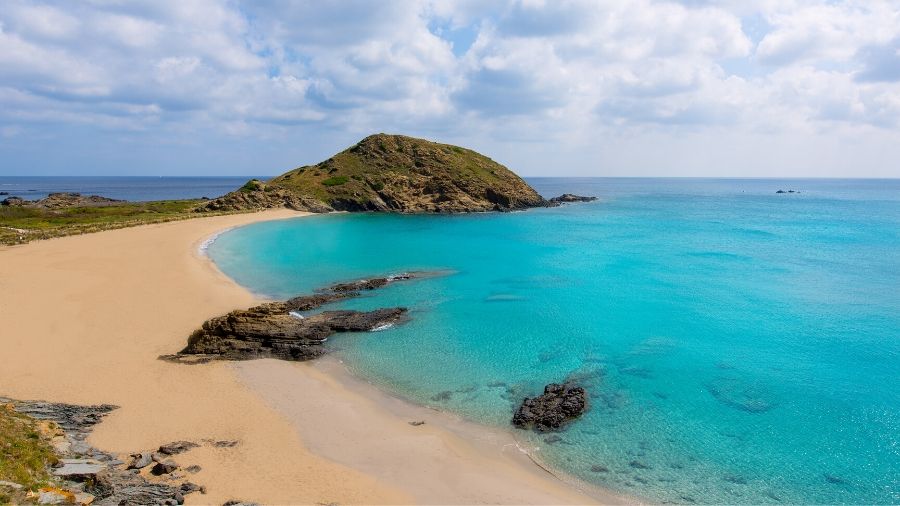 10. The Menorcan countryside (Mercedes Homs at ARTIEM Carlos)
Though it is a small island, Menorca's landscape changes depending on whether you are in the north or south. And these contrasts also occur according to the season.
Menorca's countryside is like a fan, starting from the intense green of its winter pastures, moving through an explosion of reds and yellows in spring to evolve into the summer gold of its parched fields.
When reaching the coast, if you are in the north the fields meld into its red clay and wilder beaches of coarse sand. In the south pine woods encircle white-sand beaches and limpid waters.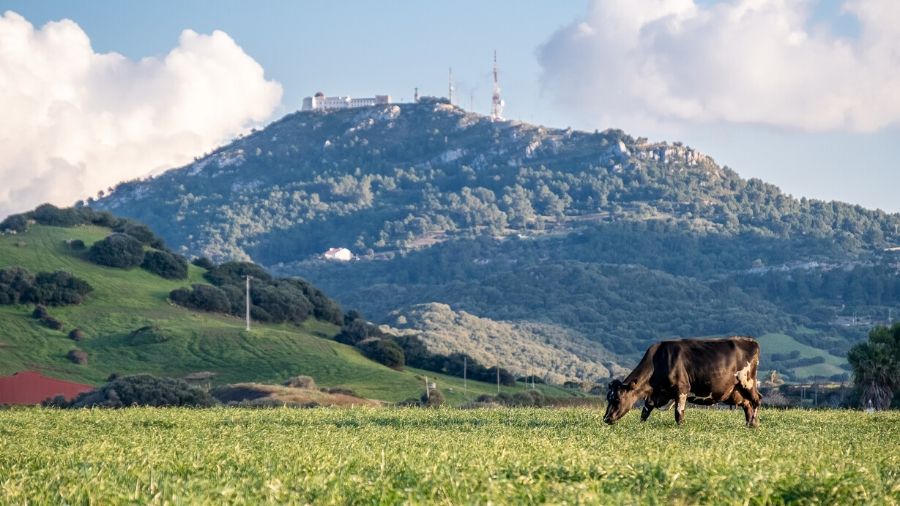 Image: Joan Mercadal
Getting to know the island through tips from its locals lets you do more than just discover Menorca's secret corners: it is the prime option if you crave a truly authentic, unique experience. And if after visiting all these spots you are a little peckish, remember to check out the restaurants that Menorcans recommend.