We know our #ArtiemLovers adore the summer, but there's no denying that autumn has its special charm. Asturias is a destination that dresses up in many colours at this time of the year and is certainly worth a visit.
Autumn in Asturias is characterised by being a season of sensations. Landscapes bathed in yellow and ochre, sounds and scents of nature that are impossible to perceive any other time of year, and of course, exciting dishes that will warm you up as soon as you taste the first spoonful.
Although there are thousands of things to do during your autumn getaway in Asturias, we recommend the 10 best plans. Shall we begin?

1. Redes Nature Reserve

Asturias has some of the most impressive landscapes in the peninsula, and one of them is the Redes Nature Reserve. As soon as you enter the reserve, you will realise you have come to a magical place.
The reserve is perfect for following peaceful routes, but be sure not to stop until you reach one of the most amazing nooks; the 60-metre waterfall that is hidden in the forest near the parish of Caso. It's a wondrous sight!
As if that were not enough, with every step you'll see giants on the way: the oak trees of LLanu'l Toru.
Distance: 60 minutes by car from ARTIEM Asturias.
Level of difficulty: Easy.
Duration: 5 hours.
2. Pre-Romanesque Art
Art is always a good way to relax and unwind, and Asturias has hundreds of places to do so. Have you heard of "Asturian pre-Romanesque Art"? This architectural style, also known as "Asturian Art", first emerged in the 8th Century, during the times of the Asturian monarchy, and is one of the most characteristic symbols of this region.
Cathedrals, bridges, roped columns, round arches and other elements are just a few examples of this Mediaeval art, which you will come across on different routes.
And by the way, in addition to seeing some unbelievable architecture, you´ll also have the chance to talk to the locals who live nearby, who will most certainly tell you a tale or two.
Recommended places to visit:
Church of San Salvador de Priesca (Villaviciosa)
La Foncalada (Oviedo)
Santa Cristina de Lena (Lena)
3. Tomasón Cliffs
The Asturian coast is hypnotic, due to its intense blueness and its tidal surges, which often generate the perfect sound for breaking with routine and enjoying that long-awaited moment of relaxation.
Not only is the sea a natural monument in itself; the impressive cliffs that overlook it are just as magnificent as any of the cathedrals in the region. One of our favourite sites is the Tomasón Cliffs, between Ribadesella and Llanes.
They provide panoramic, often dizzying views due to their enormous height, which makes this spot the ideal place in which to admire the amazing scenery and memorable dawns and sunsets.
Distance: 43 minutes by car from ARTIEM Asturias.
Level of difficulty: Medium.
Coordinates: 43.459056, -5.012047
4. Let's go gathering chestnuts!
Autumn would not exist without chestnuts! Whether roasted, boiled or in syrup, no matter how they are served, we love them. So, if you are visiting Asturias, this is the perfect plan for young and old.
It's easier to find a brown bear eating chestnuts (there are those that do) than to find a local who dislikes this delicacy, which is typical of the region. "Gueta" (chestnut gathering) is a tradition, and there are many places in which to carry out this delicious activity.
One of the most typical places is Moal Forest. This forest is famous for more than just its chestnuts, so we recommend you explore it first and discover all its nooks and crannies. If this plan interests you, bear in mind that only a limited number of people can enter every day, so you should book in advance.

Distance: 1 h 57 minutes by car from ARTIEM Asturias.
Route: Moal – El Montecín Viewpoint– El Chanu La Collada – Moal
Level of difficulty: Easy.
Duration: 3 hours.
5. Charming towns
Now is the time for rural tourism, which is just as delightful as nature. There are so many charming towns nestling between Asturias and Cantabria that it is quite impossible to visit them all in one weekend. That is why we at ARTIEM want to recommend some that you really shouldn't miss.
One of the main features of the towns in the region is the characteristic colours of the houses, their proximity to the sea, their cobbled streets and the local cuisine that you will find in each of them.
It's difficult to reduce the list of towns you should visit, but we are certain you'll like them so much that you'll want to go back and see them all.
Recommended towns:
Cudillero (on the west coast of Asturias)
Cangas de Onís (in the eastern part of the interior of Asturias)
Somao (Pravia)
Tazones (between Ribadesella and Gijón)
6. Asturian cuisine
This is the interesting part. One thing that Asturias and its neighbouring area are famous for is their varied and delicious cuisine. Seafood and fish, stews, skewers... Just writing about them makes your mouth water!
When it comes to a special dish, "fabada" (bean stew) is the star specialty. It is known across the world for its combination of flavours and nutritional content. And what can we say about cider, the perfect accompaniment to any Asturian lunch or supper?
If you have a more refined palate, be sure to visit Casa Trabanco, which is famous for its local cuisine with a gourmet touch and for its cider house.
Address: Carretera de Lavandera, 3255 (Gijón)
Or perhaps would you prefer something more local? In that case, don't miss Bar Casa Xico in Mestas, a local restaurant adapted to modern times that has been recommended by our #Freshpeople. Here is the link in case you want to know more.
Address: Mestas de Ardisana S/N (Llanes)
7. El Jardín de las Delicias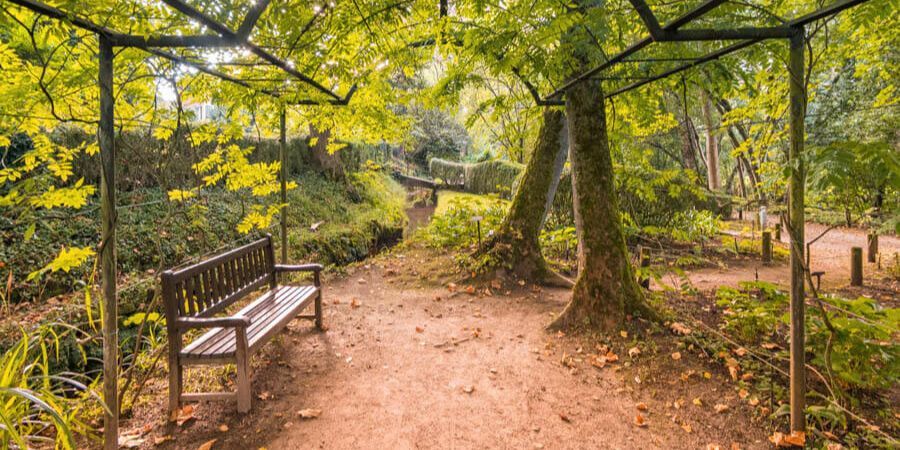 Photo: www.unviajecreativo.com
Located in the Atlantic Botanical Garden of Gijón, it is an incredible place for participating in outdoor activities during your autumn getaway in Asturias for both families and couples. Or for yourself, as we never get enough time alone.
It is said that this garden is one of the most dynamic and evolutionary places in Europe because of its ability to change its appearance with each season. For this reason, it's incredible at any time of year. But in the autumn... In the autumn, it is transformed into a true feast for the senses.
When you are there, close your eyes and let yourself be carried away by the scent of its plants, the sound of the leaves falling and the nature that surrounds you. An unforgettable gift of nature!
Distance: 11 minutes by car or bus from ARTIEM Asturias.
Opening hours: Tuesday to Sunday, from 10 a.m. to 6 p.m. *Last entrance at 5.15 p.m.
Price: Free (children up to 11 years). From 12 to 26 years €1.80. Adult €2.90. Persons over 65 years €1.80.
8. Muniellos Protected Nature Reserve
For those who find adventure relaxing, welcome to the region with the most adventurous routes in the peninsula. Active tourism in Asturias is perfect for anyone who wants to unwind by doing sport.
Muniellos Protected Nature Reserve is a truly marvellous site in the western part of Asturias. It is located in the parish of Cangas del Narcea, the largest oak forest in Spain that is famous for its enormous variety of species.
Since it is a nature reserve, access is restricted to 20 people a day, and so we recommend you book in advance in plenty of time, especially if you are visiting it on a weekend, as there is a high demand for places!
Distance: 2 h 4 minutes by car from ARTIEM Asturias.
Level of difficulty: Medium.
Duration: 7 hours.
9. Windmills Museum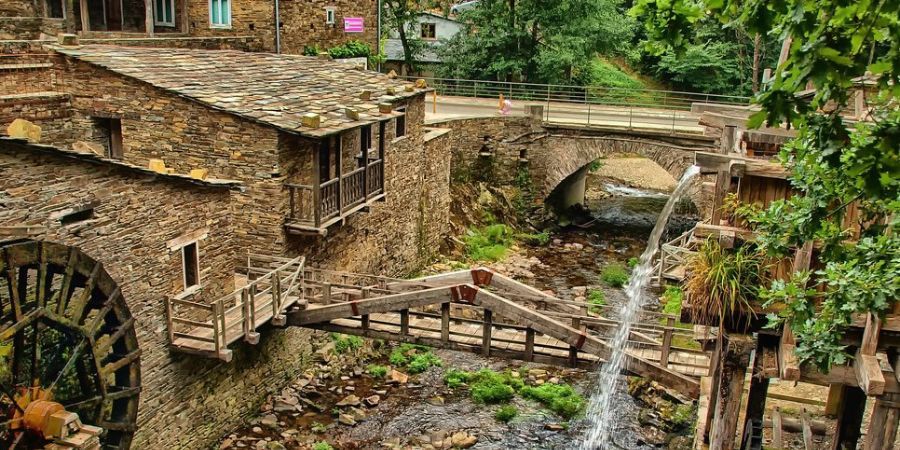 Photo: www.anturta.es
We all have a little Don Quixote inside us, as our gaze is always drawn to windmills. So if you like windmills, you will really feel at home in Mazonovo. It is the largest windmill museum in Spain.
The Windmills Museum has 19 windmills set in beautiful surroundings. It is a unique site in which more than 20 hydraulic artefacts are exhibited, that still function today!
Let yourself be transported by the hypnotic movement of the windmills, the relaxing sound of the river and the songs of the hundreds of birds that will accompany you on your adventure.
Distance: 1 h 48 minutes by car from ARTIEM Asturias.
Opening hours: Monday to Sunday, from 10.30 a.m. to 6.30 p.m.
Price: Children from 3 to 10 years €2.90. Persons over 10 years €4.90.

10. Wellness & SPA in ARTIEM Asturias
Your plans for Asturias must include relaxation and that is something we can provide. At our ARTIEM Asturias Hotel you will find all you need to relax after all your activities in the open air and restore your balance in order to face the week in the best possible conditions.
We offer you 500 m2 of SPA space, to allow you to enjoy all the treatments and activities you need for your well-being. Enjoy 60 minutes of sheer relaxation in our exclusive thermal circuit or treat yourself to the incredible, relaxing massages of our experts. Click here to see all the details.
Add a superb finishing touch to your getaway in Asturias with ARTIEM. We take care of making your getaway perfect. You only have to worry about enjoying yourself and unwinding.