Are you one of those who enjoy caring for your body and mind at a spa? In today's article we will talk about the origin, benefits and of the spas that you can find in ARTIEM to flee from the everyday stress.
There is currently no clear version about the origin of the word "spa". On the one hand it is attributed to the Belgium city Spa, famous for its thermal waters in Roman times. On the other hand, it is believed that the word "spa" responds to the Latin acronym which stands for "salus per aquam" meaning health through water. For this reason water is present in many of the treatments and therapies we can find in them.
What is clear is that if spas still exist today it is thanks to all the benefits they provide both physically and emotionally. Although each treatment has a specific benefit, the spa will in general help you activate blood flow, relax muscles, hydrate the skin, avoid anxiety problems, reinforce your self-esteem and reduce stress, among others.
In ARTIEM spas you will disconnect 100% to reconnect again with yourself. Our aim is that you leave our spas happier and with renewed energy. And all with the peace of mind that, while you are taking care of you, you are also taking care of the environment. Would you like to know more about ARTIEM spas?
If you are staying in ARTIEM Asturias or you are visiting the area, do not hesitate to gift yourself a moment for you and for your well-being visiting our spa.

In nothing less than 500 m2 you will find a hydrothermal circuit, a relaxing area with infra-red loungers and a number of cabins for unique treatments and rituals.

The hydrothermal circuit has a pool at 36 °C with exit to the outside, a cold water pool at 14 °C, a dynamic pool with underwater jets, chromatherapy, swan's neck fountains, bubble seats and water cannons.

Once you have relaxed in their water, you can clear your skin from toxins and physical stress in the dry sauna, the steam bath under the starry sky and mist spray and essence showers.

And to complete your experience, do not hesitate to contact the best experts in beauty and well-being and enjoy treatments and rituals with Alqvimia products, that will provide you with the harmony and balance that you need to disconnect 100%.


At the rooftop terrace of ARTIEM Capri there is the Le Petit Spa, an oasis for your ideal well-being to boost all your senses. Enjoy the views of Menorca while you relax in its pool. Let the jacuzzi bubbles wrap you in an ecstasy of disconnection or clear the toxins from your body in its sauna.

Take your experience to the next level with massages, body and facial treatments by the hand of the Freshpeople, expert professionals with over 10 years experience in the world of well-being. You will get out of the cabins feeling better with yourself.
And if the sun shines, the terrace becomes the ideal place for yoga classes, stretching or aquagym. The perfect fusion between nature and your well-being. You cannot miss it.

ARTIEM Audax in Cala Galdana has much to offer, but there is something that makes it unique: the Blue Spa with the largest thermal circuit all over Menorca. Something that no doubt makes visiting it mandatory.
In this circuit of over 700 m2 you will find two hydromassage pools at 34 and 38 °C, bubble beds, a toning pool at 12 °C, four types of showers and a foot bath, ideal for relaxing your feet.
But there's even more: a perfect area to clear your skin from toxins naturally and leave it smooth and tight. There you will find a Roman bath, a Swedish sauna, a Turkish bath, two types of special contrast showers and two thermal loungers.
Add some more well-being to your visit with body treatments, massages and rituals by the hand of professionals expert in caring for you, with 100% natural products of the highest Alqvimia quality.
And if the weather is fine and you want to relax breathing pure air, you may enjoy the private terrace with loungers.
At ARTIEM Carlos you may enjoy fabulous views of the port of Mahón while you relax in its water area Sea Spa. A new concept of relaxation and well-being in which you will find an infinity jacuzzi outside and a Turkish bath, a sauna, showers to awaken your senses and thermal loungers inside.
Complete your experience in its massage cabins receiving one of the many therapeutic treatments offered to enhance your muscle tone, relieve stress or care for your skin with the highest quality Alqvimia products, known for their magistral formulae and their natural ingredients.
Taking care of you with Alqvimia´s 100% natural products
By reading this article you may have realised that the products used for the treatments are always from the Alqvimia brand. A collaboration that we did not want to ignore, as it is a cosmetic product line of the highest quality and 100% natural.
To create its formulas, Alqvimia obtains its supplies from its own fields, applying the biodynamic method to cultivate and harvest its own medicinal plants. In addition, its factory is supplied with self-generated photovoltaic power, which ensures self-consumption taking advantage of green energy. This is connected to ARTIEM and its commitment to the environment and conscious consumption of natural resources.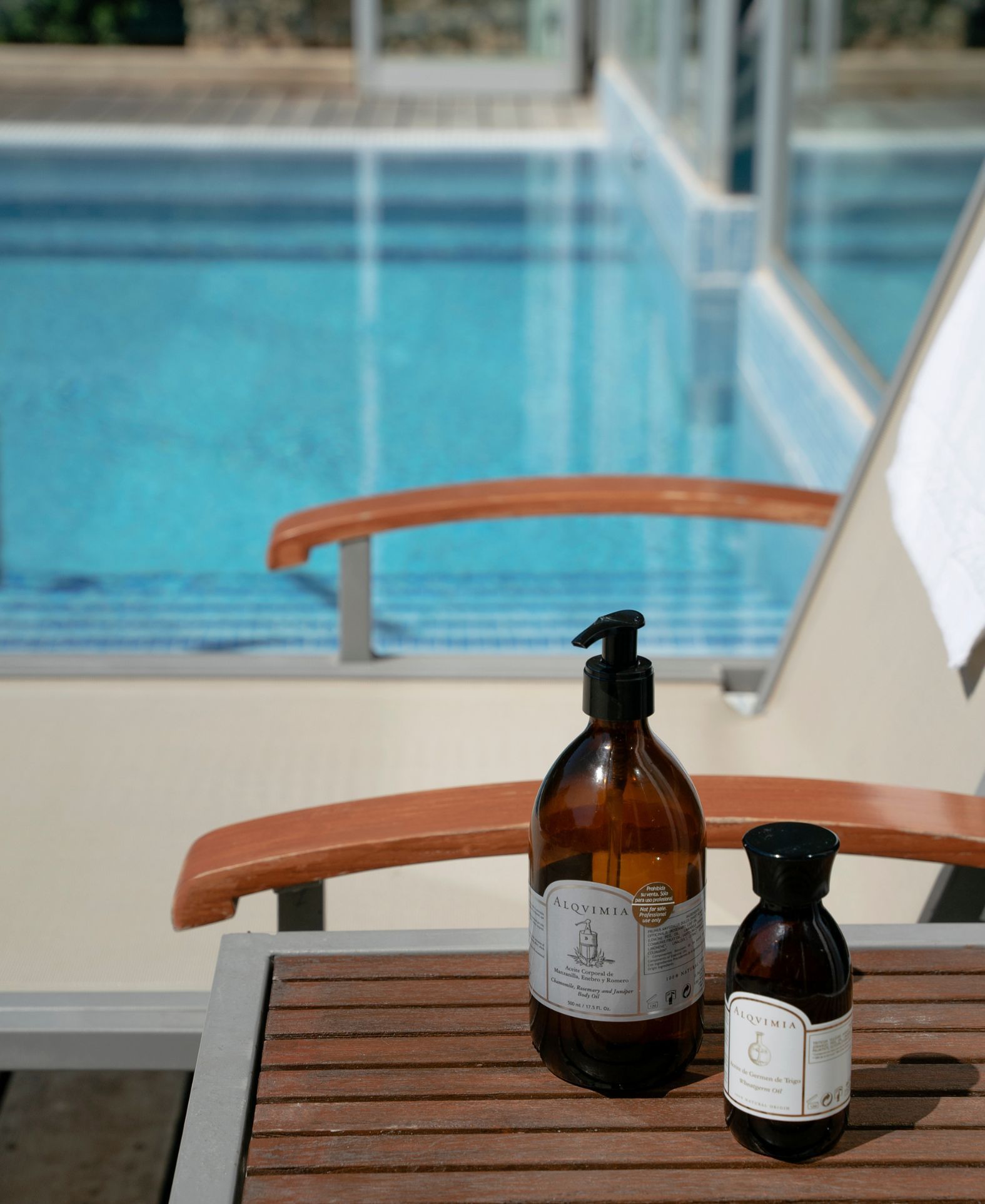 No doubt, ARTIEM is the perfect place to care for your body and mind while protecting the environment. And if in addition to a moment of well-being and relax you are looking for other experiences, do not miss all that you can find in its hotels. Find them here.