If you love hiking and exploring natural beauty spots with nothing more than a backpack, then this selection of the five best trails in the Picos de Europa is for you. Choose your favourites and hike through one of Spain's most impressive natural havens at your own pace.
Located in the east of the region of Asturias, Picos de Europa Natural Park is not only Spain's oldest, having received this distinction more than a hundred years ago, but also one of its largest and most popular with visitors.
It is a paradise of ancient mountains, deep valleys and gorges, vast meadows, lush forests and majestic landscapes where you can enjoy nature in its purest form.
If you want to enjoy its fresh summers, experience its peace and quiet, hike along its shepherd's paths and up its steep defiles, admire its crystal-clear lakes and rivers or sit down on a rock to watch a golden eagle soar overhead, we make it easy for you.

At ARTIEM Asturias we encourage you to discover the new forms of travelling afforded by sustainable tourism. And so, we have set our sights on offering you the best way of seeing nature in all its glory and enjoying a truly unforgettable experience. Your Asturias getaway is chock-full of possibilities and we want to help you turn them into magic moments and fond memories.
So, let's take a closer look at what's on offer.
Since we believe that the greatest pleasures are enjoyed with each one of our five senses, we want this blog post to not only be a treat for your eyes, but also for your ears. So, while you read about the thousand and one wonders that await you under the protection of the Naranjo de Bulnes, we invite you to listen to these recordings of what the mountains in Asturias sound like.
And now, while you appreciate nature's voice, let's look at the map of the Picos de Europa!
This selection features both easy and more demanding routes through the Picos de Europa, allowing you to choose the way you want to enjoy these breathtaking beauty spots.

Poncebos to Bulnes: Canal del Texu
Source: https://www.turismoasturias.es/
Length: 6.5 km (round trip)
Type of route: Linear
Difficulty: Medium
Duration: 2 h 30 m (round trip)
Best time to visit: March to October
Hiking and mountain biking
The sights you see as you climb up the narrow Canal del Texu pass and walk between its sheer rock walls on your way to the remote village of Bulnes are truly impressive.
If you want to skip the final part of the ascent, you can take the funicular to Bulnes, but if you are a mountain lover, it is well worth following the full route up from Poncebos.
Enjoy spectacular landscape and experience life as it was in the past when the high-mountain folk could only reach the village on foot or horseback, given that Bulnes is one of the last carless villages left in the region.
You will find holm oaks growing out of crevices in the rock, the endemic flora and fauna of northern Spain, curiously pointed snails and their flatter brethren stuck to the rocks... Because of its isolation, Bulnes can truly be considered an ethnological and wildlife island.
It is in the picturesque village of Bulnes where the Canal del Texu trail ends. Let yourself be captivated by the charm of its beautiful stone houses, church, famous Casa del Puente (bridge house) and much more. And, a little further up from the village, don't miss the lookout point and its spectacular views of the mythical Picu Urriellu.
Cares Gorge Trail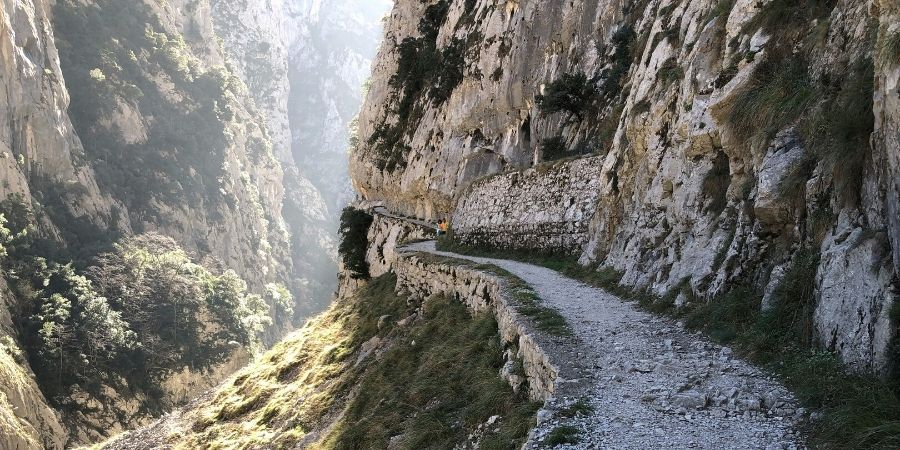 Length: 21.9 km (round trip)
Type of route: Linear
Difficulty: Medium (due to its length)
Duration: 6 h 30 m (round trip)
Best time to visit: March to November
Hiking
The Picos de Europa Cares Gorge Trail, also known as the "Divine Gorge", starts in the village of Poncebos and is one of the best-known, oldest and most spectacular in the natural park.
The Cares trail is a narrow path, just two metres in width, which follows the bed of the river of the same name. It was carved directly out of the limestone rock of the mountain from 1945 to 1950 to allow the staff of the hydroelectric plant access to the canals running from the Caín dam.
Staggering sheer rock walls accompany you, as well as mountain goats, trees in inaccessible crags, narrow walkways and bridges, tunnels with views of the crystal-clear waters of the river Cares...
You will find a large natural canyon of incredible beauty, whose precipices at some points of the route can reach as high as 100 metres. Its extreme height on unprotected sections, the possibility of rockslides in bad weather and the presence of livestock in the mountains make it necessary to take great care and recommend against bringing small children along.

Lakes of Covadonga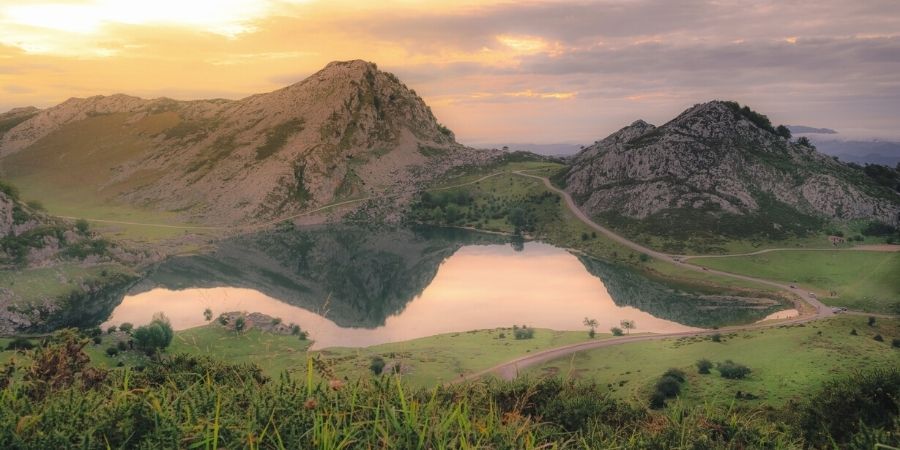 Length: 6.2 km (round trip)
Type of route: Circular
Difficulty: Easy
Duration: 2 h 30 m (round trip)
Best time to visit: March to October
Hiking
The Lakes of Covadonga trail is another must, as it is one of the most spectacular circular routes in the Picos de Europa and one of the corners of Asturias to get the best pictures. The area of La Montaña de Covadonga was declared a protected natural space back in 1918.
It is an especially scenic and simple trail on which to enjoy the heart of the Picos de Europa. A popular site for families with young children, it is usually quieter during the week.
Immerse yourself in the spectacular landscape, walk along the glacial Enol and La Ercina lakes, discover the history of the Picos de Europa at the Pedro Pidal Visitor Centre, and visit the Buferrera mines, which are among the best-preserved in the whole of the Picos de Europa.
Breathe in the greenery of the Palomberu forest and be sure to stop at the Entrelagos and Príncipe de Asturias lookout points to admire magnificent panoramic views you will want to take home with you as photos as well as wonderful memories.
And while you're there, why not enjoy the wealth of culinary, historical and cultural attractions on offer in Covadonga and Cangas de Onís?
If, however, you're more interested in continuing your hike, you can also walk from the Lakes of Covadonga to the Vegarredonda mountain hut. It is a linear trail of just over 8 km in length, along which in 2 h 30 m you will witness the Vega de Enol and Vega La Piedra meadows, Pandecarmen, the Pozo del Alemán well, and the village of Rondiella before finally reaching the picturesque Vegarredonda mountain hut, at a height of 1,470 m.
Source: https://www.turismoasturias.es/
Take into account that, in the high season, restrictions on private vehicles are in place at the lakes, but a shuttle bus service is provided from the magical village of Cangas de Onís, one of the most beautiful villages in Asturias. Ask us about timetables and departures before setting out on your excursion.
Ordiales Scenic Balcony Trail
Length: 11.2 km (round trip)
Type of route: Linear
Difficulty: Medium
Duration: 5 h 40 m (round trip)
Best time to visit: March to November
Hiking
The Ordiales Scenic Balcony Trail ends at the lookout point after which it is named: a natural balcony in paradise that at 1,750 m above sea level offers spectacular views of the valley of Angón, Amieva, Ponga and half of Asturias.
The Ordiales Scenic Balcony is home to the mortal remains of Pedro Pidal, the Marquess of Villaviciosa de Asturias, who, in addition to being the first person, along with Gregorio Pérez, to climb the Naranjo de Bulnes, was the driving force behind the declaration of Picos de Europa as a natural park.
Along the route, you will see the Pozo del Alemán well, the Vega la Piedra sheepfold and the Vegarredonda mountain hut among other emblematic sites nestled in a mosaic of grazing land, shepherd's huts and livestock enclosures and shelters.
And if after witnessing this magnificent panorama from the lookout point you still want more, you can continue on for another 45 minutes up to the peak of the Cotalba.
Mount Camba trail

Source: https://www.turismoasturias.es/
Length: 13.6 km (round trip)
Type of route: Circular
Difficulty: Medium
Duration: 4 h 30 m (round trip)
Best time to visit: March to October
Hiking
Located in Cabrales, between the central and eastern massifs, the Mount Camba trail is a circuit that links the mountain villages of Tielve and Sotres. After starting with quite a steep climb, you will walk through picturesque pasture land that, as you get higher and higher, offers increasingly spectacular sights.
You will be treated to views of the peaks of the central massif, Picu Urriellu, Collado Pandébano, Peña Castil and many others. Try to choose a clear day so you can fully appreciate the splendour of the landscape.
Streams, meadows and hazelnut forests, shepherd's huts, the impressive beech grove of Mount Camba, the Carabu cave, where Cabrales cheese use to be aged, are your companions on this hike.
It is one of the most beautiful trails through the Picos de Europa, combining nature with the history and traditions of the shepherds who first forged trails through the range's green mountains.
The charming village of Sotres is the highest in Asturias. Visit its popular church and walk down the Senda de las Indias trail as you take in fantastic views of the Duje valley. It is a scenic round trip that has been followed by the locals since ancient times.
There's always more to see in Asturias
If in addition to these trails through the Picos de Europa you are interested in hiking through other natural parks, seeing spectacular waterfalls and even following woodland trails to beaches with Jurassic rocks, then take a look at the most beautiful trails in Asturias.
And if your preference is to enjoy the mountains and nature by bicycle, we can also accommodate you.
At ARTIEM we are Cycling Friendly, offering you services and amenities at our hotels to enjoy cycling on the best cycling routes in Asturias. Enjoy Asturias on two wheels!

At ARTIEM Asturias we take care of you.
Finally, because we want to take care of you, here are some hiking tips to make the most of your trips.
Consult the weather before planning your journey, don't forget to wear warm, waterproof clothing (even in summer, in case the weather changes) and, of course, suitable hiking shoes, and take sun cream with you.
It is essential to take a good canteen, sandwiches, fruit, trail mix... Make sure you have enough food and water for the entire hike.
Do not veer off the waymarked trails or go right up to edges to take selfies. Take your phone in case there is an emergency.
Don't forget to take a bag with you to collect your waste and respect the flora and fauna at all times. Enjoy nature and remember that in the natural environment you should take only photographs and leave only footprints.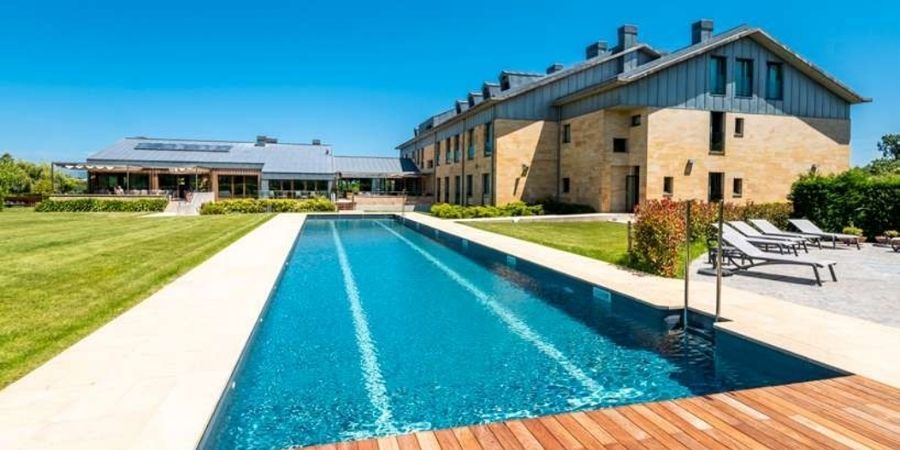 And when you return from your hike... Our Freshpeople will be waiting for you to offer you the best possible care.
Nature, outdoor sports, gastronomy, tradition, history, culture, magic mountain villages, impossibly sheer cliffs, unforgettable peaks... Asturias is this and so much more. A paradise you are invited to discover at ARTIEM Asturias. It will stick in your mind.