Fall in love with Menorca by visiting its special sites where you can admire the natural beauty that makes the island so unique. Here are the five best lookout points to view the Mediterranean in its full splendour.
Travel is a gift for the soul. Each trip enriches you by allowing you to discover new places, traditions, local dishes, people and unique scenery, the memories of which will accompany you throughout your life.
Such memories include the scent of the sea and the sounds of its waves, the path to an idyllic cove, the photo you took of a sunset in Menorca or the unforgettable secret spots in Menorca revealed by our Freshpeople.
At ARTIEM we want you to have no shortage of memories to treasure, so we have made a list of the lookout points with the best views of Menorca, offering truly unforgettable panoramic vistas. In this way, every time you miss Menorca, you can access the happy place the island will have engraved in your heart. And relive it, enjoying Menorca's charms once again with ARTIEM whenever you can, because we love it when you come, but even more when you come back.
We'll start with this map of Menorca's lookout points, where you can type in which you want to visit to see how to get there.
And now we present each Menorca lookout point we have carefully chosen for you, along with a short description so you can decide which you want to visit.
El Toro

La Fi del Món

Es Riu

Poniente

Galdana cove
El Toro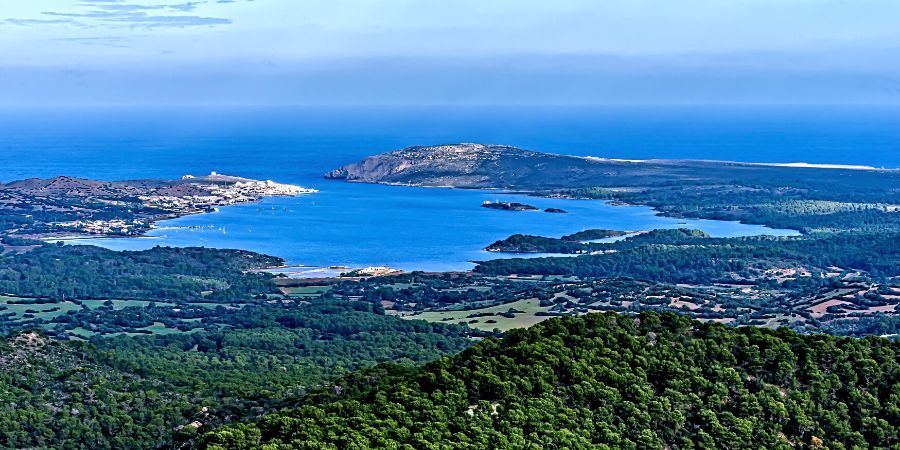 El Toro lookout point in Menorca is a must. Located in Es Mercadal, in the centre of the island, El Toro is the highest peak on Menorca.
It offers an alternative to the views you see from balconies looking out to the sea, and it is also home to a shrine dedicated to Our Lady of El Toro, which you can also visit.
From its summit some 358 m above sea level, on a clear day, you can enjoy one of the island's most impressive vistas. It offers a 360° panoramic view that encompasses Fornells and the entire northern coast, the beaches and islets, the inland villages, and, with good visibility, Mallorca.
It is a mystical site from which you can view the charming island of Menorca and enjoy the bucolic colours of its sunrises and sunsets.
La Fi del Món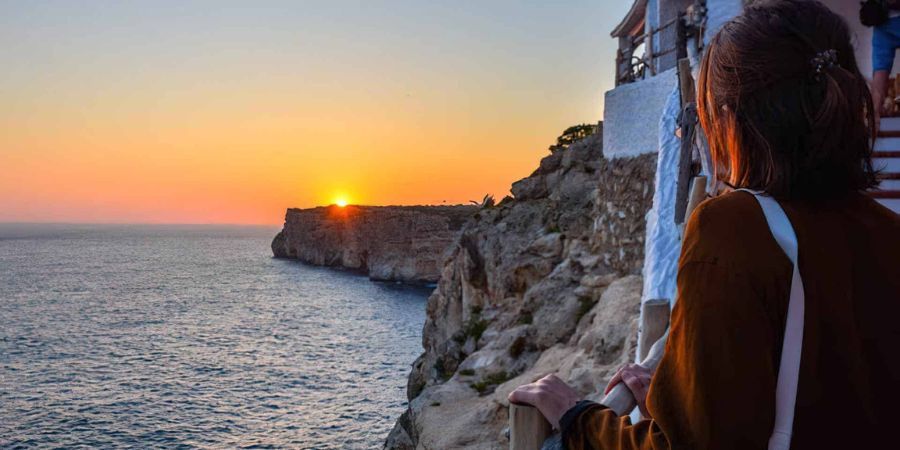 Source: https://viajes.chavetas.es/
Enjoy a panoramic view of the island's impressive southern coast. Watch the sun go down from on high as you listen to the waves crashing against the cliffs.
Menorca's La Fi del Món (End of the World) lookout point, in the town of Alaior, is to the east of the well-known Cova d'en Xoroi, a natural cave that has been transformed into a lookout point and leisure facility. During the day it is an excellent place to relax with a drink as you gaze out into the endless sea and listen to the crashing of the waves, and after the sun goes down it becomes one of the island's hottest night spots.
Es Riu

From Es Riu lookout point in Menorca you can enjoy an excellent panoramic view of Galdana cove and its islet. Located just 10 minutes from the ARTIEM Audax hotel, there is nothing to stop you from strolling over the river to enjoy the view.
Galdana cove is one of Menorca's best-known and most popular beaches thanks to its beauty and its unspoilt natural expanse. It is a beautiful white sand beach with crystal-clear, shallow water that is surrounded by woodland. It is the perfect place for vessels to drop anchor and also to practice water sports such as kayaking through beautiful caves and stand up paddle.
Poniente

Visit Menorca's Poniente lookout point in the south of the island. Take a seat on one of the provided benches to enjoy spectacular views and sunsets.
It is a quiet, romantic location to watch the sun go down over the sea. Take some snacks with you and really take the time to enjoy the vista or visit it at night for a magnificent view of Menorca's star-filled sky. With nights like that, you'll never want the sun to rise!
Galdana cove

Menorca's Galdana cove lookout point is another good way of enjoying a fantastic panoramic view of Galdana cove. The top of the cliff is just 15 minutes walk from the beach. From this vantage point, you can take a seat on a bench and observe the bay and the incredible turquoise colour of its water from a different perspective.
Can you see our ARTIEM Audax looking back at you on the left of the picture? In one glance you will have perfectly understood the love story between ARTIEM Audax and Galdana cove. Its calm, crystal-clear water and the pine trees on the white sand beach make it one of Menorca's most beautiful. A true natural gem.
And speaking of special sunset views, have you ever taken a sunset kayak trip? Just imagine or, better still, enjoy this unique experience available to our guests.
Discovering Menorca's outlook points has been fun, hasn't it? As you know, Menorca's options are endless, so we couldn't possibly tell you about all of them at once.
So, to finish on an appetising note, we have left the best for last. The fact is that the best views of Menorca, according to our #ArtiemLovers are, without doubt, those they see from their rooms.
Do you want to know what the views you can enjoy from ARTIEM Hotels are like?
Menorca lookout points from your room

ARTIEM Carlos is waiting for you opposite the port of Mahón. Watch the first sunrise on the island from your room with a terrace and exclusive views and start the day replete with energy by having breakfast with the best panoramic view of the port of Mahón.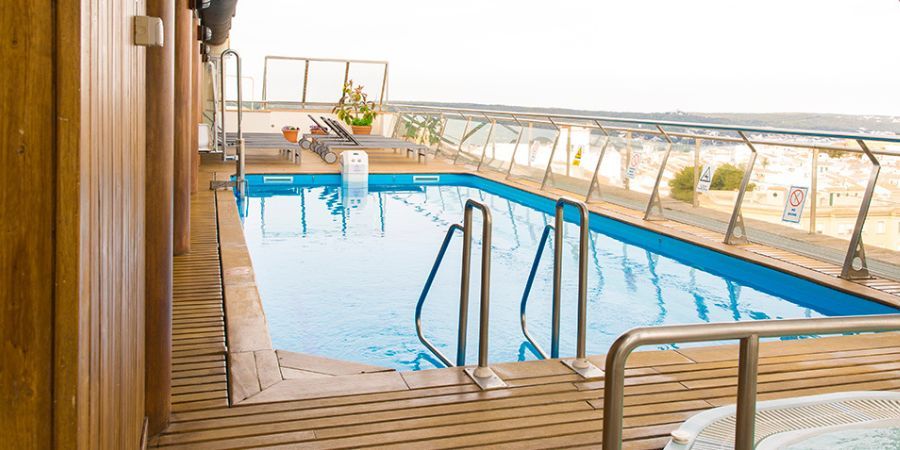 ARTIEM Capri offers an unbeatable cityscape from its spectacular terrace. An attic in the heart of Mahón with the best vistas of the city.
And, of course, ARTIEM Audax doesn't play second fiddle. Enjoy your stay in one of its romantic rooms with incredible views of the heavenly Galdana cove.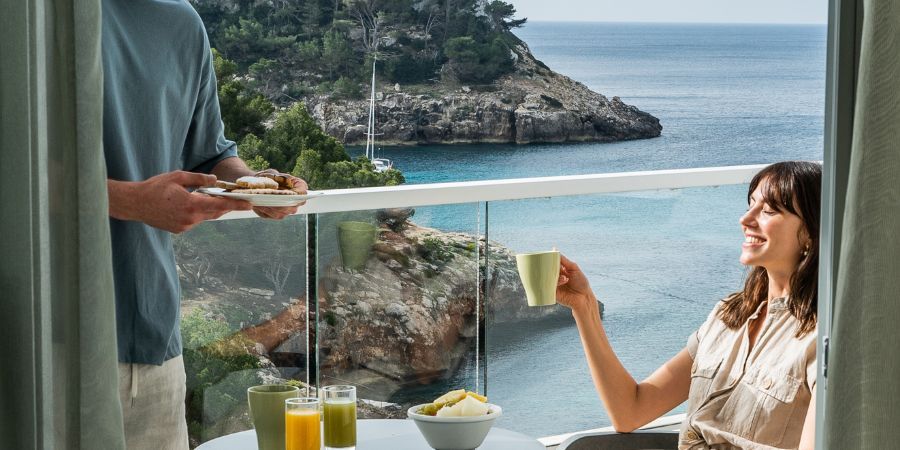 And talking of special rooms, we must mention one of our favourite rooms with views of a better world, the Solidarity Room, with which we donate the entire cost of your stay in the room to the Cáritas charity organisation to help people in need.
We can smell the sea from here and it's time for you to join us. Menorca is waiting for you and now you know what we have ready for you, so when are you coming?